The five things you need to know on Friday July 15, 2016…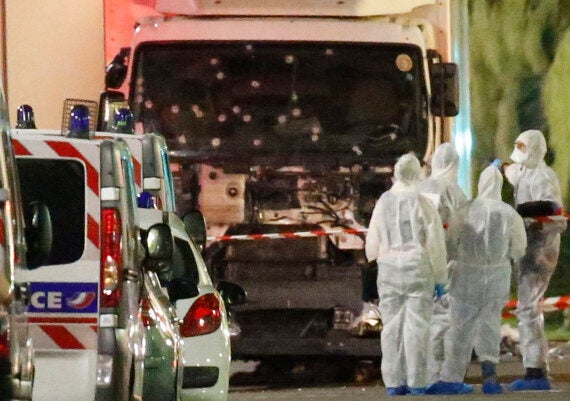 The sheer horror of the Nice terror attack is difficult to comprehend. Families in shorts and t-shirts, gathered for the Bastille Day fireworks, mown down over two kilometres by a white lorry packed with guns and grenades. The death toll is currently 84 but is sure to rise with more in a critical condition.
Nice Matin journalist Damien Allemand wrote: "An enormous white truck came along at a crazy speed, turning the wheel to mow down the maximum number of people. I saw bodies flying like bowling pins along its route. Heard noises, cries that I will never forget." A pink girl's bicycle was briefly seen overturned by the side of the road. Our colleagues on HuffPost France report how children were among those murdered.
Foreign Secretary Boris Johnson tweeted that he was "shocked and saddened" by the attack. No.10 has put out a statement: "The Prime Minister is being kept updated on reports coming in from Nice. Our thoughts are with all those affected by this terrible incident on what was a day of national celebration."
Theresa May is due in Scotland for her first engagement as Prime Minister but if it goes ahead it will be an altogether more sombre affair. It is unclear yet if she will chair an emergency Cobra meeting before her visit. On days like today, all her reserves of experience as former Home Secretary will mean she can swiftly assess the situation and authorise the necessary response.
Mrs May's new Cabinet certainly underlined how different she wants this Government to look. I've written an analysis of firings and hirings HERE, but one of the most striking statistics is from the Sutton Trust. The education charity points out that May's Cabinet has the lowest number of privately educated ministers since Attlee's 1945 government.
The state-school Tories, many of them from the north, are the vanguard of her mission to connect the Conservatives with 'working people' and finally pivot the party away from the 'wealthy elite'. The line from No10 was "this is a bold Cabinet hitting the ground running..and a commitment to putting social reform at the heart of government".
Boris Johnson is the one big exception. But in promoting the unshowy deliverers of the past few years, the grafters rather than the grifters, May has created a Cabinet in her own image. James Brokenshire, ridiculed by the Cameroons for his attack on the 'metropolitan elite' and their love of cheap migrant labour, gets a promotion. So too does Natalie Evans, the new leader of the Lords who is one of just two Tory ministerial peers who supported Brexit (though there's a good reason why she didn't go public - I'm told she didn't want to compromise her husband, James Wild, who is Fallon's spad). And the progress of the Gaukes, the Clarks and Greens is proof that nice guys can sometimes come first in politics.
We will get more appointments of junior jobs today and it will be interesting to see just how many more comebacks there are, as well as accelerations of younger talent. There will have to be a lot of women 'attending' Cabinet' for May to underline the female, and not just the state-school, face of her new Government.
The Times meanwhile has a fascinating coda to the Cameron era following May's ruthless regime change. Francis Elliott reports that Cameron tore up the rulebook on severance pay to give his advisers extra cash, raising the total from £747,045 to over £1 million. John Manzoni, the cabinet office permanent secretary, strongly opposed the proposal. But Simon Case, Cameron's former principal private secretary, ordered Manzoni to approve the payoffs because many advisers had effectively two days' notice of their unemployment. Labour may wonder if Cameron wanted similar employment rights for millions of other workers…
Following the Nice attack, Owen Smith has rightly cancelled the leadership launch speech that had been planned in his constituency and hometown of Pontypridd today. It was an acceptance of the reality of where the media's focus will be today, but also a recognition that some things are actually bigger than domestic internal politics of the Opposition.
But Smith has set out his stall further in an overnight blog for HuffPost, warning that the prospect of a split in Labour is 'dangerously real' if Jeremy Corbyn remains as leader.
He also underlined a new pledge to give the British people another say over Brexit by offering a second EU referendum or general election to ratify whatever deal Theresa May came up with. "Under my leadership, I would also trust the British people to have their say on whatever the final terms of the Brexit deal are… it's only right that people get the chance to ratify the deal, through a second referendum or general election."
The real problem for Smith remains his lack of profile. If you're pitch is that the general public would prefer you as an alternative PM, they've got to know who you are in the first place. Angela Eagle's team say that they've been struck by just how many 'ordinary' voters have come up to her in recent days to wish her well.
BECAUSE YOU'VE READ THIS FAR…
It's been an historic week for the Labour party, but one of the most significant developments was Unite's vote yesterday to back mandatory reselection of MPs. It was a signal that civil war could indeed break out in coming months. Labour MP Tom Blenkinsop tells me that Kevin Parslow, the Unite member who moved the motion, admitted last year he was in the far-left Socialist Party.
And the impact of the NEC's decision to suspend all local branch and CLP meetings during the leadership election is causing a real stir too. The suspension was imposed amid real fears of violent intimidation, as exemplified by the brick thrown through a window in Eagle's constituency.
There is real anger among many Labour MPs at this morning's Guardian report of party members in Eagle's Wallasey constituency organising an unofficial meeting - that was effectively then endorsed by Corbyn himself. Members of the New Brighton branch booked a hall to pass a motion of no confidence in their MP. The meeting then continued, in even more informal form, in a nearby pub. And here's what is causing fury among the PLP: Corbyn addressed that meeting by speakerphone.
The next morning, one angry New Brighton member then turned up to Eagle's constituency office to berate party staff. And Eagle supporters think that given all the intimidation of recent days, it's incredible that Labour's own leader egged them on. And worse, seemed to defy his own NEC's ruling on suspending meetings. "Extraordinary judgement by JC given everything that's happened in her seat and at the office," says one insider.
Although lots of new ministers are round pegs in round holes, several of them could prove controversial appointments. One Whitehall source messaged me that "The new PM is basically trolling the civil service with these appointments". Priti Patel is at DfID, a department she's wanted axed in the past (and aides were heard on the Commons Terrace last night boasting of it); Boris is obviously an undiplomatic posting at the FCO; and Andrea Leadsom is at DEFRA.
And Leadsom continues to be a story machine. Her backing for fox hunting ban repeal is already an issue. But the Times (which has had an exceptionally good war over the past few weeks) releases a new extract from her infamous interview, and it could cause more PR headaches.
Leadsom suggested that male nannies were a no-no because of fears they could be paedophiles: "Let's face it — most of us don't employ men as nannies, most of us don't. Now you can call that sexist, I call that cautious and very sensible when you look at the stats. Your odds are stacked against you if you employ a man. We know paedophiles are attracted to working with children. I'm sorry but they're the facts."
Listen to our latest Commons People politics podcast HERE. We riff on the Cameron-May transition, Labour's extraordinary NEC meeting and more. There's the usual weekly quiz, and a debut by our new political reporter Martha Gill.
If you're reading this on the web, sign-up HERE to get the WaughZone delivered to your inbox.
Got something you want to share? Please send any stories/tips/quotes/pix/plugs/gossip to Paul Waugh (paul.waugh@huffingtonpost.com), Ned Simons (ned.simons@huffingtonpost.com), Owen Bennett (owen.bennett@huffingtonpost.com) and Martha Gill (martha.gill@huffingtonpost.com)