The five things you need to know on Wednesday, September 28, 2016…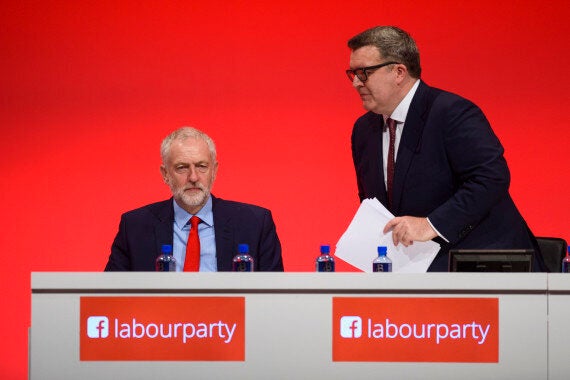 1) REDUCE, REUSE, RECYLE?
At a fringe last night, Keir Starmer (the ex-shadow immigration minister who has been tipped for a Shadow Cabinet job) declared: "If we are honest with ourselves, Labour has been lacking in confidence on immigration for a number of years. We don't know what to say and we are on the back foot in debates."
Fast-forward to today's big conference speech and those words seem all too prescient. Corbyn is to say he will not 'fan the flames' or make 'false promises' on immigration. His spokesman (who was sent naked into the pre-briefing chamber with reporters yesterday as Seumas Milne opted not to do it) added "It's not the objective to reduce the numbers, to reduce immigration".
Corbyn himself on a pre-recorded Today prog interview (I'm told he's 'not a morning person' so opted out of the live broadcast and was instead spotted having breakfast in the Pullman Hotel yesterday) underlined his view that Labour should talk of the positives of migration. He even said the numbers kinda go up and down and implied as a result everyone should just calm down.
He may not. Remember countless Labour politicians under Ed M refused to say migration should be 'reduced' and instead they endlessly recycled the line that they want 'controls' (even the infamous Labour mug said no more than that). Many felt that May and Cameron were barmy to commit to a quota or target, and May is facing the reality of how hard it is to cut the figures. But with Labour Leave voters keen to see the party back in touch, the pressure is on for Jez to say a lower level of migration over time may be a good thing.
Of course immigration won't be Corbyn's main message in his speech. Instead, it will focus on the 10-point plan he campaigned on in the leadership contest.
But some party insiders tell me the speech is so thin and detail-free that some delegates plan to stage a 'silent protest', sitting reading books during his speech rather than applauding. Many MPs are getting out of Dodge early, fearing they will be vox-popped afterwards. One senior figure told me they can't bring themselves to say do the rictus smile and they want Jez as Prime Minister.
And one of the key tests will be just how far he's prepared to go on uniting his party in the wake of his second landslide (party) election. The Labour leader will call on his MPs and members to 'end the trench warfare' of the bitter summer contest. But as Tom Watson showed yesterday, those battle lines are still deeply drawn.
The deputy leader's speech received a rapturous reception from the conference hall as its mostly-moderate delegates cheered his key line that it was time to stop criticising the Blair and Brown governments (something Corbyn and McDonnell do regularly). Corbyn just stroked his beard, stayed seated and didn't applaud, as the entire platform beside him got to their feet (notably including Johanna Baxter, who has been voted off the NEC).
But the most electrifying moment came when a heckler tried to shout him down and Watson replied, looking directly at Corbyn: "Jeremy, I don't think she got the unity memo." It was the most extraordinary show of defiance I've seen on a Labour platform since Gordon Brown chided Blair with his 'best when we are Labour' jibe in 2003. But more importantly, it also felt like Watson was ridiculing his own leader to his face. Afterwards, Watson was greeted like a hero as he toured the conference stands and cheered to the rafters as he arrived at the Pullman Hotel.
And yet, Corbyn will try to unite his party with some 'surprise names' in his reshuffled top team after conference. And on the vexed issue of Shadow Cabinet elections I'm told there's been 'some movement' with Rosie Winterton pleased at progress on talks. We could get a short-term fix but the wider reforms will still be discussed in November.
Trench warfare is a good way to describe what's been happening in Labour, as it seems the plan to expand the NEC to a 'Corbynsceptic' majority has been plotted for months, well before the 'coup'. The left tried belatedly to skirmish yesterday with claims of 'gerrymandering' but it was too late.
As I've been saying all week, the big prize of conference for the 'moderates' was the NEC places. Yet they were caught offguard late yesterday as the Left got through (with union support) something they've wanted for years: a rule change to unpick policy documents and vote on them line by line. That guarantees years of conference rows to come. Watch for the detail card vote breakdowns on the motions this morning.
Meanwhile, the Sun has a story that another old warrior, Degsy Hatton, was spotted having lunch with Len McCluskey here in Liverpool. Those rumours about Hatton's application to rejoin the party are rife, but are they now more than rumours?
Corbyn will call today for May to get on with a snap election. Peter Mandelson hinted yesterday that he wanted one to hasten Corbyn's demise: "Bring it on so we can deal with the awful situation in the Labour party earlier than 2020".
The In-Out Hokey-Cokey of the Labour leadership campaign appeared to be continuing this week as the party passed a little-noticed motion on Monday endorsing a second EU referendum.
Owen Smith had put the idea at the heart of his message this summer, but most Labour members weren't as exercised about it as he'd hoped. Corbyn was repeatedly cool on it, pointing out that the British people had spoken on Brexit. So it was a surprise to see the motion pop up at conference.
Anyway I'm told that the whole thing was due to a 'massive cockup' in the compositing meeting and last night the NEC had to take the unusual (and embarrassing) decision to put out a statement clarifying its position: "Conference policy on Brexit has been misinterpreted in some reports as committing Labour to a second referendum on UK membership for the EU, so for the avoidance of doubt we want to make clear that it is not our policy."
Tim Farron has already seized on that as more evidence of a Labour 'shambles'. The Lib Dems are also saying Labour in Liverpool this week has proved it is miles away from power, which takes irony to whole new levels.
Meanwhile, Germany's European commissioner Günther Oettinger has told business leaders that the Brexit vote was a result of "the shit campaign of Cameron". Oh, and Sarko's back. He said that if he wins the French Presidency next May, the day after he would fly to London: "I would tell the British, you've gone out, but we have a new treaty on the table so you have an opportunity to vote again".
BECAUSE YOU'VE READ THIS FAR…
One of the most frustrating and upsetting things for many Jews listening to the whole Labour anti-semitism row is when they come under attack for even raising it as an issue. Yesterday, on the conference platform, Mike Katz of the Jewish Labour Movement said how depressed he was that the party of Manny Shinwell was now viewed by the nation's Jews.
But even as Katz said how disappointed he was that the NEC had decided to wait a year to bring forward rule changes to root out anti-semitism, he was heckled from the conference floor. Shouts of "Rubbish!" and "You don't speak for all Jews!" were heard.
This, after Katz had said he was "sad to report" a number of incidents at the conference's exhibitions and that support for Labour among British Jews is reported to be at its lowest ever, which "makes me weep".
Jeremy Corbyn turned up to the Labour Friends of Israel meeting last night and had a better reception than last year (when a certain Michael Foster heckled him). But Israeli Labor Party MP Michal Biran told us afterwards that she was disappointed Corbyn didn't acknowledge the elephant in the room. "He should have condemned antisemitism in the party: he has not done enough. He skirted round it", she said.
And leftwinger Jackie Walker, who has claimed this week that the anti-semitism claims are 'exaggerated', was singled out by Biran: "A person saying something like that should not be a member of UK Labour". There may be more on Walker later today.
The Times Diary has a lovely story about Sir Craig Oliver's planned interview with Newsnight at the Tory conference in Birmingham next Monday.
Cameron's former comms chief isn't accredited, which is a problem as the BBC studio is in the secure zone. Apparently, the Tory press office decided to be lenient and sort things. But then came Oliver's Mail on Sunday book serialisation and claims about Theresa May refusing to help Cameron in the EU referendum.
So, the man known to the Lobby as 'Crazy Olive' faced a change in mood. And he was told he could of course have a conference pass - but only if he paid £1,450 as a "commercial guest". Maybe he'll use some of the huge payoff he got from Dave to foot the bill…?
If you're reading this on the web, sign-up HERE to get the WaughZone delivered to your inbox.
Got something you want to share? Please send any stories/tips/quotes/pix/plugs/gossip to Paul Waugh (paul.waugh@huffingtonpost.com), Ned Simons (ned.simons@huffingtonpost.com), Martha Gill