The five things you need to know on Wednesday, November 2…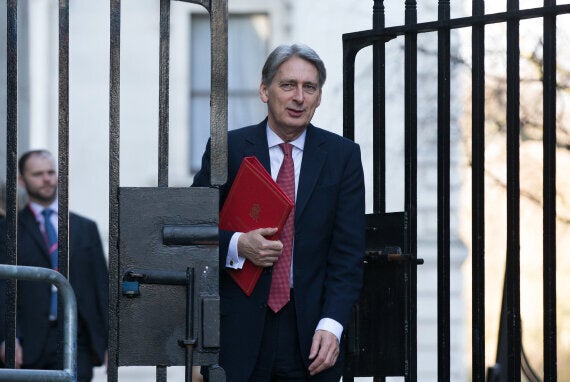 No.10 revealed to us yesterday that Philip Hammond had briefed the Cabinet on the broad principles of his coming Autumn Statement - and that many colleagues welcomed the chance to discuss it. As Downing Street pointed out, this was in stark contrast to the OsBrowne years of keeping such things under wraps until the day itself.
The Cabinet discussed productivity, infrastructure projects and the "importance of continued fiscal discipline" (the latter sounded like it was ministers stressing it to Hammond). But the FT has a nice line on what No10 didn't tell us: that Hammond told Cabinet he will adopt a new flexible fiscal framework, banishing rigid targets to ensure the government has "headroom" to react if Brexit fallout hits the economy.
Ministers were also told to expect only a modest fiscal stimulus, with a programme of new infrastructure spending expected to run to the "low billions of pounds a year". The new fiscal plan, while aimed at achieving a balanced budget in the next parliament, would allow a greater stimulus package to be unleashed if things take a turn for the worse. Speaking of which, leading Leave backer and hedge fund manager Crispin Odey warned investors yesterday that Britain is destined to have a recession and predicted the stock market will fall by 80% after Brexit. Wasn't that Project Fear's line...?
Hammond is facing pressure from the right and the left as he navigates Brexit. The Resolution Foundation says that if he reversed Osborne's £32bn tax giveaways to the rich, he could eliminate the deficit. The Indy picks up on Tory MPs Heidi Allen and David Burrowes urging Hammond to ditch ESA benefit cuts due next April.
Some juicy new details on the Mark Carney tensions are revealed by Sam Coates in the Times today. The Bank of England Governor, famously dubbed 'an unreliable boyfriend' for his interest rate dithering, had been incensed by Theresa May's Tory conference speech, we learn.
The PM's line attacking the 'international elite' and 'citizens of the world' was taken by Carney as a personal attack on himself - and he said privately it was the kind of thing that made him want to go back to Canada. He was also very unhappy at her hint that his QE programme fuelled inequality.
Carney this week announced he was going to stay in post a year longer than previously announced, but two years earlier than he could have. No.10 told us yesterday that the Cabinet 'wholeheartedly' welcomed his decision. When I asked if that meant a banging of the table or 'hear, hears', I was told there was a 'general' 'sound of endorsement' from ministers.
But it also turns out Carney got a 'dressing down' from one of May's team for being late to the airport for the PM's G20 trip to China this summer. Lots of hacks were surprised at the time that he didn't sit at the front of the plane with the PM and Chancellor. He left by the back stairs and even carried his own bags. A member of the Government tells the Times: "For a supposed 'master of the universe', he has a very thin skin."
In normal times, this would all be meat and drink to an Opposition leader on PMQs day, a chance to stand up for the Governor's independence in the face of Tory 'Brexiteer bullying'. But Corbyn's own suspicions about QE, plus his Euro-wariness and attacks on 'bankers', may make that unlikely.
Last night's UKIP hustings (plus LBC's earlier debate) proved that the party is still capable of grabbing a few headlines. Front runner Paul Nuttall underlined that he wants to turn the party into the main repository of disgruntled working class voters in the North, something that won't displease Tories who believe they are quietly mopping up former Kippers now Brexit is on the way.
The Indy has spotted a good news line, that Suzanne Evans proposed that Ukip-aligned teachers conduct a programme of entryism into the National Union of Teachers (NUT) with a view to making sure more teachers having contact with children were "good 'kippers".
We've report today on some in-depth focus groups done by pollster Ian Warren, a man who knows both UKIP and Labour well. Former Labour voters who now back UKIP have plenty of views of Jeremy Corbyn, and few of them pretty. Top three things they think about when the word Labour is mentioned: 1. Lies. 2. No leadership. 3. Infighting.
Former Ukip donor and Farage pal Arron Banks was on Today pushing his own book on Brexit. He said he was 'struggling' to support any of the leadership candidates. Banks tantalisingly suggested Farage was set to return if May failed to deliver the right kind of Brexit (clue, ie not a soft one). He also said that 150 Tory MPs voting for Keith Vaz's Justice Committee appointment was 'the definition of sleaze'. He wanted a 'clear out' of people like Douglas Carswell. Oh, and Banks said he wasn't running for leader himself 'just now'.
Last night John Rees-Evans, who has previously suggested a gay donkey raped his horse, said paedophiles should receive the death penalty - but not if the victim "looks 18". I'm not making this up.
BECAUSE YOU'VE READ THIS FAR…
Prison stories tend not to get much attention until there's a major flare-up but the looming row over growing violence in jails is on the agenda today. The Prison Officers Association (which has warned ministers they could have its members 'blood on their hands') has called off planned protests after Liz Truss agreed to meet them today to start urgent talks.
In Justice Questions yesterday she gave a clear hint she would announce fresh measures to boost prison staff when she publishes her major prison safety and reform white paper on Thursday. The Sun has an exclusive break on one aspect of the plans: mandatory drug tests for all prisoners, not just random ones, plus tests of all prisoners leaving jail (to check which prisons have the best record).
Sam Gyimah (who is Prisons Minister not just minister with Turing Bill responsibilities) gifted the media a story by saying governors could deploy eagles to take out drones that were smuggling drugs into prisons (33 were detected in or around jails last year). The Dutch apparently use the birds to do so and anyone who knows the Commons knows we have Harris Hawks on patrol to ward off pigeons. But birdman Bill Oddie says it's 'poppycock' to think a bird of prey could be trained to take out a drone.
Given the row over the £10bn/£4.5bn for the NHS, I wonder if Jeremy Corbyn will use his PMQs to press harder on the Tory bruise of health spending, deficits and hospitals in special measures. Will he say 'the real deficit deniers' are the Conservatives on the NHS? And will he seize on Hunt's admission that the £10bn included social care cuts? The LGA warns today of an 'existential crisis' in social care because of council cuts. If Hammond does indeed announce extra cash in the Autumn Statement, using PMQs to press for it would allow Corbyn (and Jon Ashworth) to claim credit later. But hey, what do I know?
And after Jeremy Hunt's conference speech suggesting we curb foreign doctors, the FT has a new twist: Australia is tightening its rules on foreign medical staff applying for jobs after a surge in interest from British junior doctors. Its government will remove 15 medical roles from the skilled occupations list, which encourages foreigners to apply for work visas, because there is enough homegrown talent to meet demand.
In the past year a record number of British doctors have expressed an interest in working overseas after becoming disillusioned with pay and working conditions in the UK. Which reminds me: last year Health Select Committee chair Sarah Wollaston revealed her junior doc daughter and 8 friends had all gone Down Under to get jobs.
If you're reading this on the web, sign-up HERE to get the WaughZone delivered to your inbox.
Got something you want to share? Please send any stories/tips/quotes/pix/plugs/gossip to Paul Waugh (paul.waugh@huffingtonpost.com), Ned Simons (ned.simons@huffingtonpost.com), Martha Gill (martha.gill@huffingtonpost.com) and Owen Bennett (owen.bennett@huffingtonpost.com)
Popular in the Community