The five things you need to know on Tuesday, November 8…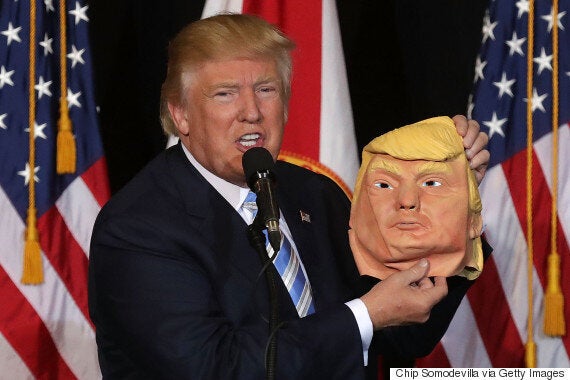 "No one pretends that democracy is perfect or all-wise. Indeed, it has been said that democracy is the worst form of Government - except all those other forms that have been tried". As America finally goes to the polls, Winston Churchill's wise words to the House of Commons in 1947 have an extra resonance today.
No one is pretending that either Donald Trump and Hillary Clinton are perfect or all-wise, far from it. As the two candidates with the most negative poll ratings in history, the voters seem to be choosing which is their least worst option, via the least worst form of government. Here's just one example: Trump's repeated lies are well documented (a Newsweek reporter last night tweeted 100 of his worst ones, from business to politics to even fibbing about his golf score). And yet he polls ahead of Clinton for honesty. For many voters, their loathing of Hillary outweighs their distaste for Trump.
My HuffPost colleagues in the US don't go for half-measures or hedging (and indeed have had public spats with Nate Silver over his projections). Our polls model is predicting this morning that Clinton will win with 323 electoral college votes - she wins crucial Florida, Nevada and North Carolina but loses Ohio - and that the Democrats have a good chance of taking the Senate too. That would be a substantial, although not overwhelming, victory.
But as Trump keeps suggesting, will we get a 'Brexit' surprise thanks to those not picked up in polls? Just as we had bashful Brexiters in 2016 and shy Tories in 2015 and 1992, will there be timid Trumpers? Will the huge numbers at Trump rallies prove he has a grassroots army that can defy the 'mainstream media' (sounds familiar, I know)? His campaign messages have been sharper, his soundbites more effective and his connection with many white working class voters stronger than Hillary's.
Clinton is seeing big surges in voter turnout for minorities like Hispanics and African-Americans. Although it's true that many of these are piled up in 'safe' states, they could swing places like Florida and Nevada. Yet it is the majority voter bloc that may count most - women. Yes, that 51% of the population is supporting Clinton in huge numbers. They're grabbing him where it hurts, by the ballots.
Over here, 'Tories for Trump' are looking thinner on the ground after even Jacob Rees-Mogg pulled his support yesterday, declaring the allegations of sexual harassment were too much. But If Trump does win, and there's a Brexit 'surprise', at least he has one Brit willing to help out. Nigel Farage told ITV's The Agenda last night he could be Trump's "ambassador to Brussels".
It could be a long night. If Hillary wins Florida (you'd have to stay up to 1.30am), she's almost certainly won overall. If Trump wins Florida, we may have to wait for Colorado and Nevada (due around 5.30am), two of the 'firewall' states that can still get her over the line, for the final result.
Ahead of the Autumn Statement, the IFS has a Brexit warning out today that lower growth and higher inflation will punch a £25bn hole in the public finances by the end of the current parliament. Politically this matters because the think tank adds that if forecasters are right about Brexit, Chancellor Philip Hammond will have to extend austerity beyond the next general election. Not an easy sell for a ruling party.
Theresa May (who has a press conference in India this morning) may dismiss such warnings as yet more bumps in the road on the way to our exit from the EU. Brussels' decision to investigate the Nissan deal may be a rather large sleeping policeman, however.
The PM stood firm in her BBC interview last night that "the next general election should be in 2020". Should, not would. That still leaves the wriggle room some ministers have insisted on.
As for David Davis's near-two-hour Commons statement on Article 50, we learned a little more from the Brexit Secretary on process, if not on the UK's negotiating position. Legislation, not a resolution, would be needed if the Supreme Court agreed Parliament had to have a say, DD made clear.
But he offered the tempting prospect to Tory backbenchers that they could bring forward a bill or a motion of their own before the court decision. With a doughty defence of judges, an attack on the abuse of Gina Miller and a sure-footed determination that June 23 was 'the point of no return', Davis had a good day overall. Labour seems still rather confused (it would help if Starmer, Watson and Corbyn all talked more frequently, I'm told).
Judge Judge sounds like a Catch 22 character worthy of Major Major Major Major. But the former Lord Chief Justice, Lord Judge is a formidable figure. He was looking on at David Davis's statement from the peers' gallery yesterday and on Newsnight last night he didn't disappoint with a string of quotes.
On Farage's call for a demonstration outside Supreme Court, he said: "People can march as much as they like…. I don't think it makes any difference to the judicial decision but it does make a difference to public order. Let's say for the sake of argument the Supreme Court decides the high court was wrong, it will undoubtedly be conveyed as a victory for the demonstrators. It won't be but that's what will be conveyed. And if that is conveyed you've undermined the administration of justice."
He was scathing too about Liz Truss's two-day delay in defending the High Court judges who ruled on Article 50. "The Lord Chancellor has a statutory obligation to do it. That is one of her functions, to defend the judiciary. And it was a little too late and not a lot."
As for Farage, his words in May on second referendums are coming back to haunt him: "In a 52-48 referendum this would be unfinished business by a long way."
BECAUSE YOU'VE READ THIS FAR…
Now, this was very 2016. Six MPs from the the Business, Energy and Industrial Strategy (BEIS) Committee visited Sports Direct's factory for an on-the-spot inspection. But when they sat down in a private room to discuss their findings, they found…a recording camera under a seat.
Labour's Anna Turley (who tweeted the evidence) explains: "A lady came in with some sandwiches, which was very kind. I saw her take too long to do it, she put it down and I saw her put a recording device on the floor. She left the room and I went over to pick up the device and there it was: a camera and a recording device for the conversation that we were having privately. I'm very disappointed."
Sadly, Sports Direct's boss Mikey Ashley is out of the country and was unavailable to meet the MPs. But who's to know he didn't have a livestream to the camera, and was stroking a cat like Blofeld…?
Still, firms like Ashley's are making profits, whereas traditional retailers like poor old Marks & Spencer are in the doldrums. The firm announced this morning it was closing around 60 clothing and home stores after a 18.6% plunge in profits.
Meanwhile, politicians are realising that the wider gig-economy and automation of jobs is as much a growing political issue as globalisation. Tom Watson has blogged for us on the dangers and opportunities of the Fourth Industrial Revolution.
Damian Green said yesterday he had 'no intention' of reversing the lower benefit cap. But he also seemed firm that there would be no change in the freeze on benefits, despite warnings from campaigners that if inflation rises, the poor will suffer.
But Green is today being urged to act on benefit delays and sanctions after a new Trussell Trust report found they were the main reasons for referrals to its foodbanks. Between April and September 2016, Trussell Trust foodbanks across the UK distributed 519,342 three-day emergency food supplies to people in crisis - the highest number in its history. More than 188,500 of these parcels were to children, the charity said.
Frank Field, who has long led a Feeding Britain campaign to tackle the problem, said the numbers of people going hungry were even higher when you take into account other independent foodbanks - and the fact that "others still will have suffered hunger in silence." He wants the DWP to do more to send benefit claimants a 'yellow card' when there's a likely problem with their claim.
If you're reading this on the web, sign-up HERE to get the WaughZone delivered to your inbox.
Got something you want to share? Please send any stories/tips/quotes/pix/plugs/gossip to Paul Waugh (paul.waugh@huffingtonpost.com), Ned Simons (ned.simons@huffingtonpost.com), Martha Gill (martha.gill@huffingtonpost.com) and Owen Bennett (owen.bennett@huffingtonpost.com)