The five things you need to know on Wednesday, November 30…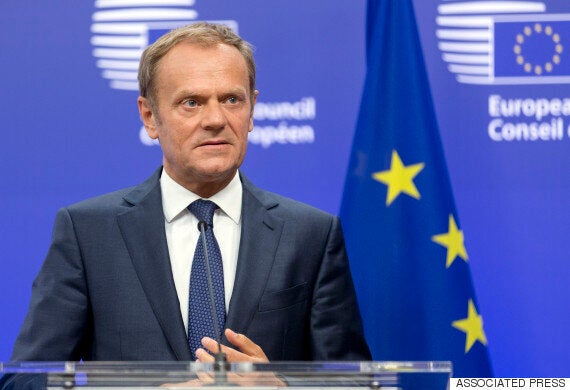 At PMQs a fortnight ago, Jeremy Corbyn exploited Tory discomfort over Theresa May's refusal to say what Brexit really means. Boris Johnson's riffs to a Czech paper about the customs union were the focus, proof that Corbyn has realised that simply quoting Tory MPs can be more effective than asking his 'People's Questions'.
At PMQs today, the Labour leader may or may not choose to target Brexit 'chaos' again (benefits may be more his thing, see below). But the fate of EU citizens in the UK and Brit ex-pats in Europe is a live issue, with The Other Donald, EU Council President Donald Tusk, in the firing line for Eurosceptics.
Tusk yesterday revelled in ridiculing a letter from Tory backbencher Michael Tomlinson, which had urged him to end the "anxiety and uncertainty" for those awaiting their fate. Tusk responded: "It is a very interesting argument, the only problem being that it has nothing to do with reality." Iain Duncan Smith tells the Telegraph: "Donald Tusk is only interested in his own power and authority, he has no interest in the needs of ordinary people."
But the 'reality' is the EU's firm line that - as its Brexit chief Michel Barnier told David Davis recently - there will be "no negotiation without notification" [ie the triggering of Article 50]. Angela Merkel stuck rigidly to this too line it seems, as Politico revealed that she had told Theresa May in Berlin recently that no deal on ex-pats could be reached early. No.10 is very frustrated as it has 20 countries lined up with reciprocal deals, but Merkel realises such a plan would hand the UK a negotiating advantage.
There's more Boris news to trouble the PM, though. The Sun reveals that Bojo shocked colleages at a recent meeting of the PM's Immigration Implementation Taskforce, a committee of 12 Cabinet ministers chaired by May, by reviving his call for an amnesty for illegal immigrants. Amber Rudd asked him for details of his thinking after the session broke up. I wonder if May will today quote Shadow Home Sec Diane Abbott's thoughts on immigration in PMQs?
Older MPs have a saying that if you want something kept secret, say it in the House of Commons. In Treasury Questions yesterday, Philip Hammond confirmed that the pensions triple-lock would be "under review" as the Government must decide which policies it "can afford to renew".
The Chancellor's line seemed more explicit than his Autumn Statement hint last week that 'longevity' and 'financial sustainability' had to be grappled. What's notable is the way Jeremy Corbyn has come out firmly against any axeing of the pensions lock - so he could use that in PMQs today.
Yet Corbyn may prefer as his theme today's NAO report showing that the DWP's benefits sanctions cost more to administer than they save. It also found big delays, in August 2016, 42% of decisions about Universal Credit sanctions had taken longer than 28 working days.
Labour has piled in, with Debbie Abrahams condemning the human cost and Frank Field again asking for the Scottish 'yellow card' system of benefit punishments to be brought to England (this idea is the kind of thing Damian Green may go for). But expect the Tory response (crafted by George Osborne) to be targeted at floating voters in marginals: 'Labour is the party of welfare, not work'.
Still, if Corbyn wants another topic for PMQs, he could pick the NHS again (it worked last week, but got little play because Hammond came straight after). The BBC reports of ambulances backing up in A&Es is a gift. And we reported yesterday that £1bn NHS cash was quietly shifted from capital to current spending in the Autumn Statement. More Tories are uneasy about social care too.
The SNP like to think of themselves as 'the real official Opposition" and today they have the opposition day motion on "The Chilcot Inquiry and Parliamentary Accountability". But this is all about Tony Blair and attemps to strip him of his Privy Council membership over Iraq. As well as Alex Salmond, the motion is signed by Tory Sir David Amess, Green Caroline Lucas and Labour's Kate Hoey.
As I reported yesterday, this has caused a few problems for Labour. The PLP called on Monday night for a three-line whip to force all its MPs to turn up and defend Blair against the charge of knowingly misleading Parliament. The Shadow Cabinet bluntly rejected that request, preferring a softer one-line whip. This means attendance is not essential. But Nick Brown has sent an instruction with the whip that any MP who is present should vote against the motion.
But what's this? Jeremy Corbyn himself will be absent. The Indy says he is 'committed elsewhere' and I understand he may have a constituency-related event to attend. Caroline Lucas says: "To now back away from taking the action to match their words would be deeply disappointing". Of course, this is the point of the SNP trap: if Corbyn turns up and defies his whip, he causes a Labour MP backlash; if he doesn't, he's not 'true' to his principles on Blair and Iraq. Expect some passionate defences of Blair from Labour MPs. But will Hoey turn up, and will other Iraq critics such as Paul Flynn? And how will the Tory party whip it?
As for other foreign policy controversies, Sir Alan Duncan and Emily Thornberry have attended a memorial service for Fidel Castro in Havana. At the PLP, some Labour MPs questioned why Thornberry was going at all and wanted to know who was footing her flight and accommodation bill. I have an answer: the Government is not paying, the Labour party is.
Oh, and Tom Watson made a speech yesterday attacking the 'boycott, disinvestment and sanctions' (BDS) campaign against Israel. Corbyn himself a year ago backed the campaign. And only a few weeks ago in the Jewish News leadership hustings said that while he opposed a blanket ban, "I do support targeted boycotts aimed at undermining the existence of illegal settlements in the West Bank".
Theresa May could pick up on any or all of that foreign policy discomfort in PMQs today. Tory MPs could mention their 16-point lead in the latest ICM opinion poll, with the Tories ahead among working class 'Ds and Es' (in that awful Brave New World terminology that pollsters have). UKIP are on the prowl too, with Douglas Carswell telling constituents: "Let us leave Labour to its lobbyists, while we lead an anti-oligarch insurgency. It is Ukip that must become the heirs to the Levellers."
BECAUSE YOU'VE READ THIS FAR…
Jeremy Hunt's appearance before the Health Select Committee has given the Times a nice front page splash, as he warned that tech and phone giants should block children from sharing explicit images to help to curb Britain's "sexting" crisis. "I ask myself the simple question as to why . . . you can't prevent the texting of sexually explicit images by people under the age of 18, if that's a lock that parents choose to put on a mobile phone contract."
Yet things aren't always simple when it comes to the balance between security and privacy on online. The Investigatory Powers Bill last night received Royal Assent, and world wide web inventor Sir Tim Berners-Lee told the BBC: "This snooper's charter has no place in a modern democracy. It undermines our fundamental rights online."
Labour did some patient work in the Commons and Lords to improve safeguards in the bill, thanks to Keir Starmer and Labour Lords (whose leader Angela Smith last night won PSA'S Parliamentarian of the Year Award, she's blogged on it HERE). But many civil liberties groups still worry not enough was done.
And with just as little fanfare, the Digital Economy bill had its third reading in the Commons on Monday night. Labour's Kevin Brennan was not happy at the lateness of the "stealth amendment" that will force UK ISPs to block porn sites that fail to provide age checks. "We think there's a lot more scrutiny that will be required when there's more time available in the other place [ie the Lords, again]," he said.
But what caught my eye was John Whittingdale warning the move was "a dangerous road to go down". "I personally was not persuaded about the necessity of introducing ISP blocking. It does represent a considerable infringement of civil liberties of individuals who are wanting to access material.." He said much porn was "legal content" "Like it or not, the sites we are discussing are visited by millions and millions of people every day."
The director of the CIA John Brennan has given a fascinating interview to the BBC's excellent security correspondent Gordon Corera. He has warned Trump that ending the Iran nuclear deal would be "disastrous" and "the height of folly", and also to be wary of Russia's promises, blaming Moscow for much of the suffering in Syria.
Brennan, it has to be pointed out, will step down in January. But his words have power. And so do those of the Twitter-happy President Elect, that's his point. On Islamist extremism, Brennan said Trump's new team needed to be "disciplined in the language that they use (and) the messages that they send. Because if they are not disciplined, their language will be exploited by the terrorist and extremist organisations as a way to portray the United States and the government as being anti-Islamic and we are not."
Meanwhile, No10 told us last night that Theresa May had had her second phone call with Trump (she rang him, but we don't know if she got more this time than the 15 mins he gave Piers Morgan). The call was "part of establishing a regular dialogue between both of them".
They "discussed NATO, agreeing on the importance of the Alliance", we were told - which sounded like diplo-speak for the PM trying to persuade Donald to perhaps make a strong statement underlining Article 5 (the requirement to respond to attacks on fellow members) pretty soon. Their National Security Advisers will meet before Christmas. Whitehall expects May to make a trip to Washington soon in the New Year.
If you're reading this on the web, sign-up HERE to get the WaughZone delivered to your inbox.
Got something you want to share? Please send any stories/tips/quotes/pix/plugs/gossip to Paul Waugh (paul.waugh@huffingtonpost.com), Ned Simons (ned.simons@huffingtonpost.com), Martha Gill (martha.gill@huffingtonpost.com) and Owen Bennett (owen.bennett@huffingtonpost.com)