The five things you need to know about the Richmond Park by-election…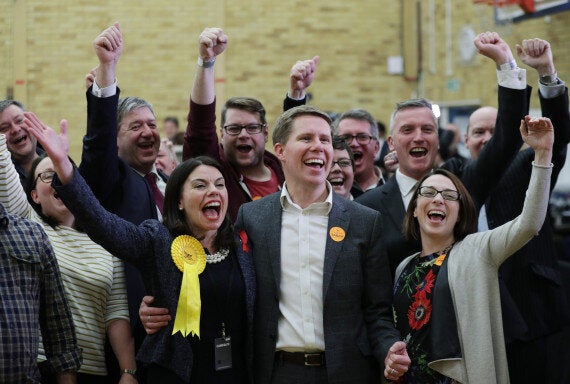 Zaxcit sounds like a spot removal cream. And 20,510 voters in Richmond Park yesterday bought the LibDem ointment to zap Zac Goldsmith, as if he were a monstrous Brex-zit on the face of a much-loved friend.
The stunning by-election win for Sarah Olney means that for the first time in 2016, some people have woken up to some good news for a change. The most delighted will be 'the 48%' who voted Remain in the EU referendum, and who saw this as their very own second referendum on 'hard Brexit'.
One reason for the win was sheer organisation. Goldsmith fell down the sink-hole of election defeat after Tim Farron's party carred out his pledge to throw not just the kitchen sink but a 'whole five-story house' at the west London consitutency. And boy did they have an impressive get-out-the-vote operation. They had 600 activists on the ground, with another 241 people staffing a phonebank that made 13,000 calls, and knocked on 36,000 doors.
In one area, I'm told their voter ID was so good that 93% of those listed as possible LibDem voters actually turned out. By contrast, data protection rules meant that as an independent Goldsmith had to rely on his own (rather than the Tory) voter database. I live in a Tory ward in the seat, but as I wrote last week, Zac and Olney were 'neck and neck' on canvass returns.
But another key factor looks like sheer motivation. After a shaky start focusing on Heathrow, the Lib Dems worked out that they had to frame this as a 'Brexit by-election' (though they lobbed in worries about the NHS funding too) in order to get people to turn out on a freezing December day.
While worries about Heathrow were a score-draw between Goldsmith and Olney, worries about the impact of quitting the EU were much more immediate for many voters. If your job and livelhood looks on the line, and many in this seat work in or around the City of London, you have A Reason To Vote, whatever the weather. A red mist over Cabinet Brexiteer talk of qutting the customs union and single market may have acted like a free lift to the polls.
The result proves that by-elections are won by protest votes, not support votes - even with a sitting MP as candidate. It also proves that gratitude in politics is still a rare beast. Zac had undoubtedly been a popular and hard-working constituency MP, turning up to fetes, schools, backing small shops and greeny campaigns, tootling around on his bike in the place he grew up. Though some Tory MPs saw it as naivety, his pledge to quit if the Goverment backed Heathrow was seen by his admirers as a mark of integrity.
Yet his maverick, anti-politician appeal curdled when he tried to be a mainstream politician. Goldsmith's disastrous London Mayor campaign, with its sly insinuations about Sadiq Khan, saw him trash his own brand more effectively than any opponent could have.
In a 'liberal' seat like Richmond Park, the distaste was obvious to many. Combine the harsh messaging with comical stuff like him pretending to be a fan of Bollywood (even ripping his trousers in some bizarre incident this week) and it was clear why some Tory MPs felt that Zac was one of the worst candidates they'd ever seen on the stump.
Goldsmith's brother Ben last night tweeted a sexist line "Even by Lib Dem standards, Sarah Olney really is unimaginably drab', which didn't really help the family image. He deleted it, but the Sun's Tom Newton-Dunn screengrabbed it for posterity. In fact, Olney, while inexperienced, looked very much like the key demographic of the seat: young working mothers who flocked to Zac just 18 months ago.
With such a tight margin of victory - Olney's majority is 1,872 votes - the Greens' decision to back the LibDems may have had a role. (But don't forget that in 2010, the Greens had just 500 votes and their 2015 total of 3,500 looked inflated by LibDems fed up with the Coalition). So even Zac's environmental credentials (leading anti-Heathrow campaigners backed him and some Greens even helped with donations in the past) didn't seem to help.
3) CHRISTIAN ON THE CROSS
The heavy lifting in overturning Zac's huge 23,000 majority was done by the Libs convincing Lib-Tory switchers about Brexit. But there's no doubt too that Labour votes were crucial. This is a seat where the local Labour party membership surged after Jeremy Corbyn's leadership victories, yet their candidate Christian Wolmar lost his deposit with a paltry 1,500 votes.
It was clear that many Labour voters held their nose over the Clegg-Cameron years and saw May and Brexit as the bigger enemy. I'm told that some Labour members actually turned up to help the Libs on the ground yesterday.
The danger for Corbyn is of looking irrelevant. In the south, despite increasing party membership, the Lib Dems can now say they are the clear anti-Tory choice. In the north, UKIP under Paul Nuttall (buoyed by those record immigration stats yesterday) are pushing themselves as the clear anti-Tory choice too. There is a bitter irony that the party of Ed Miliband's squeezed middle risks getting squeezed for not being centrist enough.
And don't forget that the biggest losers in the past two years in British politics have been the non-Corbyn wing of Labour. Tory Remainers still bask in the 2015 general election, Tory Leavers loved Brexit 2016, Corbyn supporters had a leadership victory in both years. Labour 'moderates' have had nothing to cheer them up, and only a vicarious pleasure in Richmond Park.
The new Tony Blair Institute (will it be called 'TB, Aye' for short?) announced yesterday will look at how to make globalisation more sellable to those who feel left behind. Yet the Blairites are the ones looking left behind right now.
BECAUSE YOU'VE READ THIS FAR..
Lets watch one more time the 'Fenton' video that made Richmond Park a real viral hit. 'Oh, Jesus Christ' is just what Zac may have thought as he saw his majority run off like a herd of terrified deer.
So, what will the Richmond Park impact be on the Government, and on Brexit itself? Last night a Tory spokesman said: "This result doesn't change anything." Article 50 will be triggered by the end of March 2017 and Heathrow will go ahead.
Yet as David Davis - and later Philip Hammond - made plain in the Commons yesterday, the Government is looking at the idea of continuing to pay contributions to the EU even after Brexit. DD added to the CBI last night that he did not want damaging labour shortages, with a hint that low-skilled migration would continue. The Government would end freedom of movement "as it has operated before" but "we won't do so in a way that is contrary to the national and economic interest", he said.
That sounds very much like a 'soft Brexit' that many Tory MP fear. DD of course won't use such flaccid language. But his pragmatism has impressed many civil servants, as well as the PM, and he could turn out to be the real 'Nixon in China' figure of the Government. His Brexit credentials are so impeccable that he is unafraid of the 'betrayal' narrative, and may just try to cut the right deal in the national interest.
Tim Farron was busy telling the Today programme that Richmond Park had voted against 'hard Brexit'. He also cited party data that claimed a third of Tory 'Leavers' had switched to the Lib Dems yesterday in the seat because they were worried that May was backing too harsh a Brexit. One danger for Farron, and Corbyn, is that May does indeed adopt a soft Brexit, taking a hit on less harsh migration curbs than promised, but keeping her coalition of middle-of-the-road voters who like her 'lets make the best of it' approach.
It risks getting lost, but I suspect that one of the main motivations of many non-Tory voters in the by-election was simply to cut the Government's working majority (it was 14 but is now 12, I think). Just six more by-elections - not inconceivable over a Parliament - and May's majority could be wiped.
Will that make the PM more or less likely to hold a snap general election in 2017? Well it all depends on which Theresa May gets the upper hand: the cautious Theresa or the bold Theresa.
The cautious one will just want to get on with the day job of sorting the mammoth task of Brexit negotations and their aftermath. She will also hear advice that the Lib Dem revival is no longer theoretical and that going too soon risks the Tories losing all those valuable south West London and South West England seats that delivered victory in 2015. Don't forget that the Lib Dem candidates in many seats are former MPs (like Ed Davey and Vince Cable) just gagging to give moderate, liberal voters a chance to repent.
But the bold Theresa may listen to those around her urging her to look at the bigger picture: things can only get worse, politically and economically. Her party has a huge lead over the real enemy, Labour, in the polls and a few Lib Dem losses would be massively outweighed if she cleans up in Tory-Labour marginals in the north and midlands.
'Brexit betrayal' could become a real passion for Tory backbenchers and she will need a bigger majority to survive a Major-style Bastards scenario. The economic shocks of Brexit transition could grow, living standards could be squeezed further, the global economy could get worse - offering Corbyn a possible lifeline the longer May avoids an election.
My hunch is that cautious Theresa will win out. There are plenty of advisers tell her that Labour is so flat on its back, with a leftwing membership that is not going away and that won't let Corbyn go, that the poll lead will last until 2020. If Richmond Park revives the Lib Dems at Labour's expense in the national polls, that really could be the most important factor of last night.
Our latest Commons People podcast is out. Listen HERE to us chew the fat about Richmond Park, UKIP and Ed Balls. Oh, and there's a quiz on what is and isn't legal in the UK.
If you're reading this on the web, sign-up HERE to get the WaughZone delivered to your inbox.
Got something you want to share? Please send any stories/tips/quotes/pix/plugs/gossip to Paul Waugh (paul.waugh@huffingtonpost.com), Ned Simons (ned.simons@huffingtonpost.com), Martha Gill (martha.gill@huffingtonpost.com) and Owen Bennett (owen.bennett@huffingtonpost.com)
Popular in the Community