The five things you need to know on Wednesday, December 7…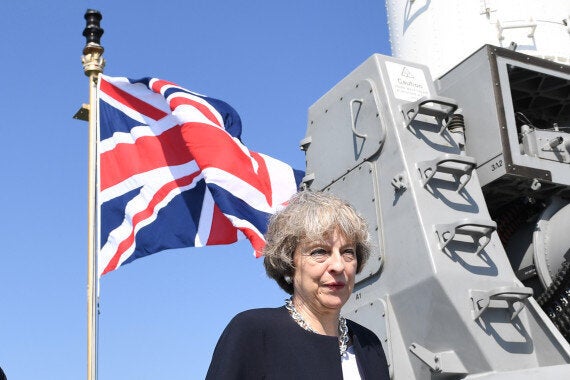 With Theresa May in the Gulf, and no deputy 'First Secretary of State' like George Osborne available, PMQs duties today will fall to Commons Leader David Lidington - and Emily Thornberry (it's her, rather than Shadow Commons leader Valerie Vaz, because Corbyn asked her to be his regular PMQs stand-in, at the last reshuffle).
Yet the real PMQs in many ways will come straight afterwards, when David Davis and Keir Starmer (one a former leadership contender, one a possible future one) face off over the Opposition Day motion on Brexit. Starmer's carefully worded motion - calling for the Government to publish its Brexit 'plan' -succeeded in attracting support of Tory Remainer MPs like Anna Soubry. But as I tweeted yesterday, No.10's late amendment looked like a judo move, forcing Labour to accept Article 50 will be triggered by the end of March.
And although Starmer can claim credit for forcing May to publish a 'plan', that plan looks like it will be very thin indeed. I understand the PM may do little more than trot out what she told Corbyn at PMQs last month: the "best possible" trading deal "with and within" the EU, "control" of freedom of movement, new trade deals overseas. Not so much a Plan B as a Plan T, it will not be the kind of White Paper David Davis once urged before joining government. Detail will not be a premium.
As for the vote today, it's a damp squib with Labour saying it will back the amendment. (Even without the amendment, it's worth remembering the DUP and Carswell give the government a 'Brexit working majority' not of 13 but of nearly 40. Add in Labour Leavers and illnesses for Grahame Morris and Gerald Kaufman and defeating the Government on this was not an easy task).
The debate, and the next steps, may be more interesting. Soubry initially last night said the amendment was a good thing, but then told ITV she would be watching to see if the 'plan' was mere 'weasel' words. Starmer looks like he's operating a philosophy of 'marginal gains' (the British Olympic cycling team's incremental strategy that sought advantage in the smallest of areas), nudging ministers to show more, gradually. He's now set a deadline of January for the 'plan'.
The Supreme Court wheels ground slowly again yesterday, but it remains to be seen if the judges will demand that May produces anything other than a one-clause bill to trigger Article 50. The irony of today's amendment is that its final line reads just like such a short bill.
So that snap election is happening after all. Len McCluskey finally confirmed yesterday that he was quitting - in order to seek re-election up to 2020. Under Unite rules you can't call an early election (his term was due to end in 2018) unless you die or resign. So the general secretary announced he was indeed stepping down in April 2017, although he will remain in charge right through the balloting process. Well done the Times' Michael Savage for getting first sniff of this last week.
Why does a trade union election matter? Well, Unite is Labour's biggest donor, McCluskey played a key role in defending Jeremy Corbyn in crunch 'coup' talks with Tom Watson last summer, and the union's reps can change the balance of power on the ruling NEC. It may all seem academic given Labour's current poll ratings, but for many Labour MPs this is the next best thing to their own party leadership election.
Gerard Coyne, the 'moderate' West Midlands regional secretary, is the man seen as Len's main rival. Ed Balls told me last week that Coyne was doing "a really good job". I would point out that Coyne's father-in-law is none other than Bill (now Lord) Jordan, the formidable former leader of the AEU - and hammer of the Left.
Balls also pointed out the main charge against McCluskey among Labour MPs: that he's never really been a Labour party man - until Corbyn arrived. He said that as Shadow Chancellor he would often tell McCluskey to help the party but "he would always explain to me he wasn't really of the Labour party - and that wasn't really his background or where he came from". "He obviously will feel differently now that Jeremy Corbyn is leader - but that's partly because Jeremy Corbyn is being supported by many people who've not been in the Labour party for a very long time." Ouch.
Still, 'moderates' underestimate at their peril the left's ability to organise in union elections, where turnout is pitifully low. TSSA chief Manuel Cortes was elected on a landslide with 66% of votes cast last week - but on a turnout of 19%. And McCluskey has plenty of supporters across the country.
The Joseph Rowntree Foundation has a new report revealing that 55% of people in poverty are actually in working households, a record high. showing a "growing insecurity underneath positive economic headlines". The reasons are now familiar: higher rents, a wages squeeze, expensive childcare and cuts to in-work benefits - not least the Universal Credit work allowance.
It underlines why May wanted Hammond to do more in the Autumn Statement, and that he held out against more expensive U-turns on Uni Credit. The Government will point to extra childcare help it's offering, plus a higher minimum wage.
As it happens, the FT has a copy of a new NIESR think tank report out showing that lower immigration after Brexit will bring 'modest growth' in incomes for some low-paid sectors such as retail, agriculture, hospitality and construction.
But there's a 'but'. In the case of a "middle-range Brexit", where EU immigration falls by as much as 91,000 a year, GDP per capita will be 3.4 per cent lower by 2030 than it would have been otherwise. If immigration drops by 150,000 a year, the drop will be 5.4 per cent. So overall GDP will be hit, but some workers will feel better off. Which seems a reversal of the problem that has powered Brexit and Trump: globalisation boosting GDP overall but many missing out individually.
Another 'but' comes in separate warnings to ministers (the Times reports) that the horticultural industry is reporting a steep decline in migrants applying for temporary work. Will those who voted Leave step in and do the fruit-picking jobs instead? Or is the pay too low? Labour's Angela Smith raised this on Monday and got an interesting reply suggesting Brexit may have this sector as an exception to the migrant curbs.
BECAUSE YOU'VE READ THIS FAR…
It's winter, but it's not just the record December temperatures that are making life feel unseasonal. A rash of summer season-type stories abound, not least the focus on Theresa May's chocolate-coloured leather trousers.
On her trip to the Gulf, the PM was asked directly yesterday about the £995 cost of the trousers, to which she replied in full robot, not-answering-the-question mode: "I believe it is important for politicians to get out and about and that's exactly what I continue to do. It is important that we have a country that works for everyone".
It was Nicky Morgan who told the Times at the weekend that "My barometer is always, 'How am I going to explain this in Loughborough market? I don't have leather trousers. I don't think I've ever spent that much on anything apart from my wedding dress." Of course, when so many people are in poverty and in work (as above), that's not a good look. But many Tory allies of May sniff more than a whiff of sexism in the focus on May's attire, and Nadine Dorries tweeted: "Cameron's suits cost x3 as much but not a peep then".
The other summer season tale around was Liz Truss telling MPs that 'barking' dogs in prisons are helping to 'deter drones'. Labour MPs yelled "it's the Minister who's barking", ridiculing the idea that radio-controlled drug-drops could be put off by noisy pooches. Sam Gyimah's face was priceless. Truss has never been able to live down her famous cheese-rant at Tory conference in 2014. Watch her killer pause HERE before she says 'that…is…a…disgrace'.
Theresa May and Philip Hammond's refusal to give the NHS a winter cash injection is sure to feature again today after the BBC reported a startling rise in "trolley waits" in hospitals. The data analysis (drawn from publicly available figures, so not even needing an FoI) found that nearly 475,000 patients waited for more than four hours in 2015-16 - up from just 97,000 2010-11.
So what used to be unusual - patients arriving at A&E but then being forced to wait on trolleys and chairs before getting a bed - is now getting more normal. The percentage rise is from 2.7% to 11%.
But just as waits are becoming routine, so too are huge salaries for temporary hospital bosses. The Times splashes its front page with a report NHS trusts have been ordered to end "eye-wateringly high" payments to stand-in bosses after it emerged they were getting wages that amount to more than £400,000 a year. Worse still, interim managers are sometimes employed through professional service companies, which could be used as a method of tax avoidance.
In many cases they don't work for a year, of course, as most are in-and-out emergency appointments to turn round failing trusts. But when interim hospital finance directors are being paid about £1,800 a day (the equivalent to £432,000 a year), they had better show serious improvement and the watchdog suggests they don't.
If you're reading this on the web, sign-up HERE to get the WaughZone delivered to your inbox.
Got something you want to share? Please send any stories/tips/quotes/pix/plugs/gossip to Paul Waugh (paul.waugh@huffingtonpost.com), Ned Simons (ned.simons@huffingtonpost.com), Martha Gill (martha.gill@huffingtonpost.com) and Owen Bennett (owen.bennett@huffingtonpost.com)