The five things you need to know on Monday, December 12…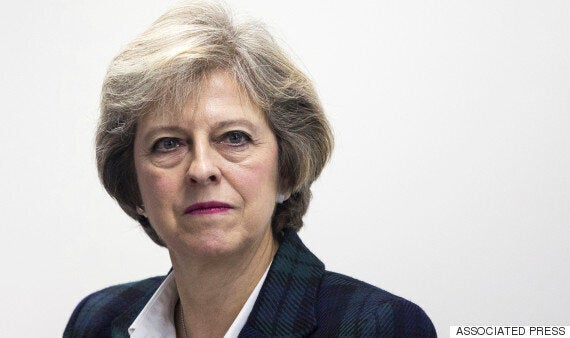 Russell Brand's much-mocked online channel 'The Trews' ('true news', geddit?) is in hibernation. Yet as 2016 comes to an end, there can be no more fitting finale than a Brexitly-bitter Tory spat over the cost of Theresa May's leather trousers.
New readers start here: May made clear she wasn't a fan of Nicky Morgan when she sacked her this summer. But after the former Education Secretary criticised the £995 cost of May's leather trews in a photo-shoot, the PM's fiercely loyal co-chief of staff Fiona Hill let rip at Morgan in a series of texts leaked to the Mail on Sunday. Morgan was barred from a No.10 meeting in retaliation. May was snapped yesterday leaving church wearing what looked like a bargain basement pair of jeans.
A proxy war has spilled over into the pages of the papers, with the Times saying in its leader that May is too thin skinned and that the "childishness" of banning Morgan from No10 was "troubling". Quentin Letts in the Mail says Morgan's "ambition is matched only by her duplicity and lack of talent" - a sentiment that is expressed among several Tory backbenchers.
The Daily Mail also carries a Page One pic of Morgan carrying a handbag it claims is also worth nearly a grand. But a source close to Morgan told the paper the bag was a gift given about 12 years ago, when it would have been worth about £500. I can't believe I'm even typing this stuff. But of course it's not the leather goods that matter, it's the wider issue of May's handling of Brexit critics in her own party. Morgan's local Tory association deputy chairman told her to stop making side-swipes at the PM, but she was defiant, telling the BBC she would be a 'thorn' in May's side over the EU.
The Times has a neat profile of Hill (with a lovely pic of her poking her tongue out), with friend and minister Ben Wallace saying: "Fiona is guilty of loyalty, which in this day and age is a rare quality." And on Radio 4's Westminster Hour last night, Des Swayne rightly said that May's top advisors act on her authority.
Of the trews spat, Des added a final burn to Morgan's remarks: "I daresay that Nicky will get over it and will find ways of conveying her views to the PM, but I think it was impertinent to have made such a remark. I'm afraid I come from a background where it was always rude to talk about money and certainly to talk about what people's clothes cost". The new Tory MP for Sleaford and North Hykeham, Dr Caroline Johnson, is expected to take the oath today. I do hope the focus isn't on her trouserwear.
I know every week seems like Brexit Week. But the coming days really have been designated "Brexit Week" by the House of Lords' EU Committee, as it publishes six reports in six days on what our exit from the EU should look like. From the Ulster border to trade and security, the peers are trying to sketch a picture on the Government's current blank page.
And the veritable advent calendar of Brexit-themed events (with a tiny pair of chocolate trousers behind each paper window?) continues. Today, Philip Hammond appears before the Treasury Select Committee and a group called 'The Three Million' presents a letter to No10 demanding rights for EU nationals in the UK. David Davis has his debut before the Brexit Select Committee on Wednesday, when Guy Verhofstadt details more of his own 'associate citizenship' idea to give Remainers their own EU passports.
We have the threat of a court case insisting the UK remains in the EEA. And barrister Jolyon Maugham has in just 48 hours managed to crowdfund his legal challenge in the Irish High Court, in a crafty bid to get the reversibility of Article 50 decided by the European Court of Justice
The British Chambers of Commerce has a new report that seems to chime with most economists' forecasts these days: the great British public have shown a 'keep calm and carry on' approach to Brexit and 2017 doesn't look as bad as feared. But 2018 - which happens to be when the real business of Theresa May's talks will take place - sees lower growth and higher inflation.
Dealing with pesky peers by threatening to flooding the Lords with new members is not a new idea. But "doing a Lloyd George" (the Liberal PM's threat to create lots of peers in 1909) is gaining traction as Brexit hovers over all we see.
The threat - and note it is always a threat rather than a reality so far - emerged a few weeks ago and last night Sir Desmond Swayne let rip at suggestions that the Lords could somehow stymie the EU referendum result.
"In the last 100 years I think on two or perhaps three occasions, where a government has thought it was not going to get its will in the Lords, it has made clear its intentions to create as many peers as are necessary to secure its will and the mere threat of that has led to a backing down. So I hope someone in Number Ten is making a very long list and is prepared to leak it." Leaking the flood, there's an idea…
BECAUSE YOU'VE READ THIS FAR…
4) 12 MONTHS' HARD LABOUR
Jeremy Corbyn has chosen the white dove of peace for his Christmas card this year. And an uneasy truce continues within the Parliamentary Labour Party, though the ceasefire is broken as regularly as it is in most conflict zones around the world. It didn't get much attention because it dropped on Friday, but a YouGov survey put Labour on just 25% – its lowest level of support in opposition since 1983.
John McDonnell and Diane Abbott both admitted yesterday that Labour had had a "dreadful year" and that recently the by-election results were poor (Corbyn too conceded this on Saturday). Both blamed the 'coup' attempt, with the Shadow Chancellor saying: "People won't vote for a divided party". Abbott went further on Marr, suggesting "I am confident we are going to close the gap in the coming 12 months." Ken Livingstone added on Sunday Politics: "If it's as bad as this in a year's time, we would all be worried". The fact that he didn't even mention Hitler suggests things must be bad. There's lots of chatter about leftwingers lining up Clive Lewis as a future JC successor.
Meanwhile, I'm told McDonnell will try to get on with the day job today by launching a new series of regional economic conferences across the UK "to transform the post-Brexit economic debate". The first one will be on 4th February in Merseyside (featuring Corbyn and actress Maxine Peake) followed by conferences later in the year in Glasgow, Newcastle, Bristol and Cardiff. An annual 'State of the Economy' conference event in May will take place this year in Birmingham.
One of the hidden stories of the past few years has been just how much of the heavy lifting of 'austerity' has fallen on local councils. Harder to report because it's a 'local' story in each area, town hall funding has long seen a tussle between councils who say they can't cut any more and ministers who say they are crying wolf, yet again.
But with social care paid for by local authorities, they may get more attention, not least as they struggle with our expanding elderly population and the knock-on effect on the NHS. The Times today splashes its front page with a suggestion that to plug the cost, the council tax precept may be allowed to go up from the two percent currently allowed (possibly to 7%). Communities Secretary Sajid Javid may have that up his sleeve in coming days.
The Lib Dems' Norman Lamb has got his retaliation in first (the Libs often beat Labour to the punch on this kind of thing these days, as the official opposition can spend upto 18 hours sending a press notice out after an event). Lamb says the precept is a "desperate sticking plaster solution" that will only exacerbate the postcode lottery of social care. Some in social care say last year's £380m from the precept barely covered the national minimum wage hike.
The Times says the number of days hospital patients wait on wards for suitable home care packages has increased by 224 per cent since 2010 - and 250 residential care homes have closed since March alone. And Martin Green the Chief Executive of Care England told Today: "40% of care services will no longer be viable in the medium term". And to get a glimpse of the scale of the problem, the Local Government Association's Izzi Secombe warned on the programme that "there will be a shortfall by 2020 of £2.6 billion" in care system funding.
If you're reading this on the web, sign-up HERE to get the WaughZone delivered to your inbox.
Got something you want to share? Please send any stories/tips/quotes/pix/plugs/gossip to Paul Waugh (paul.waugh@huffingtonpost.com), Ned Simons (ned.simons@huffingtonpost.com), Martha Gill (martha.gill@huffingtonpost.com) and Owen Bennett (owen.bennett@huffingtonpost.com)