The five things you need to know on Thursday, December 15…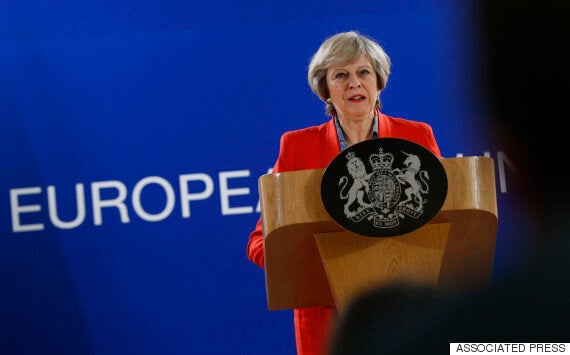 Theresa May arrives in Brussels for the first ever summit where a UK PM will afterwards be excluded from the working dinner. The 'NFI' approach of the EU 27 is nothing to get too worried about, No10 claims. It says the post-summit gathering, sans May, is only an 'informal' gathering to discuss Brexit (though it will be interesting to see if any officials or notetakers are present - officials we are helping pay for).
What may not have improved the PM's mood is the BBC scoop this morning that Our Man In Brussels has warned it could take 10 years to finalise a post-Brexit UK-EU trade deal. That would bring a whole new meaning to the phrase 'the lost decade' (copyright: Tokyo). Sir Ivan Rogers, our ambassador to the EU, made his private warning to Whitehall in October, adding that any deal could even be rejected by the other 27 national parliaments.
No.10 stresses Sir Ivan was merely passing on the views of other EU states, as is his job to do, rather than any personal view. Dominic Raab told Today that for all the focus on process, the substance mattered most and it was 'slowly dawning' on other states that it's in their economic self-interest to get a deal. With our economy continuing to do well (see the jobs stats yesterday), Liam Fox also thinks The Continent has more to lose than we do from years of trade conflict.
Some ministers believe a 'divide and rule' approach may help us, but EU divisions are double-edged. The Telegraph reports that smaller states want early talks with the UK, and the FT says the Euro Parliament is warning the Commission it will back 'the hardest of exits' if MEPs are sidelined.
As for the hard business realities, the FT reports Lloyds of London has become the first big City firm to confirm contingency plans to move to Europe if 'passporting' rights can't be guaranteed. Oh, and Lego says the plunging post-Brexit vote pound means it's putting up prices by 5%.
David Davis's appearance before the Commons Brexit Select Committee was peppered with his new catchphrase: "I don't know". Some of that may have just been a holding position, or kidology to protect our negotiating position, but it's more likely that on many issues the Brexit Secretary genuinely still doesn't know exactly what the UK Brexit plan will look like.
One of DD's most striking unknowns came when he was asked whether Article 50 process was reversible. "It's very difficult seeing it being revoked. We don't intend to revoke it," he said at first. But then he added the curious line "It may not be revocable – I don't know." Cue thoughts that Brexit itself could be reversed. After the session, DD tried to calm things by saying he could comment on the politics of Article 50 (ie it's definitely not reversible) but not the legality of it (which has to be settled by the Irish courts among others).
There were other remarks that gave invaluable glimpses into his thinking. DD made clear he wanted the UK to take 'clear control' over immigration, a position which is classed as 'hard Brexit' by many. Yet he added that once that control was returned, one option would be to continue low-skilled migration in areas like 'fruit picking' that were in 'the national interest'. That sounded like 'soft Brexit'. So you can see the state of flux this is still all in.
One thing may irritate MPs: in saying the Brexit 'plan' won't be ready by February at the earliest, DD is giving Parliament very little time to scrutinise (let alone delay) it before Brexit is triggered at the end of March. As for the PM's meeting with the 'new bastards' yesterday, an omerta has gone out not to talk about it.
Tory backbenchers were more happy to talk about her 'storming' performance at the 1922 Committee. Michael Fabricant said constituents complained she hadn't worn her leather trousers at PMQs. She replied that when she was younger, she once wore a leather skirt while sitting next to Sir Peter Tapsell at dinner. She said the Knight of the Shires told her "You've made an old man very happy". Easy, tiger.
Since his re-election, the stony silence that used to greet Jeremy Corbyn from his own backbenches during PMQs has been increasingly replaced by cheers. That's partly because he's got better at the game (fewer clunky off-piste questions from punters), partly because the PLP have largely decided they have no choice but to back their leader.
And as he held his usual weekly post-PMQs meeting with backbenchers on the party's Parliamentary Committee, Jez was buoyed by the support. But it rapidly became clear there was a fly in the ointment: the Standard had revealed he'd hired to his leadership team a former Sinn Fein staffer, Jayne Fisher. MPs raised it and Corbyn played down any row, saying she was "a very good appointment", suggesting he'd long known Gerry Adams' main London aide.
Sources told me last night that Fisher's title will be "Stakeholder Engagement Manager", and that her long membership of Labour in Islington South proved her credentials. But some MPs think that title may not work with the Jewish community, not least as she in 2014 told a rally (see the video HERE) of Adams's call for the 'expulsion' of Israel's ambassador in Dublin over the Gaza conflict.
Meanwhile, JC has told the New Statesman that his party's continued poor polling is down to the fact that "we were distracted by the leadership contest when we could have been attacking the Tories…We'll see how they [the polls] develop as we develop our economic programme." He hinted too that the mainstream media was to blame, while suggesting social media was getting his message across more effectively. Let's see if either diagnosis will continue to hold in 2017.
BECAUSE YOU'VE READ THIS FAR…
Social care has finally hit the front pages in a consistent way this week. And today after all the pre-briefs and speculation Communities Secretary Sajid Javid will set out to MPs his plan to fast-track council tax rises to help councils pay for elderly care. Government sources made clear that this is not an increase in spending, just a front-loading of 'precept' rises already planned.
Yet I wonder if there will be any extra cash for the other bit of May's twin-pronged answer to the crisis: the 'Better Care Fund', which pools money for social care. After all the noise and fury of her exchanges with Corbyn in PMQs (and Labour MPs were cheered by their leader's strong performance), it was the PM's answer to Sir Hugo Swire that caught my ear. He asked if the BCF could be fast-tracked too, and May said wait for today.
Meanwhile, NHS chief exec Simon Stevens was busy again in Parliament yesterday, telling the Communities Select Committee more of his plan to replace the pensions 'triple lock', but expanding his criticism to suggest free bus travel should be targeted too. "There is no point in saying to our parents yes you've got a free bus pass if you're not able to leave the house because you don't have the availability of a home help". He also drily noted there has been a move from "denial" of social care problem to "acknowledgement" of it by politicians. Ouch.
Education stories tend to switch people off. Deemed at turns too dull, too abstract or too age-specific (as parents focus on what affects their offspring right here, right now) the subject rarely gets as much political priority as some imagine. Yesterday's announcement of a reform in schools funding may or may not rouse people from their torpor - unless they end up personally benefitting or losing out.
Confirming a change long promised to Tory MPs by David Cameron, Justine Greening set out how money would be switched from 9,000 schools in London and other urban areas to schools in rural and other areas that have traditionally not had as much cash.
But teaching unions warned that even the "winners" will see the gains outweighed by real-terms cuts to their funding over the next three years. With uncanny timing, the National Audit Office yesterday warned that schools in England were facing an 8% real-terms cut in funding per pupil by 2019-20 as a result of £3bn worth of cuts. For a Government that believes reform is as important as funding, the real test could be whether the regions can replicate the rapid improvement in results seen in London schools in the past decade.
If you're reading this on the web, sign-up HERE to get the WaughZone delivered to your inbox.
Got something you want to share? Please send any stories/tips/quotes/pix/plugs/gossip to Paul Waugh (paul.waugh@huffingtonpost.com), Ned Simons (ned.simons@huffingtonpost.com), Martha Gill (martha.gill@huffingtonpost.com) and Owen Bennett (owen.bennett@huffingtonpost.com)
Popular in the Community