The five things you need to know on Friday, December 16…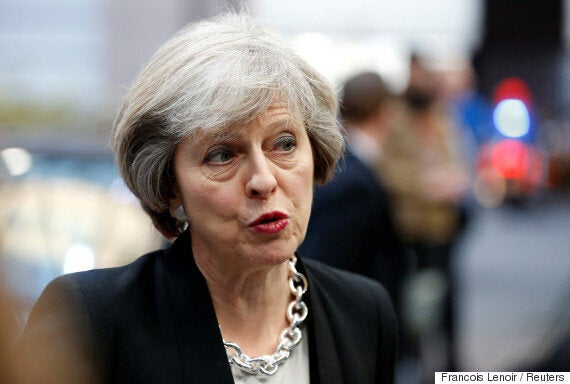 1) BREXIT, PURSUED BY A BEAR
Theresa May legged it from the EU summit last night, ditching a promised press conference in favour of some prepared 'remarks' about Russia. Dubbed Theresa 'no-Maytes' after that excruciating clip of her looking friendless among fellow leaders, she clearly didn't want to stick around to answer tricky questions about her isolation. Or trade. Or migration.
May has for months vowed there'll be 'no running commentary' on Brexit. But last night her strategy looked instead like it had been re-arranged into a kind of anagram of 'running away! no comment!'
Earlier, the PM certainly looked awkward as she refused to answer questions about whether the UK's ambassador was right to warn a trade deal with Brussels could take up to 10 years to sort. Sir Ivan Rogers snuck out of their ministerial car and also stayed mute on the topic.
Because May scarpered, it was left to the Irish PM Enda Kenny to reveal she had told the summit she wanted the issue of EU citizens' rights sorted 'early' in the Brexit talks. But in a sign of EU solidarity, he warned Ireland would not sign a bilateral deal with the UK until May had settled with the whole EU first.
On the wider Brexit picture, the Czech foreign minister confirmed that EU negotiator Michel Barnier was demanding a £50bn 'exit fee' for the UK. The FT reports that France is urging the bloc to curb the City's role as a euro clearing house. A new Lords report warns Brexit could make us less safe. Oh, and Leave-voting Wigan is to lose 99 jobs at its Pink Panther wafer factory because of the Brexit-linked fall in sterling.
After the summit, May expressed her support for the people of Aleppo, but the fact remains that the summit refused to back fresh sanctions against Moscow for its role in the Syrian slaughter. Although EU sanctions linked to Ukraine were extended, it's fair to say Vladimir Putin was not quaking in his boots.
Barack Obama has overnight promised retaliation over hacking of the US election. The UK's cyber-security chief Ciaran Martin hinted on Newsnight that an emboldened Putin may see successful disruption in the US as "a successful model for intervention in a society such as ours". Some scoffed at Ben Bradshaw's talk of Moscow hacking the EU referendum, but maybe he had a point about the growing hack threat?
2) NEW YEAR'S JEZ SOLUTIONS
You always know a party or a leader is in trouble if the dreaded word 'relaunch' attaches to them. But today's Guardian says Jeremy Corbyn will be relaunched as a 'leftwing populist' in the New Year, with aides putting him on TV more to get his 'unpolished authenticity' across to more people.
The new Jez looks like he'll be the old Jez, although with fresh "flagship policies" to "underline his willingness to lead a revolt against vested interests". It sounds like full-fat Milibandism, but will the voters like it any more than Ed?
Our Ned Simons saw Corbyn at a Momentum rally last night, and he had a warning for the leftwing grouping that has recently been riven by in-fighting and claims of a 'Trotskyist takeover': "disunity is our enemy, unity is our strength".
That unity is hard to maintain in the face of a continued UKIP threat and a growing Lib Dem one. Last night, Tim Farron's party continued its resurgence by winning four council by-election seats from the Tories in Somerset, Devon and Suffolk (all areas where Corbyn has attracted new members). The Lib Dems had a national 'anti-Brexit bounce' in a MORI poll yesterday too, putting them on 14%, their highest for five years. Labour was down to 29%.
Labour's elections chief Jon Trickett tells the Guardian the hugely expanded party membership will wage a 'ground war' in any snap election, "on a scale this country hasn't seen before". In the south, and even parts of the north and midlands, all those new members haven't stopped the rise of the Lib Dems as the anti-Tory option. Some Labour MPs agree that with Corbyn supporters that 2017 really could show movement for Labour - but they fear it will be movement backwards.
At least Len McCluskey remains a solid ally for Corbyn. The Unite general secretary has launched his own re-election campaign this morning with a video and a HuffPost blog.
And the blog contains a stark warning to his critics in the PLP not to use the contest as a proxy to get at the Labour leader. The key line is this: "The last thing we need is for Unite to become a political football for factions in the Parliamentary Labour Party. I think we heard maybe a little too much from them this summer".
McCluskey played up his record in defending members' rights, and hailed Unite's £35m strike fund, as he pitched himself as the man to unite sectors from car-making to Uber-driving in a battle against 'Scrooge bosses' of the 21s century.
He also had an intriguing line that seemed designed to boost support among members who had voted for Brexit, stressing that "workers have always done best when the labour supply is controlled and communities are stable". "We must listen to the concerns of working people. They understand that the free movement of labour means downward pressure on wages," he writes.
Some Labour MPs will let out a hollow laugh at Len's warning not to use Unite as a 'political football', given his own role in getting Corbyn elected twice, and defending him this summer. But the battle with Gerard Coyne is now very much on, and don't underestimate McCluskey's organisation in branches across the country. Coyne has support in the nuclear and car industries, (though McCluskey has support in Halewood car plant in Merseyside), but has he the numbers to topple his rival? Let's see.
BECAUSE YOU'VE READ THIS FAR…
Councils were distinctly underwhelmed by Sajid Javid's social care announcement yesterday. The fast-tracking of council tax precept was seen as a sleight-of-hand, while the £240m from the New Homes Bonus was seen as yet another attempt to present old money as new.
But the Local Government Association said the measures "fall well short" and were "hugely disappointing". Its chairman Lord Porter - a Conservative don't forget - said an "urgent injection of genuinely new additional government funding" was needed.
"The council tax change would help some areas in the short-term but not be "anywhere near enough" to relieve pressure on the sector, Porter said, adding that it would "add an extra financial burden on already struggling households". And changes to the New Homes Bonus, which rewards councils for building new homes, were "not new money but a redistribution of funding already promised to councils". With friends like these….
Dennis Skinner is seen as a loveable old rogue by many Labour supporters, someone who tells it how it is, unafraid to disrupt the Queen's Speech with a ready quip or barb. But others see him as a political dinosaur unworthy of the national treasure status awarded him.
Yesterday, Skinner shocked MPs on all sides by suggesting in DCMS Questions that the emerging footballer abuse scandal was in fact all about money and class - and that the Tories had a role in it. He said it was "remarkable" that all the allegations of abuse were in teams in the top four leagues of England. "Whereas most people like me, working at the pit, were coached at the miners' welfare, and nobody who helped at the 700 miners' welfares all over Britain has been brought forward [in the abuse investigations]."
"The truth is that it is about the money as well. When the Government are digging into this, they should remember that there is a class argument about it. It is about people making money, and the Tories know a lot about that." Culture Secretary Karen Bradley responded to Skinner with this: "Vulnerable young people have been abused by predatory individuals from all walks of life. Even suggesting that party politics is involved belittles the House."
The Times' sketchwriter Patrick Kidd points out that a retired miner in Skinner's own constituency had been sentenced to 11 years for raping a 14-year-old girl, and that Jimmy Savile was a former Bevin Boy in the mines.
Our final #CommonsPeople podcast of 2016 is out HERE. Listen to us chinwag about Bozza and Jezza's Xmas parties (including exclusive audio of both), about Brexit and the NHS. And we have a wee quiz on some of those mad news stories of 2016.
If you're reading this on the web, sign-up HERE to get the WaughZone delivered to your inbox.
Got something you want to share? Please send any stories/tips/quotes/pix/plugs/gossip to Paul Waugh (paul.waugh@huffingtonpost.com), Ned Simons (ned.simons@huffingtonpost.com), Martha Gill (martha.gill@huffingtonpost.com) and Owen Bennett (owen.bennett@huffingtonpost.com)
Popular in the Community