The five things you need to know on Tuesday, December 20…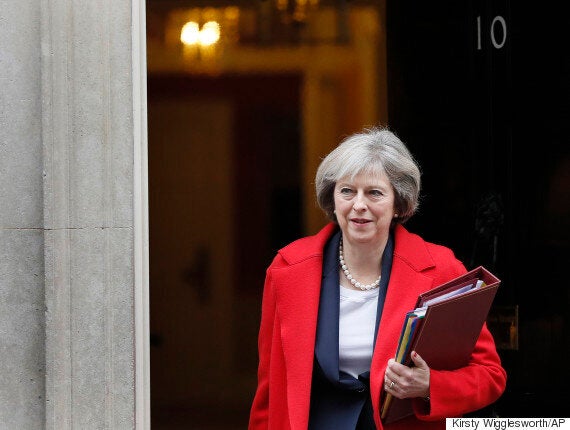 There's no Cabinet today and word in Whitehall is that's because Theresa May will spend the morning prepping for her 2pm appearance before the Commons Liaison Committee. The bi-annual grilling (OK, light toasting) by the chairmen and women of Select Committees today has two tricky topics - Brexit and social care - so you can see why the PM would want to swot up beforehand.
Never knowingly under-prepared, May could still have a tough ride on both subjects. But it is on Brexit that it will be most difficult to get any worthwhile answers. In yesterday's EU summit statement in the Commons, the PM spent 90 minutes telling MPs virtually nothing. She turned her inscrutability into a kind of performance art.
May wouldn't say how long Parliament would get to scrutinise her 'plan' before Article 50 was triggered. She hinted she backed a transitional deal, but didn't commit to one. It was classic Theresa May, Theresa May not. And on the vexed issue of whether the UK would continue to pay EU contributions after Brexit, she was again Sphinx-like.
Challenged by Philip Davies to pledge that "we will not be paying any money into the EU budget" (and to admit that to do so would mean "betraying what people voted for"), the PM replied with this utterly vague response: "When we leave the EU, people want to ensure that it is the British government that decides how taxpayer money is spent." Lots of Tory May-believers saw that as a signal she agreed with Davies. But others saw it as her signally refusing to rule out continued EU contributions. Brexit, as ever with this PM's statements, is in the eye of the beholder.
It's down to more forensic questions from people like Treasury Select Committee chairman Andrew Tyrie to get better answers today when the Liaison meets. Maybe someone will ask too how May can hint she wants to stay in Europol and keep the European Arrest Warrant if she is not in the ECJ.
Nicola Sturgeon will publish her own government's 'plan' for Brexit today. For her part, May will be bolstered by a fresh ComRes poll for CNN. It found that 47% of Britons said they still support Brexit, with 45% saying they would remain and 8 % undecided. The Noes have it, the Noes still have it.
The awful news kept on getting awful yesterday. We learned of the German Christmas market lorry attack hours after the shocking murder of the Russian ambassador in Ankara, and a gunman firing on people praying in a Zurich mosque.
The latest from Germany is that the driver of the Berlin lorry was allegedly an asylum seeker from either Pakistan or Afghanistan who had arrived in the country in February. With the right-wing AfD party already blaming Merkel's 'open door' refugee policy for many of the country's ills, the suspect's status will become a big, big political issue ahead of the German elections next year.
Turkey's President Erdogan rang Vladimir Putin and they both agreed their countries would resist the 'provocation' intended by the assassination of Andrei Karlov by off-duty police officer Mevlut Mert Altintas.
The events of Berlin, Ankara and Zurich are a sombre reminder that Theresa May is the first PM in a long time who spent years as Home Secretary. The job used to be a political curse, of course, but it's looking more like an asset. Her six-year reign in Marsham Street means she commands respect across her Government whenever there's a security incident.
Our intelligence agencies have foiled several plots in recent months, but yesterday's tragic events are also a reminder of that infamous IRA statement after the Brighton bomb attempt to murder Margaret Thatcher: "Remember we only have to be lucky once – you will have to be lucky always."
With rail, postal and airline strikes dogging this week, No10 made plain yesterday that Theresa May felt the trade unions were the grinches stealing Christmas. Or as the PM's deputy spokesman put it: "Their actions are clearly designed to bring about maximum damage and disruption during the festive period."
In keeping with the Xmas theme, the unions in turn blame "Scrooge bosses" (hands up who realised BA cabin crew get a basic salary of just £12,000, and an overall salary of just £21,000 with allowances?) When even the ultra-moderate and reasonable Usdaw shopworkers union is striking at the Weetabix plant over 24/7 working demands, you know something is up. Unite's Len McCluskey warned May against "demonizing working men and women".
Ministers too are getting it in the neck from some commuters for failing to do more to get a grip of the Southern Rail franchise earlier. The PM herself has now decided to act, and the Times reports she told a group of Tory MPs yesterday that bus replacement services and more carriages on neighbouring train servces are being ordered for January's six-day action. In a real measure of desperation, public buildings in commuter towns could be opened up to give people somewhere to hotdesk if they can't get into London to work.
Yet while the PM wants a 'canny' and visible Government response, she warned her MPs not to "grab at" ideas such as tighter strike laws. As for Labour, it's a measure of how far the party has come now that MPs like Meg Hillier are criticised for suggesting unions are shooting themselves in the foot with Christmas disruption (even Gerard Coyne, the 'moderate' Unite contender had a go at her). And the Shadow Business Secretary Clive Lewis tweeted a "shout out" and "solidarity" with striking post office workers. He even joked his inspiration was 'Tony': Benn, not Blair.
BECAUSE YOU'VE READ THIS FAR…
It was hailed by David Cameron as his big attempt to tackle the 120,000 or so 'hard core' families with multiple social problems from crime to deprivation. But Louise Casey's 'Troubled Families" programme has itself long been in trouble when it comes to hard evidence that it's making a difference.
Today, the Public Accounts Committee's report shreds the policy, concluding there were no grounds for ministers' claims that it had saved the public £1.2 billion. Meg Hillier, the chair of the PAC, said it would be a big mistake for the Department for Work and Pensions to simply dismiss its scathing findings as a bureaucratic 'slap on the wrist' for Whitehall for its 'evasive' and 'unacceptable' delays in producing an evaluation of the programme.
And she's right. The report is a much bigger indictment on how politicians can draft and fund policy with little evidence or impact. Jonathan Portes, the former Government economist who has spent years warning of the over-claims, can be forgiven a touch of schadenfreude in his latest blog. The Casey programme was, he says, "a perfect case study of how the manipulation and misrepresentation of statistics by politicians and civil servants – from the Prime Minister downwards – led directly to bad policy and, frankly, to the wasting of hundreds of millions of pounds of taxpayers' money". As he concludes "bad stats mean bad policy".
They do it rarely, but newspaper proprietors can't resist tweaking their rivals' tails now and again. Rupert Murdoch's letter in today's Guardian accuses it of publishing 'fake news' by repeating a quote attributed to him about his stance on No10 and the EU. The quote, which spawned plenty of memes in the EU referendum campaign was this: "When I go into Downing Street, they do what I say; when I go to Brussels, they take no notice."
Murdoch writes: "let me make clear that I have never uttered those words." There's a problem with the media mogul's defence, however. The quote was originally reported in the Evening Standard by its former City Editor Anthony Hilton, who wrote in February that Murdoch had personally uttered the words to him.
Now Hilton is pretty much a legendary figure in financial journalism, noted for his accuracy. He's told the Guardian today: "I stand by my story." He said Murdoch made the remarks in a conversation in the early 1980s, when Hilton was city editor of the Times. He's referred to the anecdote several times over the years without either a denial or a complaint from his former boss, until now.
It may be the timing of the letter is purely coincidental. But any day now Murdoch's Fox is set to formally notify the UK Government of its intention to take full control of Sky. Ed Miliband and Sir Vince Cable are among those who have urged Culture Secretary Karen Bradley to refer the bid to regulator Ofcom. If Bradley is notified soon, she will have a tricky Christmas: under the rules, she will have 10 working days from notification to deciding on whether a public interest investigation should be launched.
If you're reading this on the web, sign-up HERE to get the WaughZone delivered to your inbox.
Got something you want to share? Please send any stories/tips/quotes/pix/plugs/gossip to Paul Waugh (paul.waugh@huffingtonpost.com), Ned Simons (ned.simons@huffingtonpost.com), Martha Gill (martha.gill@huffingtonpost.com) and Owen Bennett (owen.bennett@huffingtonpost.com)