The five things you need to know on Tuesday, January 10…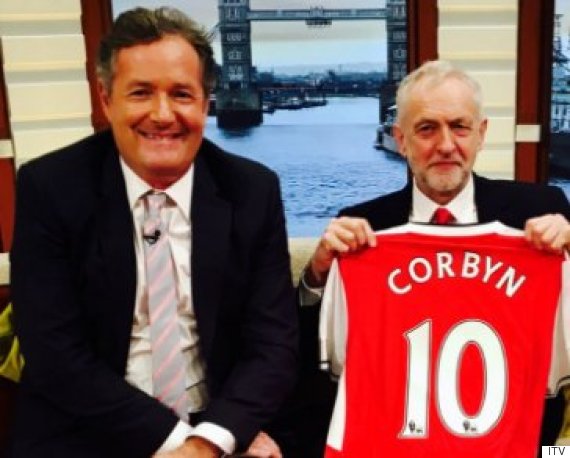 1) NEW YEAR'S JEZ SOLUTIONS
Jeremy Corbyn has been on the breakfast media, ahead of his Big Speech on Brexit and immigration in Peterborough later (which is worth remembering was a Labour seat as recently as 2005). The overnight briefing was that the Labour leader would today finally shift his stance and say that he was "not wedded to" EU freedom of movement any more. This is a very Corbynesque phrase, and suggested he was only reluctantly agreeing to pleas from MPs and some advisers that he has to do more to respond to concerns of all those Labour voters who voted Leave.
But barely a few minutes into his Good Morning Britain interview and Corbyn was exposing the fact that he hasn't managed to square the circle of migration curbs and EU trade any more successfully than Theresa May has. Stressing his shift in language was 'not a sea-change at all' in his views, he slipped back into his usual talk about protecting migrant workers from exploitation and his support for migrants in public services ("those workers are necessary in this country").
Of course, it's perfectly possible for Labour to recommend curbs in EU migration in construction and retail like Sports Direct, while keeping EU migrants in the NHS and social care. But that would require a detailed visa control system, and that isn't Labour policy - yet.
Corbyn coped with the bantz from Piers Morgan (even as the TV host presented him with a 'Corbyn No10' Arsenal shirt with the dig 'you may never get there'). But on the central question of EU trade and migration, the Labour leader appeared to undermine his own new line on freedom of movement: "If the EU says access to single market requires freedom of movement, I would say..end the undercutting [of wages]…[but] economically we've got to be able to trade with Europe". The implication was that if Brussels digs in on migration, Corbyn will cave to stay in the single market.
That may please those critics who were unhappy about the overnight brief. Ex-adviser Danny Blanchflower had tweeted "Disgraceful that @UKLabour and their useless leader support Brexit and racist controls on immigrants". Green party co-leader Caroline Lucas said: "This capitulation to the Tories is astounding". Later on the Today programme he added: "the right to work here would have to be negotiated" (which sounds incompatible with the single market)
On Today, Corbyn managed to commit more news - and make some more New Year's resolutions. He went hard on 'fat-cat' wages, taking the bait from John Humphrys to say: "I would like there to be some kind of high earnings cap", adding he wants to 'look' at 'a maximum earnings limit' law. For good measure, he even gifted everyone a story on the rail strikes. Asked if he'd join a Southern Rail picket line, he said: "Yes I would". The deafening sound that followed was of champagne corks popping in No.10.
People around Ed Miliband (like aides to IDS, Hague, Howard, Brown before them) all used to say that putting him on the media more was the real solution to his poll woes, that the more the voters saw of the 'real' Ed, the more they'd like him. There is of course, the danger that the more the voters see of the real leader, the less they like them. Still, if 'Corbyn 2.0' means more TV and radio interviews like this, at least we journalists will never be under-employed. Let's see how the Q&A goes in Peterborough this afternoon.
2) HUNT THE TARGET
New Labour's 'target culture' has long been a political problem for the Conservatives. David Cameron railed against the way rigid targets can skew priorities in weird ways, but even he accepted the political damage was too high to scrap things like the 4-hour waits in A&E. Yesterday Jeremy Hunt came close to paving the way for refining that very target to exclude 'minor' ailments, warning that huge numbers of non-urgent cases was causing problems.
Department of Health sources insisted to me that Hunt was still committed to the target but wanted a public debate. And the refining of the A&E target is already underway at local level, with 'performance improvement trajectories' allowing individual hospitals leeway: they still get fined for not meeting targets but are being 'managed' to get there over time.
The problem for Hunt is that doctors say that he's not doing enough with GP recruitment to create capacity that will ease the pressure on people rocking up to A&E because they can't get an appointment in their local surgery. One GP tweeted: ""Quite unbelievable. Hunt says he will 'release GPs for A&E work' – like we're twiddling our thumbs and have our feet up. Get a grip!" And the Royal College of Emergency Medicine, said that 25 to 30 per cent of A&E departments are dealing with fewer than 75 per cent of patients within four hours — the "magic mark" for safety.
Shadow Health Sec Jon Ashworth tells HuffPost: "Patients quite rightly want reassurance that they or their loved ones will be looked after. To blame them for turning up at A&Es is an insult and is nothing more than blaming the public for the failures of Tory NHS mis-management." On ITN's Channel 5, Hunt was asked if 'right now, would you be happy to send a member of your family to a hospital that's just declared the highest level of alert?' He replied: "I would be happy to send a member of my family to the vast majority of NHS Hospitals..'
The PM sidestepped questions of NHS funding in her mental health speech yesterday. She can't have been pleased how two Tory select committee chairmen, Neil Carmichael and Sarah Wollaston responded to her plan to train more teachers about child mental health. The Education and Health chairmen said schools "should not simply be burdened with more responsibilities on budgets that dry up after a few years". Ouch.
Note too that May didn't once use the word 'grammar schools' when referring to 'good school places' yesterday. Ofsted's new chief Amanda Spielman tells the Guardian today that more grammars are a "distraction".
3) QUEUE TIPS
In the Q&A after her 'shared society' speech yesterday, Theresa May was asked by the Sun's Tom Newton-Dunn if the pound had fallen because the markets had got her Brexit remarks wrong, or if she was just wrong about Brexit. Her reply betrayed more than a touch of irritation: "I'm tempted to say the people who are getting it wrong are those who print things saying I'm talking about a hard Brexit, 'it's absolutely inevitable it's a hard Brexit'. I don't accept the terms hard or soft Brexit."
Was she irritated because she hates the phraseology or because she really is trying to stay in the single market? We may find out in her Big Speech due later this month, but given all her previous statements it looks more like her being upset by the phrase. As it's always worth pointing out, the big question is whether the EU27 will allow us a transitional deal before a 'clean Brexit'.
And just as May keeps repeating her lines, so too does Angela Merkel. Yesterday she popped up to say: "access to the single market can only be possible on the condition of respecting the four basic freedoms…otherwise one has to talk about limits [of access]." Given the claims that the UK can retain access to, if not membership of, the single market that was a useful reminder that negotiation is a two-way street.
But no amount of Teutonic cold water can cool Boris's enthusiasm for Brexit. And the Foreign Secretary (who like many Vote Leavers think Obama's 'back of the queue' talk backfired last year) has been on Capitol Hill to try to line up a US-UK free trade deal. Senator Bob Hawker of the Foreign Relations Committee tells the BBC: "There's no way that the United Kingdom will take a back seat, they will take a front seat [in trade talks]….' Let's see how that works out, given Trump's team have a million other things to deal with. Boris has Foreign Office Questions at 11.30am.
Meanwhile, the Guardian reports an official in Amber Rudd's office has written a litter describing EU citizens in the UK as "negotiating capital". It hasn't gone down well with some of them.
BECAUSE YOU'VE READ THIS FAR…
Watch Boris saying 'Hello folks' in what looks like a political 'hostage video' devised by team Trump
4) COPELAND'S CUMBRIAN SPRING?
So the Copeland by-election could well be delayed by Labour until May 4th, to boost turnout and coincide with the wider county council elections and normal daylight hours. In an interview with HuffPost, campaign chief Andrew Gwynne, who played a key role in the Oldham West victory, confirms the 'Star Wars' date (May the Fourth be with you, keep up at the back) is the working assumption.
Leaving a seat three months without an MP is not unprecedented, but it would be strange given the vacancy is caused not by a death but by Jamie Reed wanting a more secure job in the nuclear industry. Gwynne and others in the party are convinced that threats to the local NHS services will be the big issue of the campaign, and will hope that Corbyn's scepticism on all things nuclear (as well as wider stances on defence and Brexit) will be exploited enough by the Tory challengers. A long campaign could give the Tory candidate time to build up even more profile however.
What's interesting is that Corbyn is firmly putting his own stamp on this by-election. I have been passed papers for the NEC which show the longlisting and shortlisting panel comprises Jon Trickett, Unite's Jenny Formby, Christine Shawcroft and NEC chair Glenis Willmott. I'm also told that the very hot favourite is Rachel Holliday, who won Cumbria's Woman of the Year 2015 for her work helping homeless military veterans. Her husband works for Sellafield security, she joined Labour because of Corbyn and is being pushed hard by Corbyn supporters nationally and in the local party. I also hear there are plans to give her a full membership list - which could prove crucial.
5) THE WRONG TROUSERS
Perhaps my favourite story today is the Radio Times revelation that The Queen watches the BBC teatime quiz show 'Pointless'. It's unclear whether Her Majesty watches 'Have I Got News For You', but many MPs do. And of course the most recent MP pencilled in for the show was Nicky Morgan, who had to pull out of taking part before Christmas in the wake of 'unforeseen circumstances'.
Those circumstances seemed to be the backlash (from No.10, Nadine Dorries, and even fellow Remainer Sir Nicholas Soames) over Morgan's 'trousergate' remarks. The former Education Secretary had famously dissed the PM's £995 leather trousers, but on Newsnight last night she emerged full of contrition.
"Let me just say on the issue that arose before Christmas, look, sometimes in politics feelings run high and things get too personal. That was not a good place for any of us, me, to be, and the Conservative Party, before Christmas. I just think that sometimes you say things and it doesn't really actually get to the heart of the issues that people want you to discuss."
As for higher education, the Lords last night inflicted yet another defeat on the Government voting for a Labour amendment to the higher education and research bill, demanding that universities remain "autonomous" bodies and free to criticise the government. With 500+ amendments lined up, and a solid anti-Tory majority, will minister Jo Johnson now go back and do some surgery?
If you're reading this on the web, sign-up HERE to get the WaughZone delivered to your inbox.
Got something you want to share? Please send any stories/tips/quotes/pix/plugs/gossip to Paul Waugh (paul.waugh@huffingtonpost.com), Ned Simons (ned.simons@huffingtonpost.com), Martha Gill (martha.gill@huffingtonpost.com) and Owen Bennett (owen.bennett@huffingtonpost.com)