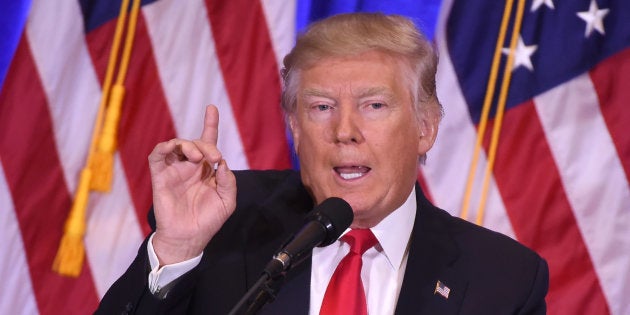 WASHINGTON ― President-elect Donald Trump announced Wednesday that he would place his two sons, Donald Trump Jr. and Eric Trump, in charge of his multibillion-dollar Trump Organization.
"My two sons, Don and Eric, are going to be running the company," Trump said at a press conference in New York. "They are going to be running in a very professional manner. They're not going to discuss it with me."
Sheri Dillon, a financial adviser at Morgan, Lewis & Bockius, said at the event that Trump's sons would have no contact with their father while he serves as president, and the company will appoint an ethics adviser to oversee any possible conflicts. The president-elect and his daughter Ivanka Trump will resign all positions in the Trump Organization, Dillon said.
Dillon added that the Trump Organization will not make any new foreign deals during his administration. The company will still pursue domestic deals.
The decision to put his two adult sons in charge of his company while the president-elect maintains a financial stake in the business will do little to alleviate concerns about the conflicts of interest he will face in office.
Norm Eisen, the top ethics adviser to President Barack Obama, laid out a simple test for Trump prior to the press conference.
"Is he turning it over all to the trustee or not?" Eisen said. "Clean break, blind trust or equivalent as every president has done for four decades. If he fails that test, he's failing the presidency, he's failing the American people, he's failing the Constitution and failing all of us."
Trump's announcement falls far short of that standard. He will maintain a financial stake in his business, meaning that he will be subject to certain laws and constitutional provisions targeting financial conflicts of interest of the president of the United States.
At the end of his press conference, the president-elect made clear to note that he would still maintain a stake in his company that he could return to later. "I hope at the end of eight years I'll come back and say, 'Oh, you did a good job,'" he said. "Otherwise, if they do a bad job, I'll say, 'You're fired.'"
President-elect Trump should not be expected to destroy the company he built.Sheri Dillon, financial adviser at Morgan, Lewis & Bockius
Dillon said during the press conference that Trump did not pursue a sale of assets because any effort to sell the company would be hampered by the fact that its largest asset is the brand name associated with the president-elect.
"Selling his assets without the rights to the brand would greatly diminish the value of the assets and create a fire sale," Dillon said. "President-elect Trump should not be expected to destroy the company he built."
She added that Trump could not pursue a blind trust, as he knows what he owns and which buildings have his name on them. This is a point that's been made by ethics experts, who have advocated for Trump to appoint an independent trustee to sell his assets and put the proceeds into a true blind trust.
Questions about Trump's conflicts of interest related to his business holdings barely made noise during the presidential campaign. He was asked in debates and in television interviews what he would do with his business if he won. "I would have nothing to do with my company," he said in September. He floated handing off his company to his three adult children.
After his victory on Nov. 8. it became readily apparent that Trump, his campaign and his business had no plans on how to extricate the president-elect from business conflicts. Numerous foreign business partners attended his election-night celebration. Two of his Indian business partners came to Trump Tower to pay their respects and aim to solidify new deals with the man about to assume the highest office of the United States. Trump promoted one of his partners in a phone call with Turkish President Recep Tayyip Erdogan.
In a conversation with Nigel Farage, former head of the right wing anti-immigrant United Kingdom Independence Party, Trump asked him to agitate against offshore wind farms in Britain. Trump has long opposed the construction of an offshore wind farm in the waters off one of his golf courses in Scotland.
Trump also appointed all three of his children to the executive committee of his presidential transition. In those positions, they helped direct policy, interviewed candidates for Cabinet positions and met with foreign dignitaries. These appointments mixed business roles with governmental and policy roles, making it impossible to avoid conflicts if any of the children were appointed to head the Trump Organization.
Over Twitter, Trump angrily denounced those reporting on his financial conflicts of interest.
In an interview with The New York Times, Trump dismissed any concerns about conflicts of interest with his business by stating that it is not illegal if the president does it. "The law's totally on my side, meaning, the president can't have a conflict of interest," Trump said.
Conflict of interest rules mandate that Cabinet officials divest from holdings that would conflict with their official duties on behalf of the American people. Those rules do not apply to the president or the vice president. But since the adoption of these laws,every president has acted as though they have applied to their office. In addition, there are both laws and constitutional provisions that necessitate the divestment of certain business holdings to avoid legal conflicts.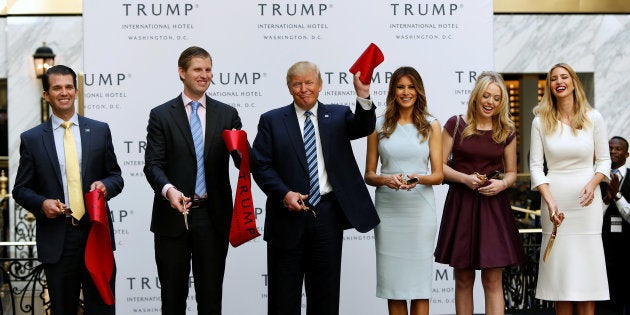 Trump's failure to fully extricate himself from his business also means that he will remain as the beneficiary for his Trump International Hotel in Washington, D.C. The hotel's lease with the General Services Administration specifically states that an "elected official of the Government of the United States" cannot "be admitted to any share or part of this Lease, or to any benefit that may arise therefrom." If Trump still retains a financial stake in the hotel, this means that he and his company will be in violation of his lease.
Since the election, the hotel has pitched its expensive luxury rooms to foreign diplomats as a way to curry favor with the incoming Trump regime. Some foreign governments, including Bahrain and Azerbaijan, and corporate lobbyist groups have since held events at the hotel.
At the press conference, Dillon announced that the Trump Organization will voluntarily direct all profits made from foreign governments to any Trump hotel to the U.S. Treasury. Dillon did not clarify if this meant the hotels would direct all payments to the Treasury, or only the profits.
Trump initially announced plans for a Dec. 15 press conference solely devoted to laying out plans for the Trump Organization, but postponed it as it became clear that the task would be far more complicated than initially thought.
The president-elect and his aides have made conflicting statements since then. Trump adviser Kellyanne Conway told CNN in December that "it's a very unconventional situation." But Trump said later in the month, "Honestly, it's a very routine thing. It's not a big deal. You people are making that a big deal — the business."