The five things you need to know on Wednesday, January 11…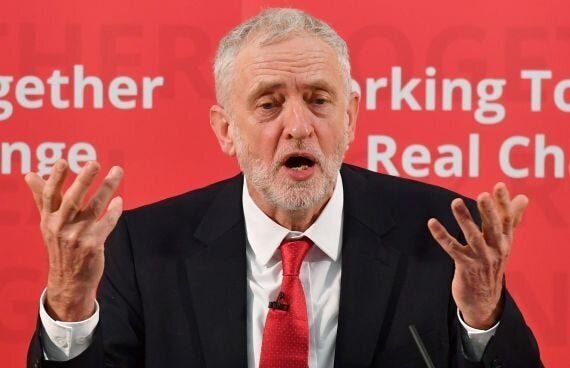 1) 360 DEGREES OF SEPARATION
It's the first PMQs of 2017 today and it ought not to be a dull affair. Theresa May will be tempted to further ridicule Jeremy Corbyn's 'reboot' yesterday, though even some Tory MPs fear that will look like kicking a wounded puppy. She could even point to the latest Momentum 'coup' against the hard-left (see below), and to new stats that show inequality has narrowed sharply.
Corbyn may well try to shift the agenda back to health, and defend the honour of NHS chief Simon Stevens from government briefing. The Labour leader could go typically off-piste and ask directly why the PM is not telling us more about the new 'blind trust' for her business interests. He could even chuck a curve ball by querying Jeremy Wright's new plans to use drones to target overseas terrorists using social media.
But curveballs are what Corbyn appeared to chuck at himself yesterday with his long-awaited New Year relaunch. He U-turned on his U-turn on EU immigration, completing a 360 degree manoeuvre that was frankly dizzying to Labour MPs, let alone the public. And having floated in the morning the idea of a maximum wage cap only to shoot it down in the afternoon, it's no wonder the papers are full of 'chaos' and 'worst day yet' stories.
Team Corbyn dismiss criticism from media outlets they see as the 'enemy' and seem content that at least their man got some more messages across to a mass audience, including the idea that 'fat cat' pay would be tackled by Labour. But there appeared to be no real road-testing of the messages, or signs that anyone in his media team had prepped him for the inevitable questions. To be fair to those around him, Corbyn's lack of 'message discipline' - saying the unsayable however clumsily - is his political USP.
The real problem is potential governments need workable policies not just slogans. I'm told Tory HQ's dossier for the Copeland by-election had a swift insert of Corbyn's vow to join the picket line for train strikes. Many Labour MPs suspect Corbyn is now going full-steam ahead with a strategy to abandon key voters, as Conor Pope reminded us this week, the culmination of leftwinger Neal Lawson's complaint that 'the wrong people were voting Labour' during the Blair/Brown years.
On freedom of movement, I'm told that Diane Abbott had a key role in getting Corbyn to refine his position during the day. As a result, he said that while he was "not wedded" to unlimited EU migration, "nor do we rule it out". He went forwards, then into reverse and ended up in neutral gear on this key issue for many Labour, and UKIP and Tory, voters. Of course, May herself has yet to resolve this key conflict between EU migration and trade, but Corbyn managed to megaphone his own muddle better than any Tory critic.
On 'excess' pay, the problem seemed to be Corbyn struggle with practical policy. His own phrase on Today yesterday (and full marks to John Humphrys for getting three stories out of him in a matter of minutes) was that we need "some kind of earnings cap, quite honestly". He later reverted to the idea of a lowest-to-highest pay ratio, a plan that even the FT thinks has merit, and would at a stroke slash the pay of outsourcing firms like Capita.
Labour MPs have their heads in their hands precisely because they think Theresa May is there for the taking. She's conducted her own U-turn on getting workers on boards to curb excess pay, she's brittle under questioning, her 'shared society' felt like a relaunch thin on policy, her social care funding plan was a drop in the ocean. And the NHS is a massive, urgent crisis that May has failed to grasp. That's the most salient aspect of yesterday's media round: what could have been one of the 'worst weeks yet' for the new Prime Minister ended up being the 'worst day yet' for Corbyn. PMQs is his chance to salvage something.
Labour's Opposition Day debate after PMQs is on NHS and social care funding. Expect Shadow Health Secretary Jon Ashworth to jibe Jeremy Hunt about losing his ministerial car yesterday as he fled questions from SkyNew's Beth Rigby about A&E targets (watch the clip HERE, it really should be set to Benny Hill music).
But the situation in many hospitals is deadly serious. The BBC had an excellent leak last night of NHS Improvement (what a wonderfully Orwellian name) stats showing the true state of A&E. A quarter of patients waited longer than the four-hour limit and there were 18,000 "trolley waits" last week alone. 485 of them were for more than 12 hours - treble the number seen during the whole of January last year. The NAO warns 7-day GP opening plans are in disarray.
Hunt may want to cite Caroline Flint's warning at the weekend that Labour's claims of a 'crisis' in the NHS is failing to deliver electoral benefits (though she was pretty critical in the Commons). Today the Government faces fresh calls for a cross-party consensus on the health and social care policy and funding challenge. Some MPs remember that when Labour last tried consensus on social care, its ideas were turned into an Andrew Lansley poster of a tombstone and a 'death tax'.
Yet the real political event may well be at 2.30pm, when NHS chief exec Simon Stevens addresses the Public Accounts Committee. The Times has an arresting front page splash suggesting Theresa May's aides are blaming Stevens for the political heat over the NHS, claiming he is 'insufficiently enthusiastic and responsive'. "They don't think he is on board with the direction of travel". Stevens' relations with May and Hammond are not as warm as they were with Cameron and Osborne, but Hunt treats him with respect. Talk of Downing Street muttering about Stevens has been around for a bit but this looks like a new chapter. Do they want to turn him into another Sir Ivan Rogers?
If Corbyn needs further quotes in PMQs today, he could cite the Tory peer and Local Government Association chief Lord Porter, who told HuffPostUK that it was time for the Treasury to "grow up" over social care and give councils the funding they badly need.
Ten days before his inauguration, Donald Trump today gives his first press conference in weeks. Trump is expected to address the Russia issue in his opening remarks, accepting the US should be alarmed by some of the things Moscow is up to, but blaming them on 'an absence of leadership' by Barack Obama.
Last night's CNN scoop (which included the legendary Carl Bernstein as fourth byline) claimed that senior intelligence officials have briefed Obama and the President-elect on claims that Russian spies have "compromising personal and financial information" about Trump. Trump reacted in inimitable style, Tweeting: "FAKE NEWS - A TOTAL POLITICAL WITCHUNT!" Twitter was awash with bizarre claims about Trump, urine and Moscow hotels.
CNN was admirably precise, admitting many of the claims are not independently verified. But it's worth noting that some of the allegations come from a former British MI6 officer who says the Russian government "has for years tried to co-opt and assist Trump".
I wonder if Labour will go for an Urgent Question on this? Boris Johnson confirmed to MPs yesterday for the first time that the UK intelligence had evidence that Moscow tried to hack the US election "up to all sorts of very dirty tricks". The Russian embassy in London (now a major global mouthpiece for Putin) hit back with a long essay denouncing 'Western elites'. Spookily, it used Trump's own phrase from last night, claiming MI6 was engaged in a "witchunt" against Russia.
With many fearing another Moscow-friendly upset in France, Ed Llewellyn, ex-Cameron chief of staff and now our UK ambassador in Paris, told MPs yesterday that there had been no attempt whatsoever to build links with Marine Le Pen. Even though she could win, Llewellyn said it was a "longstanding policy" of "not engaging" with the Front National.
BECAUSE YOU'VE READ THIS FAR…
There were two separate Brexit warnings in Parliament yesterday. In the morning, City chiefs told the Treasury Select Committee they were preparing plans to shift jobs from London to Paris if there was a 'hard Brexit'. HSBC said it alone would move 1,000 jobs. And as the FT splashes, stock exhange chief Xavier Rolet said from April there should be a five-year process to protect London's derivatives market ie an extra three year 'transition' period even after we've formally quit the EU in 2019.
In the afternoon, Polish and other EU migrants in the UK were warned to brace themselves for a fresh 'wave' of hate crime once Article 50 is triggered in late March. Joanna Mludzinska, Chair of the Polish Social and Cultural Association, told the Home Affairs Committee that there might be a "flashpoint" for those Leave voters who asked "Why aren't we getting what we wanted, and why are they still here?" Barbara Drozdowicz, chief executive of the East European Resource Centre, added: "We expect that when Article 50 is triggered that might bring another level of discontent."
Brexiteer Boris Johnson had an interesting phrase in Foreign Office Questions yesterday, as he pointed out that German investment in Britain was responsible for about 344,000 jobs, while British investment in Germany was responsible for 222,000. "It would be the height of insanity to imperil either of those sets of investments," Bojo said. Is that him calling Berlin's bluff? Or a hint of softer Brexit? Or just a statement that Brexit risks an economic version of the old mutually assured destruction (MAD) of the nuclear cold war?
Annother 'expert' is up before MPs today and may talk more on Brexit: Bank of England Governor is before the Treasury Select Committee at 2.15pm.
The hot news overnight among Corbynistas is that Momentum has moved to purge hard-left non-Labour members. Founder and long-time JohnMcDonnell ally Jon Lansman emailed its thousands of activists to set out its new constitution which includes a plan to affiliate to the Labour Party. Existing members of the group have until 1 July 2017 to join the Labour Party or be kicked out.
Jackie Walker, Momentum's former vice-chair, who was removed from her position and suspended from Labour following comments made about anti-Semitism, attacked Lansman for mounting a "coup". "So now we have it - a leftie version of Progress that will drift to the right," she wrote on Facebook. I'm not making this up.
'Moderate' Labour MPs won't know whether to laugh or cry at the news. The comical sight of Corbyn supporters purging the hard left is one thing. But the idea that Momentum could embed itself in the party with voting rights at conference and other formal links could chill the PLP's bones to the marrow.
If you're reading this on the web, sign-up HERE to get the WaughZone delivered to your inbox.
Got something you want to share? Please send any stories/tips/quotes/pix/plugs/gossip to Paul Waugh (paul.waugh@huffingtonpost.com), Ned Simons (ned.simons@huffingtonpost.com), Martha Gill (martha.gill@huffingtonpost.com) and Owen Bennett (owen.bennett@huffingtonpost.com)