The five things you need to know on Thursday, January 12…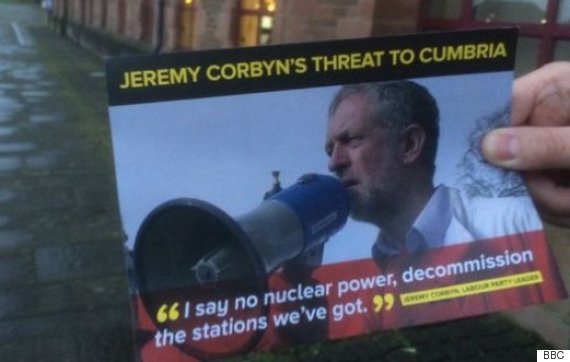 1) THE INDEFINITE ARTICLE
In one of his last acts as President, Barack Obama has today sent 3,000 troops and tanks to Poland to reassure Nato allies worried about an aggressive Russia. The timing could not be more apt after Jeremy Corbyn's spokesman told us in the post-PMQs huddle yesterday that the Labour leader wanted to "ratchet down" "military tensions in Eastern Europe." When I asked directly if Corbyn supported the deployment of 800 UK troops to Estonia, the spokesman replied that was "one of the escalations of tensions that have taken place". "We want talks and engagement."
And when pressed on what Corbyn would want if Russia invaded the Baltic state, he proceeded to reinterpret what Article 5 of the Nato treaty actually meant - and it wasn't a military response: "Article 5 [of the Nato treaty] means that if there is an attack on another Nato state there has to be a response by Nato members – it doesn't define what that response should be. In practice, if you see from the wording of the treaty, that can be a whole range of things."
Not surprisingly, Labour MPs like Mike Gapes pointed out this was a wilful misreading of the treaty. But the Guardian reports that Shadow Defence Secretary Nia Griffith was "furious" too, not least as she had visited the troops in Estonia and used an interview with Forces TV to express staunch support for Nato.
All of which is being stored up by the Tories for the Copeland by-election, where they intend to focus on Corbyn and his radical views on nuclear weapons, nuclear power and defence policy. The BBC's Ross Hawkins has got hold of a new Tory leaflet which quotes Corbyn after the Fukushima disaster: "I say no nuclear power, decommission the stations we've got". He's refined his message since but will that reassure Sellafield workers? No wonder Labour is hoping the NHS is a bigger issue locally.
As it happens Labour's NEC panel today interviews candidates and drafts its shortlist for Copeland. As I revealed this week, the panel is the most Corbynista ever for a by-election: Jon Trickett, Unite's Jenny Formby, grassroots leftwinger Christine Shawcroft (as well as more 'moderate NEC chair Glenis Willmott). The candidate Corbyn supporters are backing is Rachel Holliday. Len McCluskey's Unite challenger Gerard Coyne has his manifesto launch today and nuclear and defence policy may well come up.
2) ON THE FEAST OF STEVENS
I watched every minute of Simon Stevens' three-hour evidence to the Public Accounts Committee yesterday and it didn't disappoint. It was a masterclass in how a public servant can play the political game better than many politicians, and gave us in the media a feast of story lines.
The Times had splashed on alleged No.10 claims that the NHS chief executive was not "enthusiastic" enough in his dealings with Theresa May. And one of Stevens' many barbs was that he had been "running a little campaign" against government cuts to social care. "Enthusiastically, I might add". You can read the key quotes of his evidence HERE, but the killer quote really was that the PM was "stretching it" to say the NHS had been given more money than it asked for. "We got less than we asked for". No wonder Labour's Jon Ashworth has written to the PM asking if she agrees with each of his verdicts.
Media-savvy Stevens (a former special adviser to Tony Blair), used a Daily Mail article as a prop and namechecked the Sun and other papers to make his case. By contrast DH Permanent Secretary Chris Wormald looked like a frantic junior press officer, or at least more of a Bernard than a Sir Humphrey, desperately trying to defend the No10 line. Stevens began growing his beard last summer on holiday in Siberia. Times sketchwriter Patrick Kidd points out that after yesterday "May will probably insist that he heads straight back there, this time with a one-way ticket".
But although Stevens knows he's unsackable in the short term, the backlash may well grow after yesterday. Tim Montgomerie tweeted "Cameron & Osborne swooned around every Blairite they could co-opt; good that May is withdrawing SS' blank cheque". And last night, former Treasury Permanent Secretary Sir Nick Macpherson tweeted: "Simon Stevens a good guy but he should not determine health spending. NHS bottomless pit. Money should be linked to reform". Stevens' real battle is as much with the current Treasury as it is with No.10. And his warning of an updated five-year plan, with detailed cash demands, in March tees up the Budget nicely.
3) LEAK INQUIRY
Donald Trump's batshit crazy press conference yesterday was truly extraordinary. But one of the main problems was that it turned into a Vaudevillian spectacle rather than a forensic attempt to get real answers out of the President Elect.
At least we've learned a new word this week: Kompromat, the Russian for 'compromising material'. Yet the most depressing result of the sex allegations is that they suck all the attention away from more worrying claims that Trump is compromised financially by links to Moscow - and that he's not properly distancing himself from his business interests in office.
The BBC's superb correspondent Paul Wood, who named the British spy in the row as Christopher Steele, has written an excellent Spectator blog on claims that the Kremlin paid the Trump campaign through associates.
Don't forget that for many Americans watching yesterday, particularly his core supporters, the most interesting bit of the press conference was not Trump suggesting the CIA were like Nazis, but that car jobs would stay in the US and that the wall with Mexico would go ahead.
Away from the spectacle of the New York, in Washington Trump's nominee for Secretary of State, Rex Tillerson, was making statements that sparked real alarm. The South China Morning Post points out that it's not Trump's cosying up to Russia we should worry about, but his agression towards China. And it makes its main story Tillerson's threat that the US would stop Beijing from accessing islands it has built in in the South China Sea: "We're going to have to send China a clear signal that, first, the island-building stops and, second, your access to those islands also is not going to be allowed."
Defense Secretary nominee 'Mad Dog' James Mattis today faces his own confirmation hearing.
BECAUSE YOU'VE READ THIS FAR…
Watch Oscar Jefferson, the 9-year-old British boy whose tears on the Spanish Junior Masterchef, after getting his fish-and-chip recipe wrong, have touched the nation.
4) BERLIN CALLING
On a less busy news day, Mark Carney's row-back on Brexit before the Treasury Select Committee would have got much more play. But the Bank of England governor's line - "financial stability risks around the [Brexit] process are greater on the Continent than they are in the U.K" - was still significant and delighted Eurosceptic ministers.
This fits perfectly with the Three Brexiteers' (David Davis, Liam Fox and Boris Johnson) belief that the EU will realise that cutting off trade would do them more damage than us. Something else that didn't get much play this week was Boris' own words in FCO Question Time that it would be "the height of insanity" to "imperil" the 344k British jobs and 222k German jobs that depend on trade between the two countries.
Chancellor Philip Hammond was in Berlin yesterday making the 'mutually assured destruction' point, although with a 'soft Brexit' emphasis rather than the threat of a hard one. He said he understood Germany's priority will be to protect "the integrity and unity of the EU…But this does not have to be a negative sum game. A lot is at stake." Hammond added: "The referendum decision is irreversible…We need to find a solution which recognises the constraints on both sides, but delivers an outcome that supports continued economic growth." The FT reports, however, that quarter of German businesses expect to profit from Brexit as firms abandon the UK.
The one other Brexit story yesterday was immigration minister Robert Goodwill telling a Lords select committee (always a good place to commit news) that a post-Brexit annual levy of £1,000 for each EU recruit would be 'helpful to British workers'. Guy Verhofstadt said the idea was "shocking" but Frank Field said he'd welcome it "if we used the money to train natives". No.10 shot it down swifly though, with the PM's spokeswoman telling us the idea was "not on the Government's agenda". Even if it was on Goodwill's.
(My colleague Owen Bennett has started a weekly Brexit Briefing, sent out every Thursday. To get a round-up of all the best Brexit news, subscribe HERE).
5) PRIVATE PARTS
Like his boss, Clive Lewis is learning rapidly how one stray remark can be seized on by your opponents with gusto. During the Commons Urgent Question yesterday on the Government's sell-off of the Green Investment Bank (GIB), the Shadow Business Secretary asked: "If it's a success story, why are you selling it off? Is it simply the case 'public good, private bad' – that's what we think on this side. But on that side of the House, you think it's 'private good, public bad'."
Prompted by backbencher Huw Merriman (one to watch folks), even the mild-mannered business minister Nick Hurd couldn't resist this one. "It couldn't have been clearer from the Opposition frontbench: 'Public good, private bad'." For good measure, Hurd added: "That will have been noted in the business community across the country, reinforcing the question mark that the business community across the country has about the attitudes of the Labour party toward it."
Now of course, many people from Green party's Caroline Lucas (who asked the UQ) to former climate change minister Greg Barker and Vince Cable, have condemned the sell-off. And as with Corbyn's line on fat-cat pay, Lewis may think the row is worth it if the public hears Labour saying unashamedly it prefers the public sector to run some things. He was specifically referring to the Green Investment Bank, not a wider anti-private firms policy. Yet you can still expect that 'private bad' quote to pop up on Tory leaflets sometime soon: the CCHQ dossier bank on Labour is already bursting and ready. Not just for Copeland, but for a general election.
If you're reading this on the web, sign-up HERE to get the WaughZone delivered to your inbox.
Got something you want to share? Please send any stories/tips/quotes/pix/plugs/gossip to Paul Waugh (paul.waugh@huffingtonpost.com), Ned Simons (ned.simons@huffingtonpost.com), Martha Gill (martha.gill@huffingtonpost.com) and Owen Bennett (owen.bennett@huffingtonpost.com)