The five things you need to know on Monday, January 16…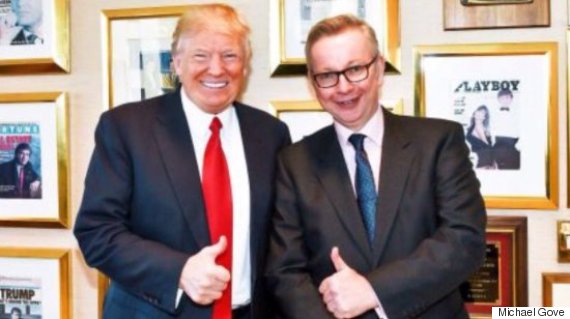 1) GOVE-RNMENT IN EXILE
Michael Gove is paid £150,000 a year by the Times, but the paper will feel he's worth his weight in gold hairpieces after his world exclusive interview with Donald Trump today. Getting the President Elect to talk about policy - in real life rather than on Twitter - is an achievement in itself and he proves a veritable story machine.
Eurosceptics were delighted by his line that he wants a UK-US trade deal "done quickly and done properly", even though those two adverbs are often pulling in different directions. Some ministers have long felt the talk of seven-year Canada-style trade deals is overblown and think where there's a political will, there's a bureaucratic way. Still, those Leavers (on the Left and in UKIP) who worried about the US-EU TTIP deal opening the floodgates to US corporations may feel Trump has echoes of Macbeth: "If it were done when 'tis done, then 'twere well. It were done quickly…" On the Today programme, Gove said Trump intimated that a draft trade deal could be worked on swiftly and hinted it would be ready to go when we formally quit the EU in 2019.
Theresa May may be pleased that Trump talks of her more warmly than he does Angela Merkel. Others will worry deeply that the German Chancellor, dubbed 'the new leader of the free world' by some after Trump's victory, is now put by the President Elect in the same bracket as Putin: "I start off trusting both — but let's see how long that lasts. It may not last long at all." That diplomatic relativism is yet another signal to Europe that Trump is more Anglo than Saxon.
But our PM is likely to feel a little uneasy that first Farage ('how is our Nigel doing?' Trump asks) and now Gove got an audience with Trump first. Gove confides: "We chatted, on and off the record, for an hour". Will he tell No10 the off-the-record stuff too? In some senses, this feels like not just a newspaper interview, but also a job application for a Cabinet comeback. Gove revealed on Today he had had a 'private conversation' with May just before Christmas. "I'm a backbencher, a commentator," Gove pointed out.
The interview certainly feels like a poke in the eye for former ally Boris Johnson, who is supposed to be our global diplomat. Never forget that Boris's original 'I want to have my cake and eat it' quote was made privately when he agonised over keeping his Spectator job and becoming an MP. Will Gove find there's something sweeter?
Keen on no-nonsense, businesslike deals, Trump is also more shrewd than many think in his media strategy. He tells Gove that his 46m social media followers will grow. "I thought I'd do less of it, but I'm covered so dishonestly by the press — so dishonestly — that I can put out Twitter — and it's not 140, it's now 280 — I can go bing bing bing . . . and they put it on and as soon as I tweet it out — this morning on television, Fox — 'Donald Trump, we have breaking news'." He's not wrong.
2) CORRECTIONS AND CLARIFICATIONS
Trump also welcomed the fall in the pound, pointing out that it makes British exports more competitive. In Asian currency markets this morning, sterling dropped again. That may well be a reaction to the Sunday paper stories on Theresa May's long-awaited speech due tomorrow, all of which signalled a 'hard and clean' Brexit. Government sources told the Sunday Times they were braced for a further 'market correction' after the speech's clarification of the UK position. Looks like they've already got one.
When even a soft Brexiteer like Philip Hammond is warning the EU (via the German press) that the UK could end up as a tax haven if we don't get a decent trade deal, it's no wonder the markets reacted. Here's Hammo's ammo: "You can be sure we will do whatever we have to do. The British people are not going to lie down and say 'too bad, we've been wounded'. We will change our model and we will come back, and we will be competitively engaged." The tactic to Brussels and Berlin is clear: hey, look, we really aren't bluffing.
No10 had in fact briefed out on Saturday rather conciliatory extracts from the PM's speech, stressing a time for national unity and saying 'the country is coming together'. But that kind of stuff was never going to satisfy the Sunday Lobby and Brexiteers appear to have briefed the hard-but-slow Brexit approach (out of the customs union and single currency but with a possible transitional deal) rather than Downing St itself.
Some expect the Supreme Court ruling later this week, so the PM is getting her retaliation in first. Meanwhile, the FT has a story of the Lords warning May not to use 'Henry VIII powers' in the Great Repeal Bill to amend or repeal EU laws further down the line with little Parliamentary scruinty. One to watch.
3) JEZ-ITATION, REPETITION, DEVIATION
The old joke about Tony Blair was that he holidayed in Umbria, because it was Cumbria 'without the sea'. In fact, I remember the ex-PM taking a family break in the Lake District, after all the criticism of his foreign hols. "It's raining now, but yesterday afternoon it was absolutely beautiful," he once told reporters.
When Jeremy Corbyn addresses the Parliamentary Labour Party (PLP) tonight, he may well face questions about the looming Copeland and Stoke-on-Trent Central by-elections. Asked on the Andrew Marr Show yesterday whether he would be "toast" if Labour lost both heartland seats, Corbyn replied without hesitation "No".
The Labour leader went on to say that in fact the two by-elections were not a threat but an 'opportunity' to ram home his message on the NHS and on Brexit. Yet yesterday's latest polling on both issues weren't good for JC. ComRes/Independent found more people trusted the Tories to deal with the NHS winter crisis than Labour; on Brexit, Labour was way behind May and only just ahead of UKIP.
This Thursday sees the selection of Labour's candidate in Copeland. Some locals are furious that the shortlist was 'stitched up', leaving off a GMB-backed former Sellafield man Tim Knowles, and with the NEC selection panel featuring new Momentum director Christine Shawcroft and Unite's Jennie Formby. Expect some questions about that at PLP.
I can reveal that Corbyn himself paid a lightning visit to Copeland yesterday (I'll write more on this today). He had a private chat with the local party, but unlike Tom Watson and Jon Ashworth last week it seems there was no 'Labour doorstep' with the party leader. With former doctor Gill Troughton seen as the main rival to homeless hostel founder (and Momentum-backed) Rachel Holliday, the Copeland selection will be a real test of how much influence Corbyn supporters have in parties in the north.
BECAUSE YOU'VE READ THIS FAR…
Watch this vox-popped jogger come up with a surprising answer when asked to spell her first and last name. You've got to feel for her.
4) WINNING THE POTTERY
Jeremy Corbyn's critics think he's more at home in Stoke Newington than Stoke Central. And many Labour insiders think Tristram Hunt's departure has landed Labour with a more difficult task than in Copeland.
Since Corbyn's second leadership election victory, there has been an air of resignation rather than actual resignations in the PLP. Jamie Reed and Hunt have changed that mood, although both have been careful to go out without taking pot-shots at the leader. That's not least because centrists don't want to get the blame for the continuing dire poll position (which those around Corbyn admit are 'grim' right now).
Peter Mandelson was less coy and had a message for likeminded MPs on The Week in Westminster on Saturday, that "the only way to save the Labour Party is by staying in it". But he added that "for Labour MPs to stay" they had to be sure they wouldn't be "bullied and threatened by Jeremy Corbyn and his supporters and his Momentum organisation" in reselection and deselection contests. Parts of Stoke were battlegrounds in the old Kinnock-Militant days, but some locals argue Hunt's other-wordliness and parachuting in in 2010 is where the rot started.
The real threat seems to be UKIP, who came second in 2015. And former Tory MP Esther McVey yesterday suggested on the Marr sofa that Paul Nuttall should be given a chance by her old party to take the seat from Labour. Staffordshire MP Bill Cash has swiftly told us he thinks that is not a smart move - but senior figures in UKIP are urging Nuttall to be bold.
5) GETTING SCHOOLED
No10 may hope that making this week 'Brexit week' will ease the media pressure on the NHS, but it is obviously still a huge issue. The Sunday Mirror's pic of a little girl on a mat in A&E yesterday said more in one picture more than a thousand stats. And our GP blogger Dr Zoe Norris gives a taste of the backlash after the No10 weekend warnings that GPs are to blame for the crisis.
Yet it's not just health where funding is causing some unease on the Tory backbenches: education too is a concern. The new 'fairer' schools funding formula has already prompted criticism from some senior Tories - including backbench 1922 Committee chairman Graham Brady - who were shocked to find their own areas were losers not winners from the changes.
Today, an alliance of six unions has published a new analysis claiming that nearly every school will lose out. Pupils in the PM's and Justine Greening's constituencies will see cuts, though it remains Labour areas that will suffer most. Read our report, plus an exclusive list of the areas worst hit, HERE.
ICYMI - SUNDAY POLITICS PROGRAMMES ROUND-UP
In a new public service, we've wrapped up the main clips of the Sunday political programmes. Click HERE.
If you're reading this on the web, sign-up HERE to get the WaughZone delivered to your inbox.
Got something you want to share? Please send any stories/tips/quotes/pix/plugs/gossip to Paul Waugh (paul.waugh@huffingtonpost.com), Ned Simons (ned.simons@huffingtonpost.com), Martha Gill (martha.gill@huffingtonpost.com) and Owen Bennett (owen.bennett@huffingtonpost.com)