The five things you need to know on Monday, January 30…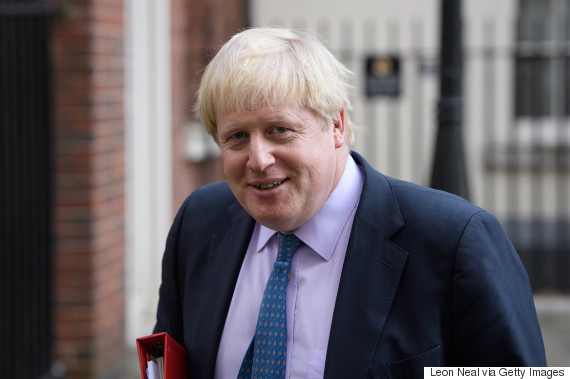 1) TRUMPED UP CHARGE
You can bet your house that John Bercow will mention the historic victory of his hero Roger Federer in the Commons today. What is just as certain is that Trump's travel ban will get an airing, either through a statement from Boris Johnson or an urgent question forced on him by Labour.
The Foreign Secretary is basking in some favourable headlines this morning, most which suggest he single-handedly won an exemption to save Brits like Sir Mo Farah and Nadhim Zahawi from the Presidential executive order on refugees and foreign nationals. But as I pointed out last night in my long read on the PM's US and Turkey trip, Canada's Justin Trudeau got exactly the same 'clarification' a full 15 hours before the UK announced it.
May certainly looked flat-footed on the Trump refugee order. Those of us who heckled her in Ankara on Saturday were simply frustrated that she didn't want to comment at all on the American move. The PM changed tack at midnight, two and a half hours after she landed in the UK. But Labour may want to ask why, with Washington still awake, No.10 didn't seek clarification straight away on the impact on Britons. And even with different time zones, it was surprising it took so long on Sunday to extract the commitment delivered to Trudeau hours beforehand.
For me, the bigger story is the rise of ex-Breitbart website chief Steve Bannon. Now Trump's 'chief strategist', it was obvious watching him up close on Friday just how much he is the real power behind the President's golden throne. Bannon is said to have drafted most of the executive orders of the past week. But the shock news in the States yesterday was his elevation to the National Security Council. Bannon's new permanent role on the NSC was announced at the same time as Trump decided to relegate the highest-ranking military and intelligence chiefs to a mere 'invite-only' status. Demoting the director of national intelligence and the chairman of the joint chiefs of staff is truly extraordinary and the #StopPresidentBannon hashtag last night was a joke with a real bite. Senator John McCain, who told me in Philadelphia on Thursday how impressed he was with Theresa May, has been swift to denounce the NSC changes.
McCain is rapidly becoming the real opposition to Trump until the Democrats regroup (though note that Elizabeth Warren, a possible outside pick for 2020, was on the barricades yesterday). Trump took to Twitter to denounce both McCain and fellow Republican Lindsey Graham for their criticism of his travel ban. "They are sadly weak on immigration," the President said. And never forget that in Middle America they're watching Fox News's favourable reports on the ban - featuring Muslims who support it.
Less comfortable for Trump are rumours that his chief of staff, Reince Priebus, is exasperated by the Bannon-led ham-fistedness of the top team. And Senator Bob Corker, chairman of the Senate Foreign Affairs Committee, has urged the White House to 'immediately' revise the travel ban, because it was 'poorly implemented' and 'confusing'. Corker met the PM in the US on her trip, and along with Paul Ryan is a key part of May's twin-track influence strategy: working on Congress as much as White House figures like Jared Kushner.
Over here, the big demo outside No.10 tonight will feature Ed Miliband, Lily Allen, and others. Will Jeremy Corbyn turn up? As for Trump's State Visit, Downing St is determined it will go ahead. But the Government has no control over whether Westminster Hall will be used for a joint address to both Houses of Parliament: that's upto Parliament itself. Which is why Sarah Wollaston's move to ban the President from such an honour is more potentially damaging than the online petition calling for the whole visit to be cancelled.
Those of us on the May trip certainly weren't short of stories. Read here details of the Trump-hand-holding (and how he asked a waiter to keep his menu card of their lunch together). Read here my in-depth report on the US-leg of her tour, plus my sketch of THAT joint press conference.
2) MISSION IMPOSSIBLE
While some of us were travelling with the PM, back home Jeremy Corbyn's party management problems over the Article 50 bill sparked into life. The resignation of his Shadow Welsh Secretary, the well-liked Jo Stevens, was a blow and could be the first of several by pro-Remain MPs who just can't stomach the idea of backing the Government's Brexit plan. "I will vote for my city, my country and my party - and vote against the government's bill," Stevens said this weekend.
On Peston on Sunday, the Labour leader himself made clear that a three-line whip would be imposed. "It's obviously impossible to carry on being in the shadow cabinet if you actually vote against a decision made after a very frank and very long discussion of the shadow cabinet earlier this week," he said. In his very Jezza-like way, that wasn't a threat that he would fire such ministers, but the implications were clear. Nevertheless, Tom Watson suggested Brexit rebels could be recalled top posts within a month.
It's a big call now for Shadow Business Secretary Clive Lewis and Shadow Environment Secretary Rachael Maskell, who could both quit in coming days. Many Labour MPs admit privately that a three-line whip is the only option to avoid Labour leave voters in key constituencies being targeted by the Tories and UKIP.
Corbyn supporters point out that Stevens, like Tulip Siddiq (who also quit the frontbench), will see their constituencies abolished by 2020 - just like Jamie Reed and Tristram Hunt. With the electoral trapdoor ready to open for them, it's no wonder those with little to lose are perhaps the most outspoken/decisive. Let's see if others join them.
As for the White Paper, the Sunday Telegraph reported Tory MPs threatening to rebel unless one is published in the next fortnight. I've said before that No.10 has played the White Paper game to its advantage, holding off and then delivering 'concessions' that are in fact mere crumbs of comfort for its critics. Publishing the White Paper, even though it will merely summarise the PM's speech, in coming days, could be another one. Will MPs be bought off so cheaply?
3) EMMANUEL TOO
There's been a lot of blather in recent months that centrist politics are dead, that the 'new populism' of the hard Right and radical Left gets the downside of globalisation in a way that Third Way Blairites and Cameroons simply failed to. Justin Trudeau's rise is one counterpoint that, of course. But could France also be set to get its own moderate champion?
Emmanuel Macron, former economy minister in the socialist government, has been the dark horse for some time in the Presidential election. The 39-year old charismatic contender, running under his new En Marche! party, is now the man to watch. Macron's tilt at the Elysee was hugely boosted after Benoit Hamon last night trounced former PM Manuel Valls in the socialist primary.
Hamon, dubbed 'France's Jeremy Corbyn', has views (he wants a universal basic income, a tax on robots) that have deeply split socialist voters. A Kantar-Sofres-One Point poll yesterday put Macron on 21%, just one point behind conservative candidate Francois Fillon, whose ratings have plunged over allegations he paid his British wife for fake job. Marine Le Pen is on 25%, so it's very much game on.
And in recent days, Macron has been highly critical of Theresa May's Trump love-in. He said on Friday that the UK was "becoming a vassal state, meaning it is becoming the junior partner of the United States". And he said France and the EU had to be stronger to counter the US's retreat from free trade and global leadership. "The unpredictable choices, the outbursts and the inward-looking United States of Trump no longer guarantees Europe's security."
BECAUSE YOU'VE READ THIS FAR…
Everyone needs a bit of cheering up. So watch this wonderful video of a 4-yr-old and her dad singing 'You've Got a Friend In Me'.
4) THE OTHER JEREMY
Sir Jeremy Heywood has been the Cabinet Secretary for five years and has played a key role in trying to ensure Theresa May and her new team understand the big, big difference between being Home Secretary and being Prime Minister. He rarely gives interviews, but today has one with Civil Service World, which is effectively Whitehall's in-house magazine.
He is pretty cool on the suggestion of extra cash to deal with the dual challenge of delivering Brexit and the Tory 2015 manifesto. Yet he stresses that the workload will not slim down, because the PM is "very keen" to deliver on Cameron's election promises, and defends the decision to create the Brexit department and the new Department for International Trade. Heywood reveals that he's "80-90% of the way there" in recruiting the extra senior civil servants needed for Brexit. But just two-thirds of the way through recruiting the 2,000 extra roles overall.
But what struck me most were his lines on May: "The prime minister has a very distinct way of working" he says. She has regular collective discussions with ministers, and spends "quite a lot of time" on the four Cabinet committees on national security, trade, industrial strategy, and social reform. "We have genuinely good discussions which really shape thinking and policy. So that's probably the most distinctive difference," he says.
Any Cameroon reading that may wince. Also, May herself has "a very big work appetite", preferring "detailed papers that present all the options". Ah how silkily Sir Humphrey moves from one PM to another. Not a chillaxed Angry Bird in sight…
5) YOU'RE FAKE NEWS
Donald Trump famously used US Buzzfeed's release of unverified claims against him as proof that 'Fake News' now comes from the media, not the wild fringes. Today MPs are to call on Google and Facebook to create 'tools' to help readers and viewers identify counterfeit stories. The Commons Culture, Media and Sport Committee has launched an inquiry after the number of untrue claims soared online.
But with Facebook effectively the main distribution network for the media these days, the big challenge now is for Zuckerberg and co to work out just how much damage they want to do to their own brand. 'Fakebook' is not a nice new moniker for a business that wants to attract ad dollars.
The CMS Committee says: "Just as major tech companies have accepted they have a social responsibility to combat piracy online and the illegal sharing of content, they also need to help address the spreading of fake news on social media platforms. Consumers should also be given new tools to help them assess the origin and likely veracity of news stories they read online." At the moment, the only real tool is to read a media organisation you trust.
SUNDAY SHOW ROUND-UP
Speaking of which…here's our catch-up service for those of you who prefer a lie-in - or just a life - on Sunday mornings. All the political programmes' best bits in one quick read, complete with clips, are in our summary HERE.
Finally - many thanks to Owen Bennett and Ned Simons for supplying your WaughZone late last week.
If you're reading this on the web, sign-up HERE to get the WaughZone delivered to your inbox.
Got something you want to share? Please send any stories/tips/quotes/pix/plugs/gossip to Paul Waugh (paul.waugh@huffingtonpost.com), Ned Simons (ned.simons@huffingtonpost.com), Martha Gill (martha.gill@huffingtonpost.com) and Owen Bennett (owen.bennett@huffingtonpost.com)