The five things you need to know on Tuesday, February 14…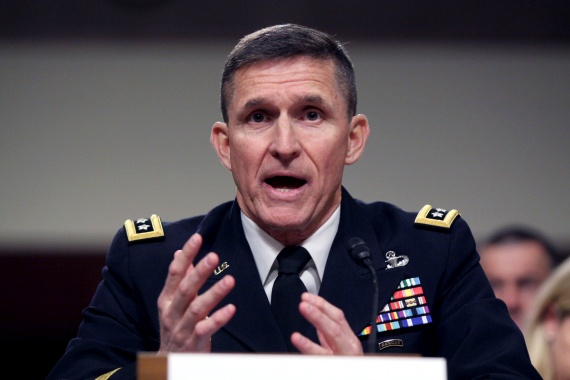 1) OUT LIKE FLYNN
Well, we knew the Trump administration would be like no other. We didn't quite guess that it would take just 24 days for his National Security Adviser to quit. Yes, the resignation of General Mike Flynn is the hot news Stateside following allegations that he misled Vice-President Mike Pence about his conversations with Russia.
Our American site has the very latest on a range of angles HERE. The normally plain-speaking Flynn's resignation letter includes the delicious euphemism that he "inadvertently" provided the Veep with "incomplete information" about his phone call to the Russian ambassador. Remember that Theresa May has a particular interest in all this, given her Oval Office plea to Trump to not let up on Russian sanctions, something Flynn had allegedly discussed.
Will Gen David Petraeus now take over? Trump prefers tall men (I'm not making this up), and once remarked to aides how short Petraeus was. But the President does highly rate the ex-CIA chief and military man. Meanwhile, Petraeus has about 2 months left on his probation after being sentenced in 2015 for giving his mistress some classified documents to write his biography. That's the crazy ol' world we now live in, folks.
What's most notable in all this is how even Trump couldn't defy the usual laws of political gravity, laws that he normally bends and twists with ease. I watched Chuck Todd's Meet The Press on NBC on Sunday and Trump aide Stephen Miller (a man No.10 thinks they can do business with) conspicuously failed to say that Trump still had confidence in Flynn. Everyone is now asking just what Trump knew and when. It all looks like sweet revenge for sacked Attorney General Sally Yates, who warned the White House Flynn may have misled them about his Russia contacts.
David Frum, Bush's former speechwriter, put it all neatly in a tweet in the early hours: "This is shaping up as the best season of 'The Americans' yet". For those who haven't had the joy of watching this TV show, it's a superlative drama about Russian sleeper spies living for years as ordinary, regular US citizens.
2) THE CYBERMEN COMETH
Don't forget that it was our very own GCHQ spooks who spotted the compromise of the US Democratic Party's information by Russian hackers, which they then passed on to the US authorities. The Queen today opens GCHQ's public-facing offshoot, the new National Cyber Security Centre (NCSC) in Victoria in London. Chancellor Philip Hammond will take a break from Budget prep to make a speech encouraging businesses to work with the cybermen to protect our economy as much as our national security.
Ciaran Martin, the centre's chief executive, has given an interview to the BBC in which he reveals that the UK regularly hits back at those who seek to attack our online systems. He says we "go after the infrastructure of adversaries - the infrastructure that people use to attack us - and we would do that in some of the most serious cases several dozen times a year".
Perhaps most significantly for politicos, the NCSC is offering voluntary help to political parties to safeguard them from cyberattack by states such as Russia (I'm told some parties prefer to use the NCSC middlemen rather than having actual spooks trawling all over their sensitive data). Martin says: "I think there has been a significant change in the Russian approach to cyber attacks and the willingness to carry it out, and clearly that's something we need to be prepared to deal with."
And this could not be more timely. A senior aide to French Presidential contender Emmanuel Macron - up against the pro-Kremlin Marine Le Pen – said yesterday he had been the target of false reports spread by state-controlled media, including Russia Today and Sputnik. He also claimed the party had been hit by hundreds, if not thousands, of attacks on their computer system.
3) ON YER BIKE
In the 1980s, Norman Tebbitt famously suggested the unemployed should get on their bikes, just like his dad had done, to find work. Fast-forward to 2017 and left-wing journalist Paul Mason has declared that UKIP voters "are toe-rags, basically…they are the bloke who nicks your bike". As the seminar audience laughed, he said: "No, seriously, that's who it is. It's the bloke who does all the anti-social things."
Naturally, the Kippers haven't wasted time in pointing to Mason's links to Jeremy Corbyn and say his remarks show the "metropolitan Left" think those considering ditching Labour for the Eurosceptic party "are scum". Will it be long before UKIP put Mason's quotes on their leaflets in the Stoke-on-Trent Central by-election?
Then again, Labour's own candidate in Stoke is in a spot of bother after a string of sexist Tweets were laid bare on the GuidoFawkes website. Gareth Snell has also told the Sun he is "deeply sorry" for saying Coronation St character Deidre should be 'given a good slap'. I still think Snell's most damaging Tweet in the eyes of Stoke voters will be the one where he described Brexit as "a massive pile of shit".
It's Copeland, not Stoke, that the Tories decided to focus on most and in a sign of the PM"s growing confidence Theresa May herself may visit the Cumbria seat this week to back contender Trudy Harrison. One senior Labour figure tells me that the party would suffer much more damage if it lost Copeland, precisely because the Tories are the challengers.
Sitting PMs never used to bother with by-elections in their own party's seats, let alone those held by the Opposition. I remember when Tony Blair broke with convention to campaign in the Eddisbury by-election in 1999. Labour didn't win but the Tory majority was a tiny 1,606 in the Cheshire seat, and Blair underlined his appeal to centre-ground voters. In 2015, Eddisbury had a rather large 13,000 Conservative majority.
BECAUSE YOU'VE READ THIS FAR…
Watch an American guy try to 'crack' an 80ft, home-made bullwhip. No, really.
4) TRUTH OR CONSEQUENCES
The fate of EU citizens in the UK after Brexit has been much discussed, but the fate of Brit ex-pats on The Continent less so. Now, the Guardian has got hold of an internal memo by the European Parliament's legal affairs committee that suggests Brits abroad could expect a backlash if Theresa May doesn't get the issue right. It says each member state will have to decide the fate of 1.2m Brits living in the EU, but warns: "The fact that it appears to be particularly difficult for foreign nationals, even if married to UK nationals or born in the UK, to acquire permanent residence status or British nationality may colour member states' approach to this matter."
Jeremy Corbyn has seized on this to attack May's "Hunger Games approach to Brexit". It's not clear whether Jezza has either read or seen the Hunger Games, given that it involves children fighting to the death. Then again, maybe it's all those PLP meetings he's thinking about.
In fact, most ministers I've talked to think the EU nationals/expats rights issue will be sorted quite smoothly and early on once Article 50 is triggered. But both sides know it's the bigger stuff like divorce bills and trade talks that matters more. Emmanuel Macron (him again) told Channel 4 News last night he would take a "pretty tough line" on Brexit: "We have to preserve the rest of the European Union and not to convey the message that you can decide to leave without any consequence."
5) SEEKING REFUGE
More than 200 high-profile public figures including Ralph Fiennes, Keira Knightley, Michael Morpurgo and the band Coldplay have written to Theresa May calling on the government not to close a scheme to bring unaccompanied child refugees from Europe to Britain. Gary Lineker, the object of the Daily Mail's disaffection of late, has signed the letter too.
Their critics will dismiss them as 'luvvies', but with the Archbishop of Canterbury and Alf Dubs driving the pleas for a rethink from No10, I wonder whether Theresa May will find a way out of this thorny political problem. Notwithstanding her firm line on Syrian refugees, will she want to undermine the 'shared society' pitch to Labour and Lib Dem voters for the price of housing two child refugees in each council in the UK?
Nicky Morgan has been largely written off by Downing Street as an 'irreconcilable', but her ConservativeHome piece yesterday may sting. Morgan said the child refugee policy "goes to the heart of the kind of party we want to be - and the kind of country we want to lead and to live in." With Trump's own travel ban hovering in the background, May could be tempted to look again at this, rather than bunker it out.
If you're reading this on the web, sign-up HERE to get the WaughZone delivered to your inbox.
Got something you want to share? Please send any stories/tips/quotes/pix/plugs/gossip to Paul Waugh (paul.waugh@huffingtonpost.com), Ned Simons (ned.simons@huffingtonpost.com), Martha Gill (martha.gill@huffingtonpost.com) and Owen Bennett (owen.bennett@huffingtonpost.com)