Dressing up for World Book Day at school is an exciting change to the ordinary school uniform for children.
But for parents, this means getting your thinking cap on and coming up with an idea that a) you can pull off and b) your child actually wants to wear.
Road Dahl's Matilda is an easy costume to pull off with the one necessary accessory - red ribbon in their hair.
Create Pippy's signature ponytails by weaving pipe cleaners through your child's plaits.
With some simple accessories - the brown tag, sandwich and small briefcase - Paddington is an easy costume to create.
Either buy a signature cape online or create your own, not forgetting the zig zag forehead scar.
5. Queen Of Hearts From 'Alice In Wonderland'
This one might take a little more planning, but just remember - as many hearts as possible.
The famous book character created by Julia Donaldson can be made completely from cardboard (and some green and brown clothes).
7. Witch From 'Room On The Broom'
Another one of Donaldson's characters is the crazy witch from 'Room On The Broom' - the star-topped wand is an essential.
8. James And The Giant Peach
Although the costume for James can be pretty flexible there is the issue of locating a large giant orange ball to resemble a peach.
From Roald Dahl's 'The Twits', parents can get creative for Mr or Mrs Twit with some backcombed hair and slightly messy clothes.
For children with long blonde hair, no costume is necessary at all - for others a long, blonde wig will do the trick.
11. The Hungry Caterpillar
12. Dr. Seuss' Thing 1 and 2 (or 3)
With a crazy blue wig and a red all-in-one, it'll be pretty obvious who your child is dressed up as.
13. Willy Wonka's Golden Ticket
Who says you can't get a bit creative with the characters?
14. Aslan From 'The Lion, The Witch And The Wardrobe'.
Any lion costume is easy to pick up, just make sure your child can make the fearsome face to match.
If you have any more costume ideas, let us know in the comments below.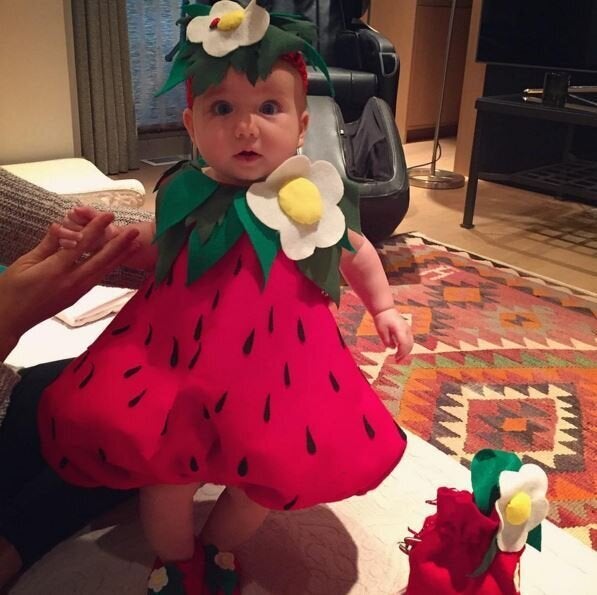 Cutest Celeb Kids' Costumes 2015