Cressida Cowell, the author most known for her series 'How To Train Your Dragon', has been entertaining children (and adults) with her stories for more than 12 years.
As a mum-of-three, Cowell revealed the famous series, which follows teenager Hiccup fighting and befriending dragons, began shortly after her entry into parenthood.
"I always tell parents that the real title of How to Train Your Dragon should be How to Train Your Baby," Cowell, who is mum to Maisie, 17, Clemmie, 15 and Alexander, 12, told HuffPost UK Parents. "I started writing the series after I'd just had my first child.
"Parents, do you remember that awful moment when you look in the back of the car and think: why have they let me out with a baby?
"I knew nothing about babies! There's a lot in How to Train Your Dragon about parent/child relationships."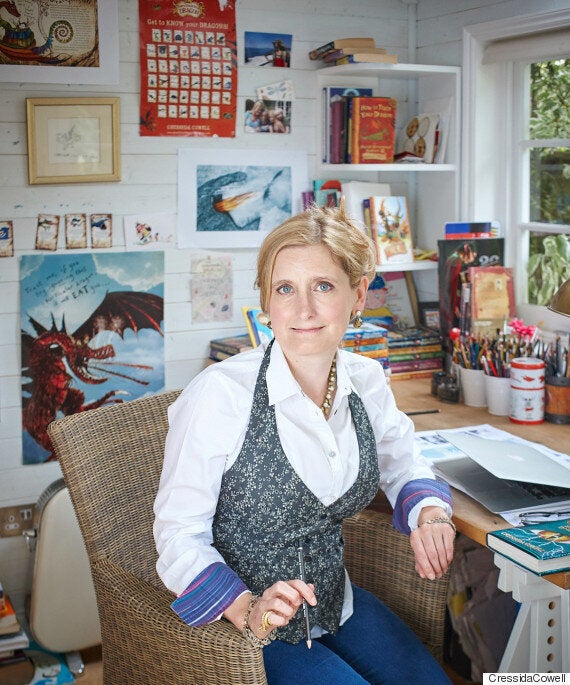 Cressida Cowell started writing her famous books just after having her first child
Cowell, who has been writing books since she was nine, had her first book Little Bo Peep's Library Book published in 1998 when she was 33.
Prior to this, she worked in publishing but called herself the "world's worst secretary".
Since the first book in the dragon series was published in 2003, Cowell hasn't had time to look back.
In the 11 years that followed, she had 14 more books published in the series and saw her story turn into an award-winning film by Dreamworks Animation.
To top that all off, she's been an ambassador for the National Literacy Trust for ten years, fuelling literacy for kids.
"I write for children because I think children's authors can make a real, positive difference to our society," she said.
"My first role as a children's book writer is to get as many children as possible reading for pleasure.
"It has to be 'for pleasure' because numerous studies from the National Literacy Trust show that the two key factors in a child's later educational success are 1) parental involvement in education and 2) reading for pleasure.
"Make no mistake: encouraging children to read for pleasure is not a luxury, but paramount tor our society."
For Cowell, coming up with imaginative stories for kids was inspired by her own childhood.
The 49-year-old grew up in London and on a small, uninhabited island off the west coast of Scotland.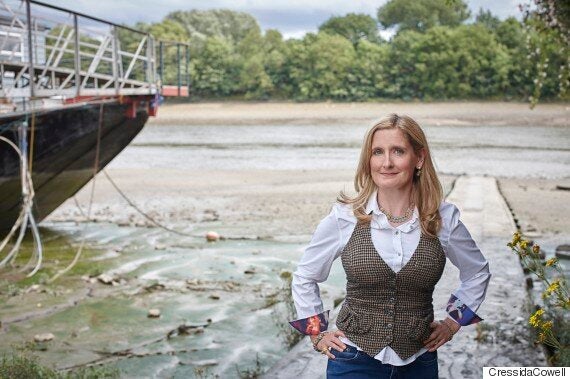 Cressida Cowell spent time on a remote island in Scotland during her childhood
The island, which Cowell hasn't revealed the name of, had no roads, houses or electricity.
When she was just four, her family were dropped off on this island for two weeks at a time, with no way of contacting the outside world.
"I used to imagine that there were dragons living in the caves in the cliffs on the island," she told us.
"The house was lit by candle-light, and there was no telephone or television, so I spent a lot of time drawing and writing stories.
"The west coast of Scotland was the first place the Vikings came to when they invaded Great Britain, and the last place they left. And did you know that Vikings believed in dragons?"
For Cowell, it was a story brewing from her own imagination and something she thought would resonate with children, too.
The author wanted to find out everything she could about her characters, dragons and the Vikings featured in her tale. And while admitting the "research" side of her books sounds boring, it's something she did a lot of.
Finding that the truth is often stranger than fiction, Cowell went in search of those tiny little details that made her stories come alive.
But, she explained, what really resonated with children was the hero element of the book.
"Deep inside, everyone wants to be a hero," she said. "My main character, Hiccup, is quite an ordinary-looking boy, unlike his father Stoic who looks like your typical tough Viking.
"But Hiccup is brave, even though he is often scared. He's clever. He's willing to stand up for what he thinks is right.
"Sometimes the ordinary-looking hero is the most heroic of all.
"Also, I think that most people, myself included, would love to own and ride a dragon."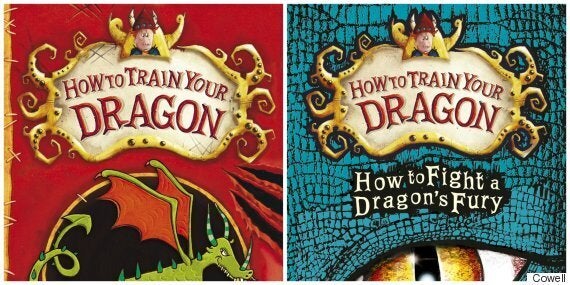 The author says her books help kickstart children's imaginations
Identifying with the characters was one way Cowell felt her stories became iconic for children, but another way was how the books gave kids the tools for imagination.
These tools, Cowell said, are the most important skills we can give to kids.
"Albert Einstein said: 'Logic will get you from A to B. Imagination will take you everywhere'," she recalled.
"We need imaginative engineers, imaginative teachers and imaginative doctors. If you can use your imagination you can problem solve, innovate and transform.
"Imaginative thinkers are vital to our society."
As a writer who uses her imagination daily, Cowell said there's a tendency for people to think of creative industries as a "bit fluffy and an extra", but in reality they're an integral part of the UK's economic success.
That, she said, is why she has always seen reading, imagination and literacy as key parts of her children's upbringing.
"They all like reading," she said when asked about her kids' habits. "I guess they've all gone through phases.
"I get lots of worried questions from parents about their children not enjoying reading, and my answer is: you haven't found the right book yet.
"In my experience, when you find the right book, you're off."
So what books does she buy for her kids?
"Well, obviously I buy children's books for my kids, but actually I still buy them for me as well.
"I love kids books and writers that make you feel something, whether that's because they're funny, or sad, or exciting.
"Recently I've loved Wonder, by RJ Palacio, Five Children on the Western Front by Kate Saunders and Lauren Child's new Charlie and Lola picture book, One Thing.
"My 12-year-old son and I are reading The Hitchhiker's' Guide to the Galaxy by Douglas Adams at the moment – a modern British classic."
But even Cowell will admit that getting children to read isn't an easy ball game.
She said competition for children's time from films, TV, and video games, makes it even more important for the books your children read to be fun.
"I try to make sure my books are exciting and interactive as possible," she said.
"I break up the text with ink splats; I put in wild and whirling child-centric illustrations. My husband always tells me off because I giggle at jokes I write in my own books, but I think that if you can't make yourself laugh, how are you going to make your readers laugh?
"I mean, I love films and I love telly. If I didn't, I wouldn't have agreed for my books to be adapted.
"But the key word is balance. I am always going to fight passionately for the survival of books as a medium, because of what I believe is the unique capacity of books for awakening empathy and creative thinking.
"Things that happen on a screen happen 'out there', but in a book they happen inside your head."
Asked whether How To Fight A Dragon's Fury, the latest book in the series released in 2015, would be the final one, Cowell wasn't sure.
"I don't know," she said. "I've spent almost 20 years now in the world, and I love it.
"I am writing something new, but my editor would be very cross if I told you anything. Sorry."
Join Cressida Cowell at Southbank Centre's Imagine Children's Festival on 16 February 2016. For more information and to book tickets, visit: www.southbankcentre.co.uk/imagine.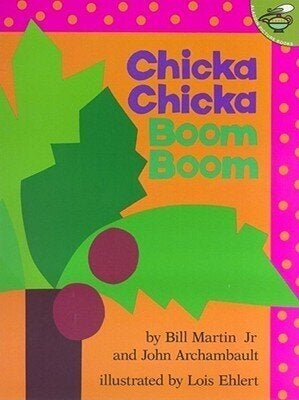 Goodreads' 25 Years Of Kids Books