The five things you need to know on Tuesday, March 14…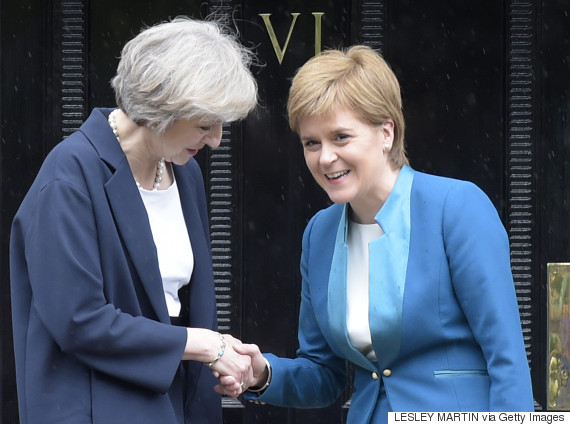 1) GAME THEORY
Nicola Sturgeon confirmed once again yesterday why she is such an impressive politician. Spotting a gap in the news cycle before the Lords and Commons finished the Brexit bill, she dominated the headlines on broadcast and in print. With the Brexit bill only clearing Parliament last night, after newspaper first edition deadlines, Scotland's First Minister has made a second independence referendum the main story in town.
And so as the Cabinet meets this morning, its delight at the Brexit bill being passed will be tempered by the looming problem of Scotland. Theresa May shot back at Sturgeon yesterday that 'politics is not a game', but she has so far publicly not said if she would approve any request for a new referendum. Yesterday, we began to get some clues, with strong hints that the PM will force Holyrood to wait until after Brexit in 2019.
May doesn't want anything to ruin her Brexit talks. The Times has a Government source saying: "This timing is completely unacceptable…it would be irresponsible to agree to it and we won't." No10 on the record conceded that we would get more clarity on the PM's position once the Scottish Parliament had voted next week.
Sure, the referendum is still a huge gamble for Sturgeon. Like Cameron before her, she knows she'd have to quit if she lost. The polls are not consistently in her favour. She also knows that yesterday both Brussels and Nato made plain independence would not be plain sailing. Brussels said an independent Scotland would have to reapply for EU membership, and Nato's Jens Stoltenberg said it's upto the 28 allies "to decide whether we have a new member". In both cases, Spain (worried about Catalan independence) could prove a big problem.
But anyone gaming this referendum has to take into account the big differences since the 2014 referendum. Sturgeon herself is much more popular than Alex Salmond ever was, a reassuring figure who could tempt former No voters into an EU future. And just as importantly, the polls show Jeremy Corbyn as even less likely to become Prime Minister than Ed Miliband was. The prospect of many more years of Tory rule from London will be hammered home hard by the SNP.
The stakes are certainly huge. On the eve of the EU referendum, Cameron gave an interview to the FT denying he was losing sleep over the outcome. At the end of the piece, one ally said: "His legacy will be that he pulled the economy back from the brink, kept Scotland in the Union and kept Britain in the EU. Just you wait and see." We're waiting, Dave.
2) BREXIT MEANS BREAKFAST
As Queens Theresa and Nicola battle it out over the Union, there's a real Monarch who has a role today. Sometime over her breakfast (or possibly her elevenses), Her Majesty is expected to sign the 2017 EU Notification of Withdrawal Act, giving it her Royal Assent and turning it into statute. A ministerial red box will then return the act to Parliament, ready for the Speakers of both Commons and Lords to confirm the deed has been done.
At 12.30pm (barring urgent questions), the PM has her oral statement to the House on the EU summit and is expected to herald with great fanfare the Act that will finally allow her to trigger the UK's formal process of quitting the EU. But what May won't be doing is triggering the two-year Article 50 process today.
After allowing the speculation to run riot over the weekend (and after some civil servants and even EU officials were told today was a possibility for the trigger), No.10 finally stamped on it yesterday afternoon. As if to prove that emphasis on one word can make all the difference, the PM's spokesman said she had always said she would trigger Article 50 by the end of March. "I've said END many times but it would seem I didn't put it in capital letters quite strongly enough."
To be fair, other sources have also stressed other capital letters, saying the phrase 'BY' the end of March left the PM room to trigger it slightly earlier. And there's more than a whiff of suspicion that May didn't want to gift Sturgeon another PR coup by instantly fuelling the independence campaign. The fact is that the week of March 27th is now when the historic event will happen. As for the choreography, I'm told Parliament will be the forum, not the steps of No.10, but hey let's wait and see.
What was notable was the way the handful of Tory rebel Remainer MPs folded yesterday (despite Dominic Grieve saying it was 'frankly deranged' not to write in statute that Parliament would have a final say on the Brexit deal). The rebels held a meeting and agreed to jointly abstain rather than vote against the Government.
3) DICK PICKS A FIGHT
As most crossbench and Labour Lords put down their ping pong bats last night, the Lib Dems were having none of it. And in a mini-speech, peer Lord Taverne was outraged at the Parliamentary surrender, attacking the Government's argument that the referendum result should be respected.
"It is a very dangerous step towards the doctrine that the people's will must always prevail. This is the doctrine always favoured by Hitler, Mussolini and Stalin—and by Erdogan at present. It is a denial of the essence of democracy…We are the guardians of parliamentary democracy, and we are right in this. We are the democrats."
New reader start here: Dick Taverne was a Labour MP in the 1970s but quit the party because it disagreed with his strong view that the UK should join the EEC. He won Lincoln as an 'Independent Democratic Labour' candidate in a by-election and the February 1974 general election. You can see why he's so steamed up, but an unelected peer comparing Theresa May to 'Hitler', 'Mussolini', really?
And Labour peers were no less impressed by the hyperbole of Lib Dem Baroness Ludford after she accused them of a 'shabby' attack on their principled stance on Brexit bill amendments. Labour's shadow Brexit minister Baroness Hayter added to the spice by revealing some Lib Dem peers had "confessed to me outside the chamber that this is appealing to their core vote and they are piling on members because of it".
Labour thinks the Libs lost a lot of respect for what crossbencher Lord Pannick called their 'pointless gesture' politics. But watch those Focus leaflets cry Labour Remainer betrayal.
BECAUSE YOU'VE READ THIS FAR…
Watch Trump press guy Sean Spicer deny that the President had accused Obama of wiretapping him. A joyful use of air quotes.
4) DEFICIT DENIAL
Away from the Brexit and Scotxit hoopla yesterday, Office for Budget Responsibility chief Robert Chote told the Treasury Select Committee something rather worrying. The Government will struggle to hit its target of clearing the deficit by 2025.
Philip Hammond has abandoned the Osborne pledge to balance the UK's books by 2020, preferring instead to hit the target "at the earliest possible date" in the next parliament which is set to run from 2020 to 2025. In his inimitably former-IFS wonky way, Chote said the Treasury's current plans did not "make you confident that they are on course to achieve that".
Chote warned that even further cuts to working age benefits of around 10% would not be enough to get to surplus because of pressure on costs from an ageing population on health and social care. Something's gotta give.
Another post-Budget headache looms too in the shape of Hammond's pubs pledge. Labour's Jim McMahon has picked up on claims from the industry that plans to offer business rate relief will actually be scuppered by EU state aid rules. Was that another bit of Treasury sleight of hand?
5) HOGG ROAST
Unlike the US Congress, the UK Parliament does not have the power to block public appointments. But it does, in its very British way, have the power to embarrass prospective applicants into withdrawing their candidacy or stepping aide once appointed. In the coming hours, we will find out whether the Treasury Select Committee has managed just that in the case of Charlotte Hogg, the Bank of England's newly appointed deputy governor.
Hogg is acknowledged as a sufficiently competent economist for the role, but what's causing trouble is her admission that she failed to declare a possible conflict of interest: her brother Quintin is director of group strategy at Barclays Bank. And MPs are already wary of her extensive family connections, as her dad is former MP Viscount Hailsham and her mum is Sarah Hogg, who headed John Major's policy unit.
The FT says that a unanimous report by the Treasury Select Committee will only just fall short of recommending Hogg should not get the role. "Not in those words — but it reads the same way," said one member. Mark Carney has given her a verbal warning for her error, but it looks like MPs hope to shame her into withdrawing. Let's see if she toughs it out.
If you're reading this on the web, sign-up HERE to get the WaughZone delivered to your inbox.
Got something you want to share? Please send any stories/tips/quotes/pix/plugs/gossip to Paul Waugh (paul.waugh@huffingtonpost.com), Ned Simons (ned.simons@huffingtonpost.com), and Owen Bennett (owen.bennett@huffingtonpost.com)