The five things you need to know on Monday, March 20…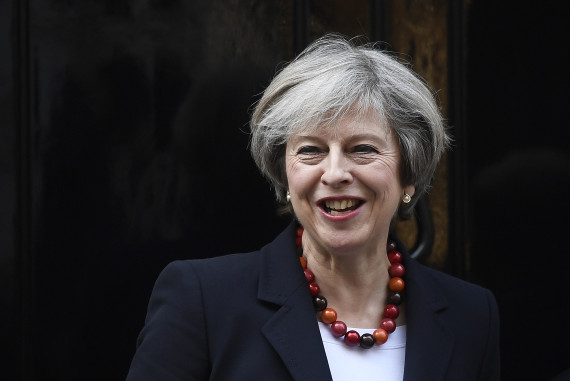 1) WE WE, OURS
Theresa May is off on her nationwide tour, which together with her new 'Plan For Britain' has got tongues wagging that this is all a warm-up for a snap general election. Sources close to the PM keep insisting that she has no plans to go to the polls early, even as the counter-case grows stronger by the day.
The Sunday Express revealed yesterday that a May 4 election has been discussed by Tory Party Chairman Patrick McLoughlin, Chief Whip Gavin Williamson and the Prime Minister's Private Secretary George Hollingbery. The idea is to deliver May her own mandate, increase her majority for coming Brexit trouble in Parliament, wipe the slate clean from the Tory election expenses saga and, of course, to give the PM more ammo in her battle against Nicola Sturgeon's request for a second referendum on Scottish independence.
May is in Wales today (where the Tories did very well against Labour in the 2015 election, don't forget), and will visit Northern Ireland and Scotland at some point. The whole message is about 'we, the United Kingdom', rather than 'I, the Prime Minister'. With Holyrood set to vote for a new referendum this week, will the MP exact revenge for Sturgeon's ambush last week, with a trip north of the border this week? May standing up to Sturgeon is already paying off anecdotally in both southern Tory and northern Labour seats.
The Institute for Government has a new report out warning that Parliament could face the job of scrutinising up to 15 new bills to deliver Brexit, leaving little time for other unrelated legislation in coming years. At 2pm, U.K. ambassador to the EU Sir Tim Barrow and Brexit minister David Jones give evidence to the Commons European Scrutiny committee. Maybe they'll enlighten us further.
2) NO PARTICULAR PLACE TO GO
There are two main Labour stories around right now: Tom Watson's spat with Momentum chief Jon Lansman, and John McDonnell's new, 2-year deadline for Jeremy Corbyn to turn around the polls. The first poses serious questions, but the second tells us a lot about the wagons being circled around the Labour leader.
All this current talk of a snap election reminds me of last summer, when Labour MPs were so spooked by the idea of an autumn poll that they opted for a panicky, botched leadership challenge that ended up strengthening rather weakening Corbyn. And Watson is clearly determined to fight moves by McDonnell and Lansman to lower the number of MPs needed for any future leadership bid.
The Observer had the scoop of a recording by Lansman in which he said Unite would affiliate to Momentum, that the group should 'take control' of regional Labour parties and change selection rules for MPs and councillors. Watson told Today that this was "a battle for the future existence of the Labour party". Lansman counters he is only operating like other groups such as Labour First. Christine Shawcroft says Watson is trying to interfere in the Unite general secretary election.
But what really caught my eye was McDonnell in an interview with the 'i' newspaper moving the goalposts on the timetable Corbyn had to change the awful polls around. In February (like Diane Abbott), he said 'over the next 12 months' Labour would turn this around. Now he says: "Over the next 18 months, 24 months, I think it will turn".
McDonnell said the main way to change things would be, wait for it, 'word of mouth'. "We have reinvented word of mouth as a form of political communication. The meetings that we do, people come along, they come out convinced, and spread the word." And the Shadow Chancellor also blamed Gordon Brown and the 2008 crash for Labour still being 20 points behind on economic crediblity.
Yet if you want real evidence of how Labour operates, read my story from the weekend: Corbyn was advised to use the Brexiteers' '£350m-a-week for the NHS' pledge and turn it into a radical Labour promise of extra health funding at the next election. Indecision, infighting, incoherence all united to ensure no such pledge was made in his New Year 'populist relaunch'.
Kezia Dugdale is due to address the PLP tonight and there's some word Corbyn will be asked to join her.
3) GEORGIE B GOODE?
For now, George Osborne's Twitter handle simply says "Member of Parliament for Tatton". It does not yet say "multi-tasking MP, Evening Standard Editor, Northern Powerhouse Partnership chairman and BlackRock adviser". But the pressure on him to quit as an MP continues. The Telegraph says Osborne will face a 'hostile' reception at Tatton Conservative Association AGM this Friday and a possible formal motion of censure in coming weeks, though this all seems short of a deselection.
There's a bit of bolting the stable door going on too, with the Sunday Times reporting the Committee on Standards in Public Life may look again at second jobs for MPs, and the Observer saying Osborne has yet to receive approval from the advisory committee on business appointments.
Former RBS chief Stephen Hester told Westminster Hour last night: "My shareholders would have a revolt and I would have to step down immediately if I was to take another fulltime job." He added: "when you're in the business of public trust, that's a step too far". But Tony Blair said suggested he'd be rather good: "I think it's a great thing for the Evening Standard, why not? He's a highly capable guy and it should make politics more interesting." Nicky Morgan said he'd champion 'liberal Conservatism'.
Where this all leaves 'meritocracy' in 21st century Britain is anyone's guess. Maybe social mobility czar Alan Milburn (who has complained that jobs in the media are more about who you know, than what you know) will have a hot take?
It seems unlikely that anyone is going to 'shame' Osborne into giving up his multiple roles. It seems as if he is treating the editorship of the Standard like any MP treats a Cabinet post: you don't need particular expertise or experience, can rely on the experts around you (civil servants in Whitehall, deputy editors and others in South Kensington), while you set the overall direction and strategy.
On a practical level, just how Osborne will combine his roles remains to be seen. Scots Tory leader Ruth Davidson, a former journalist turned politician, told Marr: "I'm not sure he could do both at the same time". Osborne said on Friday that he would edit the paper in the morning and vote in Parliament in the afternoon. But under its new structure, a lot of the Standard's heavy lifting is done the day before it prints. As for BlackRock, where he will work one day a week, maybe he'll do that on Fridays? Maybe the new Standard Editor will answer all these questions by commissioning a Q&A box and putting it on page 5?
BECAUSE YOU'VE READ THIS FAR…
Ahead of tonight's TV debates, watch French presidential contender Francois Fillon forced to eat an insect by some school kids. I'm a Celebrity, gallic style.
4) SWEET LITTLE SIXTY
George Osborne's little local difficulty may have taken the heat off Philip Hammond (Tim Shipman reported in the Sunday Times yesterday that Cabinet ministers have been told to expect a reshuffle only in the junior ranks this year). But not by much and possibly not for long, if the looming fresh post-Budget rows over 'grey vote' policy continue.
The Daily Express has splashed on the backlash at suggestions that the Chancellor will now target pensions tax relief in a bid to fill his £2bn black hole from the NI U-turn. The idea is 'top of his list', according to those close to Hammond. Higher rate tax payers are in the firing line in an idea that has long been considered by both the Lib Dems and Labour in recent years.
There's also a growing revolt on something that got lost in the Budget chaos: the probate fees "death tax" hike that charities say could cost them £18m a year in legacies. One to watch.
5) DON'T YOU LIE TO ME
Former Blair policy chief and now May adviser Matthew Taylor was on Peston yesterday talking about his review into firms that use self-employed workers to avoid paying sickness, pension and maternity benefits. His review, due to be sent to the PM in June, found evidence of companies asking potential employees to incorporate themselves as sole traders rather than being taken on the payroll.
The Times has splashed on plans for a crackdown after government sources suggested last night that the PM would back its recommendations. With ministers fearing 'bogus' self-employment is spreading from delivery and tech firms to other sectiors, the paper reports that firms could be banned from imposing any "control" or sanction over workers who are classed as self-employed
Right on cue, the Guardian has a story that delivery firm UK Mail charged a courier nearly £800 when he was unable to work as a result of a car accident while on duty. The firm says it is simply 'covering the cost' it incurred in replacing the guy involved. Not good PR for Tesco, Homebase and other firms who use the company.
SUNDAY SHOWS ROUND-UP
Had a lie-in? Got a life? Read our round-up of all the Sunday morning politics shows in one place HERE, complete with bite-sized video clips.
If you're reading this on the web, sign-up HERE to get the WaughZone delivered to your inbox.
Got something you want to share? Please send any stories/tips/quotes/pix/plugs/gossip to Paul Waugh (paul.waugh@huffingtonpost.com), Ned Simons (ned.simons@huffingtonpost.com), and Owen Bennett (owen.bennett@huffingtonpost.com)