The five things you need to know on Tuesday March 28, 2017…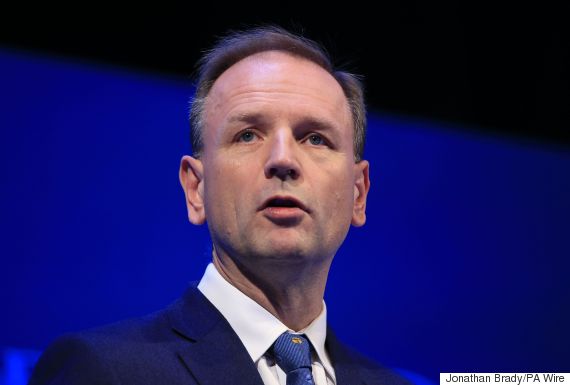 1) ON THE FEAST OF STEVENS
NHS chief executive Simon Stevens is one of the canniest politicians in Britain, and he isn't even a officially a politician. Today, he has gifted the Daily Mail a front page exclusive about his blueprint for saving the health service money on everything from ending free painkillers, travel vaccinations, cough remedies, indigestion pills and gluten-free food. He talks about recovering more payments from EU citizens and curbing expensive locum doctors.
All of which looks like a calculated pitch to both Tory voters and ministers to prove he's a cost-cutting, efficiency-loving civil servant. But I suspect that this is a softening up exercise as Stevens' five-year plan update, due later this week, could well demand yet more dosh from the Treasury to tackle the UK's massive crisis in A&E and social care.
Along with all his other duties, Stevens' most difficult is in getting the money he thinks the service needs. He managed to squeeze £10bn out of Osborne and Cameron before the last election, though he'd asked for more. He needs to help his ally Jeremy Hunt in the battle with the Treasury and he needs to keep the PM onside to protect her only real potential Achilles' heel of 'NHS cuts' (though Copeland proved that is not a panacea to Labour's ills).
But just remember Stevens' select committee evidence in January: the NHS wasn't getting 'more' than it asked for, ministers shouldn't 'pretend' there was no funding black hole, he's been 'running a little campaign' against social care cuts and health is very different from police funding. Oh, and he produced a Daily Mail story as a prop to prove the NHS trailed the EU in medics, scanners and beds. The last Budget gave healthcare £2bn more, but with strings attached, and the cost is still unfunded thanks to the NI U-turn. Can Stevens get more in the Autumn Statement or beyond? How will it be funded? As an aside, I note there's a ministerial statement due today on the NHS pay review body.
2) ON THE (BBC) QT
Despite being a veteran of Parliament, Brexit Secretary David Davis is still not that well known to the public at large. Last night, on the BBC's Question Time special, he at least began to show the voters his personal political style and approach to the biggest issue facing the nation in a generation. Firmly slapping down any attempt to unpick the referendum, he was at turns laconic, conciliatory and caustic. Nick Clegg (who had several 'I agree with Nick' moments from Remainers) did point out that DD had once advocated a 'two-referendums' plan. Millions preferred to watch Broadchurch over on ITV.
Much of Question Time risked turning into into a re-run of the referendum debate, but in news terms, the best line was DD confirming once more that EU migration will go up as well as down after Brexit, depending on industry's needs. That's sensible, but it's also not what many Leave voters voted for. DD referred to EU Brexit negotiator (and his fellow silver fox) Michel Barnier as 'Michel'. Barnier himself used a piece in the FT and a speech to warn that a 'no deal' option would have "severe consequences" of lorry queues at Dover, air traffic disruption at airports, etc.
Former FCO permanent secretary Simon Fraser told Newsnight that it would 'not be possible' to sort out all the Brexit issues within the two-year timetable. But will the EU (or Tory backbenchers) allow any 'transitional' deal that doesn't also sketch out the final destination or time of delivery? The Telegraph splashes on moves by IDS and others to slash EU red tape. The Guardian has Tory Remainer rebels warning May to focus on a trade deal rather than the 60bn euro 'divorce bill'. Again, however, that bill is something many Leave voters worry about.
UKIP's Suzanne Evans tried to hold her own last night. But my colleague Owen Bennett has some stats on bbcqt's fondness for inviting on UKIP politicians. The Kippers appeared on a quarter of all the shows since 2010, compared to just 7% for the Greens (who had the same number of MPs, ie one, and now have one more). On the Marr show, Farage and the Kippers are also often invited, though I guess the Beeb will argue this reflects their national polling numbers rather than MPs or councillors. Greens co-leader Jonathan Bartley is on Marr this weekend, as they hold their spring conference.
3) HOLYROOD MUSIC
The new 12-sided pound coin out enters circulation today and it looks like an advert for the Union, with symbols of England, Wales, Scotland and Northern Ireland emblazoned on its side. Preferring the pound to the euro could also be a key issue in any second independence referendum. And Theresa May made damned sure in Glasgow yesterday that she was the one controlling the currency of the talks with Nicola Sturgeon.
We learn that in their decidedly frosty meeting the PM only allowed the First Minister to speak 'briefly' about a second poll on independence before shutting her down. May ran down the clock by talking about Article 50 and a policing exercise before Sturgeon could try to squeeze in her own plans. It's all part of what looks like the PM's long war of attrition, running down the clock too on when the SNP can viably hold or win any referendum – delaying things not just until after Brexit in 2019 but possibly beyond 2021, by which time the tide may have turned against the SNP in both Westminster and Holyrood.
That's why May is not even saying when the 'talks about talks' can begin on things like the terms of a referendum or even what the question (or questions, plural) on the ballot paper will be. The Guardian reports that today No.10 will try another gambit to control the agenda, revealing the areas where Holyrood will gain new powers after Brexit. This just as the Scottish Parliament is expected to vote around 5pm to start the #indyref2 process.
The Daily Mail, for some inexplicable reason, decided to run a front-page photo of the two powerful political women with this headline: 'Never Mind Brexit, Who Won Legs-It!' The Twitter backlash was predictably swift. Labour's Rosena Allin-Khan had a zinger of a tweet HERE.
Even without independence, Labour's chances of winning power in Westminster have been hit hard by the SNP surge. And May knows her strong line standing up to Sturgeon also works well in English constituencies. Jeremy Corbyn's woes are compounded by a new GfK poll showing he's now as unpopular as Trump.
BECAUSE YOU'VE READ THIS FAR…
After yet more tee-time, here's a reminder that Donald Trump said if he became President he wouldn't play golf and would just stay in the White House and "work in my ass off".
4) DRIVING US POTTY
There's something reassuringly transparent about a lobbying group called the Ashphalt Industry Alliance. It does what it says on the lorry: represent the interests of firms that repair our roads (it's in fact a combination of the Mineral Products Association and Eurobitume UK). But its new survey today is something that will worry everyone and not just tarmac companies who want more work.
The AIA's canvass of local councils has found that one in six roads across England and Wales will have to close within five years unless they get emergency repairs. The cunningly named Annual Local Authority Road Maintenance survey (ALARM, for short) says it will take £12bn to bring the local network "up to scratch". Roads need to be resurfaced every 10-20 years but apart from London most are repaired every 55 years.
I remember when Philip Hammond was Transport Secretary in 2011 he doubled pothole spend, and as Chancellor he stumped up an extra £1.3bn. But as we all know, it's not enough. Potholes not only damage cars, they're lethal for cyclists and dangerous for motorists who swerve avoid them. But the bigger picture is all those wet winters, extreme weather and, dare I say it, climate change. Time to include pothole costs in that particular ledger?
5) ALL THE SINGLE PARENTS
It's not just road maintenance but 'child maintenance' that needs a real overhaul, after a National Audit Office report found that single parents are owed £3bn in payments. A million cases of non-payment have built up since 1993, and the Sun points out that some children have missed out on £35,000 during their early life. That means not enough food on the table, second hand clothes, fewer books in the house, on top of all the other problems these kids face as their mothers try to juggle childcare with work.
The Department for Work and Pensions (DWP) comes in for some serious criticism (and the NAO knows that it will have all the more force because it is not prone to hyperbole). It has cut enforcement work, moved or cut 500 staff and court orders have fallen by 77% in three years. With children of lone parents often the poorest in society, it's a national disgrace and yet one that gets little attention.
David Cameron dumped the Child Support Agency in 2012 and replaced it with the Child Maintenance Service. Of course there were issues with the CSA's competence, but it appeared that politically all those Batman-suit-wearing 'Fathers for Justice' protestors really had an impact. Single mothers won't be stopping traffic or dressing up as Wonder Woman. But anecdotally and now statistically fewer dads (and let's be honest it is mainly dads) are helping pay for their kids' upkeep. Will Theresa May and Damian Green seize the moment and make another break from the Cameron era?
If you're reading this on the web, sign-up HERE to get the WaughZone delivered to your inbox.
Got something you want to share? Please send any stories/tips/quotes/pix/plugs/gossip to Paul Waugh (paul.waugh@huffingtonpost.com), Ned Simons (ned.simons@huffingtonpost.com), and Owen Bennett (owen.bennett@huffingtonpost.com)