The five things you need to know on Friday, March 31…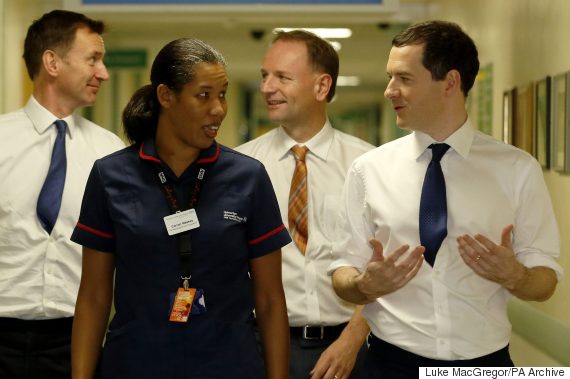 1) HIP-OP ARTIST
NHS chief executive Simon Stevens has his update to his five-year plan today. And its main - but naturally unstated - message appears to be: "I told you I didn't have enough cash". Stevens earlier this year flatly contradicted Theresa May's claim that the NHS had been given more money (by George Osborne) than it had asked for. He also pointed out spending per head would fall this Parliament. Not surprisingly, that didn't go down well in No.10.
The papers are full of the topline that the 18-week waiting time target for hip operations and other routine treatments will have to be relaxed ("jettisoned" is how the Guardian puts it). GPs would also be asked to cut back on the numbers of patients they referred to hospital with other options such as physio encouraged instead. But the good news is that Stevens promises quicker cancer diagnosis and A&E care.
Niall Dickson, chief executive of the NHS Confederation, said the relaxing of the waiting time target was "inevitable" because of a lack of funding. He told the BBC: "I think nobody wants to go back to that very, very long [waiting] time and there will be anxiety about that - but I think it is completely unreasonable to expect NHS services to provide everything, when the restrictions on funding and the demand is rising all the time."
This morning on the Today programme, Stevens kept stressing that he was trying to root out inefficiency in what was still a very efficient health system. But he added: "We are being frank about the pressures. Frontline staff are working hard in challenging circumstances, we should not shy away from that."
2) THE FREE BREXITEERS
David Davis spent some of yesterday trying to reassure European diplomats that security co-operation was not a new "bargaining chip" in Brexit negotiations. Today, the EU27 is meeting in Malta to start their own talks-about-talks, and its new 9-page document this morning talks about a "phased" approach, with talks on transitional deals only after "sufficient" agreement on divorce bills and so on.
Back in London, DD's Great Repeal Bill white paper statement in the Commons was dominated by claims that his use of Henry VIII powers would bypass Parliamentary scrutiny. As for the title of the bill, 'Britain in a Changing Europe' think tanker Catherine Barnard told me that Parliamentary convention suggested it would have to be changed. Will we get the The European Communities (Repeals) Bill? Or the European Union Regulations Transfer Bill? Not as sexy as something that sounded like a copy of the Great Reform Act.
DD has a tendency in the chamber to say things he may later have to clarify (eg "exact same benefits") and yesterday he appeared to suggest that MPs would get a vote on the UK remaining a member of the European Economic Area (EEA). Within hours, his office said: "We will not be a member of the single market or the EEA [and]..we do not envisage a vote"
DD is clearly the dominant figure of the Three Brexiteers in the Cabinet. But how are the others faring? The Times reveals Boris and his wife Marina had a private dinner with the PM and her husband Philip on Wednesday night at his official residence in Carlton House Gardens. Yet Liam Fox appears to be outside the inner circle. The Sun reports that the International Trade Secretary is "seething" at being excluded from a Cabinet sub-committee overseeing the Brexit negotiations. Philip Hammond, Boris Johnson, David Davis and Amber Rudd are all on it. No.10 sources tell the paper that the PM wants "to preserve the utmost secrecy".
Meanwhile, Tory Remainer Anna Soubry tells the New Statesman she is open to the creation of a new political party to be "the voice of a moderate, sensible, forward-thinking, visionary middle way". Nick Clegg got tongues wagging when he chatted to Keir Starmer on the frontbench yesterday.
Read (and sign up to) our Owen Bennett's weekly Brexit Bulletin HERE.
3) KEN GOES NAGASAKI
Ken Livingstone looks set to go nuclear if Labour expels him today for bringing the party into disrepute with allegations of anti-semitism. In an interview with me this month he threatened financial and political fall-out for the party if he was kicked out, warning he was ready to launch a judicial review of the decision and processes used in his case. Such a court action could be potentially very expensive for himself, but even more expensive for Labour if it loses.
Yesterday, the former Mayor of London arrived at his hearing by the National Constitutional Committee - a quasi-judicial body to hear disciplinary cases - by giving yet another of his mini-lectures on Nazi history. Repeating his claim that Hitler was set to support a Jewish homeland, for many Jews he underlined his insensitivity. The Jewish News newspaper has a splash calling for 'Kenxit'. The Guardian reveals that the Jewish Labour Movement submitted a 170-page dossier listing Ken's record, including critical remarks by the Chief Rabbi Ephraim Mirvis.
In fact the case may not rest on any interpretation of 1930s history but of 2016 history, and how Ken's defence of anti-semitic Facebook posts by Labour MP Naz Shah was "grossly detrimental" to the party. We should find out the NCC's decision this afternoon. But Simon Schama may not be worried about his own TV career.
BECAUSE YOU'VE READ THIS FAR…
Watch Scottish Tory leader Ruth Davidsontell Question Time that she would have liked the PM to secure EU nationals' rights.
4) COP THAT?
The Sun splashes on a story that the police now solve only one in ten burglary cases, and links it to Government cuts of 17,000 front line officers in the past 7 years. The stats come from the paper's Freedom of Information requests, and show that cops solved just two per cent of break-ins in Braintree in Essex.
What is less clear is the paper's claim that the burglary detection rate has "declined", as there is no figure given for previous years for comparison. And police forces and the Home Office point out that the number of burglaries has fallen. The Sun concedes that a recent Crime Survey of England and Wales showed domestic burglaries fell by 71 per cent since 1995.
Max Chambers, a former adviser to David Cameron, says the figures show "policing cuts are making it much harder for forces to respond adequately to burglary". But the National Police Chiefs' Council says burglary has fallen by a third since 2010 and is at its lowest for 30 years.
5) AMBER FLASHING RED
Muttering among MPs about Amber Rudd continues. Many remember that her party conference speech was dominated by a wholly needless row about forcing firms to draft lists of foreign workers. Critics say that while Rudd is smart and personable, she just isn't a very competent politician. Still, for now she has the backing of her predecessor, who just happens to be the Prime Minister.
But Rudd hasn't had a great week, starting with he "necessary hashtags" blunder at the weekend and continuing with her SkyNews Europol remarks. Add in that she was using WhatsApp herself only hours after attacking it as some kind of terrorists' friend (and that the cops were convinced that Westminster attacker Khalid Masood acted alone), and you can see things are tricky. Labour's shadow digital minister Louise Haigh even trolled her with two Parliamentary questions asking how the Secretary of State "defines the term necessary hashtags and if she has had any meetings with "people who understand the necessary hashtags".
Yesterday, Rudd met tech firms and they agreed a new forum to tackle online terrorist propaganda, which is a more obvious and pressing problem. The Lib Dems pointed out the Home Sec's statement afterwards made no mention of end-to-end encryption.
COMMONS PEOPLE
Our latest Commons People podcast is out. Listen HERE to us chinwag about this historic week, plus our usual In Case You Missed It section, the weekly quiz and more.
HOUSE-KEEPING
The Commons rose yesterday for Easter. And the WaughZone will take a break too until after the recess. It's back on Tuesday April 18. See you the other side, folks.
If you're reading this on the web, sign-up HERE to get the WaughZone delivered to your inbox.
Got something you want to share? Please send any stories/tips/quotes/pix/plugs/gossip to Paul Waugh (paul.waugh@huffingtonpost.com), Ned Simons (ned.simons@huffingtonpost.com), and Owen Bennett (owen.bennett@huffingtonpost.com)