The five things you need to know about May's snap decision…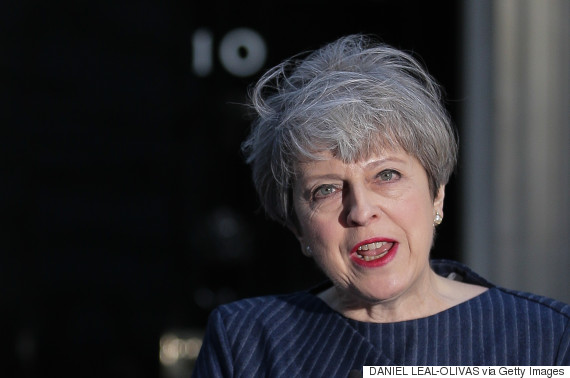 1) DON'T CALL ME MAYBE
Whatever happened to 'Theresa Maybe'? This was supposed to be an indecisive Prime Minister, an overly cautious ditherer who doesn't even know her own mind, as The Economist famously claimed last year.
Well, as she delivered her general election announcement in the bright spring sunshine on the steps of Downing Street, Theresa Mary May proved she can be both bold and surprising. She's not impulsive, but she's unafraid of taking calculated risks.
The comparison with Margaret Thatcher is overdone at times, not least as May has herself been critical of her predecessor. But the PM knows that the smack of strong leadership can help her secure the Maggie-sized majority that she badly needs to oversee a smooth exit from the EU.
May's allies say she had already confounded the 'ditherer' claims with her Brexit speech in January, setting out radical plans to quit the EU single market and remove the remit of Europe's judges over British justice. Today's electric shock of an announcement certainly sent 10,000 volts through Westminster.
The decision was kept tightly secret, with even some senior aides out of the loop until the day itself. Just an hour beforehand, when word first emerged of a No.10 steps statement, one minister joked to me that May could be demanding ITV bring back Broadchurch - or announcing she was the new Doctor Who. But the gags stopped when it became clear this was a deadly serious announcement and the single word 'June' spread rapidly text messages between MPs.
For months, a hard core of MPs have been telling Tory chief whip Gavin Williamson and party chairman Patrick McLoughlin that the logic of a 2017 election was almost unanswerable. Government austerity cuts will continue to bite, the economy could suffer a downturn, inflation is squeezing stagnant wages even further. To misquote Tony Blair's famous pop tune mantra of 20 years ago, Things Can Only Get Worse.
Moreover, the first law of politics, as President Lyndon Johnson famously pointed out, is to know how to count. And with a working majority of just 17, May lacked a personal mandate that made it harder to sell everything from grammar schools and National Insurance rises.
If money talks, it was shouting loudly today. The pound bounced back after May's statement, with market traders confident a bigger Tory majority would be good for a stable Brexit.
2) THE LADY IS FOR TURNING
May herself, in private and in public, had insisted that there "should not" be a general election before the next one planned for 2020. Only last month, three party chairmen, Norman Tebbit, Grant Shapps and Sayeeda Warsi all advised her not to go for it.
Today, the PM knew that she was wide open to the charge of yet another U-turn, indeed her most glaring yet, and spent much of her Downing Street statement trying to justify it. She spent months refusing a snap poll - because the national interest was more important than her party interest. Today, she suddenly announced she wanted a snap poll - because the national interest was more important than her party interest. The pivot was not that convincing.
May threw up a few straw men in her rationale. She declared that "unelected members of the House of Lords" have "vowed to fight us every step of the way" on Brexit. Which is not quite true: Labour's Lords leader has made clear the party would not block Article 50 and Jeremy Corbyn even whipped his MPs to back it.
Her more valid worry was the recent warning by Shadow Brexit Secretary Keir Starmer that Labour would vote against any 'bad deal' that emerged out of the Brussels negotiations. With rumblings that some of her own 'Remainer' MPs could follow suit, she was advised that things could get too close for comfort. That's what May was really referring to when she said the "political game playing" of her opponents would weaken her negotiating position.
Another key factor is the Brexit timetable and the narrow window it affords. For the next few months, talks with the other 27 EU nations are effectively on ice, largely as the French are preoccupied with their own Presidential election and the Germans build up to theirs. Civil service 'sherpas' can do some of the technical prep, while May and her Cabinet focus on winning a new mandate.
The PM kept saying "I have only recently and reluctantly" decided on a general election. In an exclusive interview with ITV's Robert Peston she even suggested her final call was inspired by the mountains of Snowdonia, revealing she finally made up her mind "while walking in Wales with my husband", just before the Easter weekend. Others think that her Brexit 'Plan for Britain' – which sounds uncannily like an election slogan - and 'national tour' were all proof that she kept her options open much earlier. The fact that this was indeed a late decision is confirmed by the fact it would have been much easier and cheaper to hold the poll on May 4, the same day as the local elections.
Still, complaints about May doing a U-turn will melt as fast as snow on a spring mountain. As she showed with her handbrake turn on national insurance rises in the Budget, changing your mind can be portrayed as 'listening' to voters' concerns.
3) LABOUR PAINS
And of course, for all her talk about the national interest, one of the main reasons that the PM had decided to go for an election is the current state of the Labour Party. What truly terrified many in the party were those two polls (by YouGov and ComRes) this weekend giving May's party a whopping 21-point lead. That's extraordinary for a party in Government. And you know things are bad when the 'outlier' poll (by Opinium) gives the Tories a lead of 'only' nine per cent.
The June 8 general election would be nearly a year since the historic EU referendum saw the UK back Brexit by a slim margin. But it will be 34 years almost to the day since Margaret Thatcher sought her second term from the voters, back in 1983. The most striking fact of the last few days is that Labour's 23% in the poll is even lower than it was back then.
Patriotic fervour for Brexit, or rather support for it among Labour's heartlands, is May's equivalent of Thatcher's Falklands War. Labour's deep divisions on the issue of the UK quitting the EU would be political Kryptonite, even if it had a Superman as leader.
Yet Jeremy Corbyn's personal ratings are even worse than those of his predecessor Michael Foot, whose socialist Britain the voters didn't buy three decades ago. And while everyone should be cautious of following polls, if Brexit and the 2015 general election taught us anything, they taught us that 'progressive' votes were over-estimated by the pollsters, not underestimated.
For Labour MPs, what beckons now is their summer of discontent, when many of them will be asked repeatedly if they support their leader. The coming local elections in May could be just the hors d'oeuvres to the main course in June.
With the polls as they are, May is not behaving like a reckless gambler in the electoral casino. She is taking a calculated risk with the odds in her favour.
4) CORBYN OR CORB-OUT?
It was not a coincidence that Labour's Middlesbrough South MP Tom Blenkinsop (in a key marginal) announced today he would not stand again. When Labour lost a long-held council seat in Middlesbrough last week, candidates nearby were telling voters on the doorstep 'you're not voting for Corbyn, you're voting for me'. That could be repeated across the country as MPs struggle to hold on somehow by trying to write Corbyn out of their campaign.
But he is still leader of his party (elected twice on two landslides among members) and UK general elections are more presidential than ever. The Tories have stored up plenty of ammunition on his support for Sinn Fein (and by implication the IRA), his failure to sing the national anthem, his opposition to nuclear weapons and power.
The Conservatives' victory in the Copeland by-election in February was the first time that May began to take seriously the lobbying for a snap election. Crucially, the way the party took a seat from Labour in its northern heartland proved that even NHS cuts were not the weapon Labour had assumed.
May looks like she will not agree to any live TV debates, proof that she wants to portray Corbyn on her own terms, in brutal attack ads, rather than giving him the remote prospect of a shock debate victory (and he has done in PMQs a few times).
Many Labour MPs are not disputing the fact of a general election defeat, but only the scale of it. Some of them have already displayed a gallows humour with talk of an 'annual' party leadership election that would follow Corbyn's demise. One Labour figure told me this morning: "It's good news in that at least defeat would end our Corbyn misery. But that's not good news for those good MPs who will lose".
Still, it's far from clear that Corbyn will either stand down or lose any leadership contest. He told me last year that even if he lost a general election, it was "the party members control what happens, they decide one way or another". And a new leader would still face yet more civil war, as 'moderate' MPs in marginals are more likely to lose in an election than left-wingers in safer seats.
One senior Labour Parliamentarian told me tonight that they had one entry in their diary for June 8: a new play at the Royal Court titled 'Anatomy of a Suicide'.
5) THE OTHER OPPOSITION
In contrast to Labour, the Liberal Democrats are much more upbeat. Though obviously coming from a much smaller base after their near wipeout in 2015, Tim Farron's party were prepared for a snap election last autumn and selected nearly all of its candidates then. Big names like Vince Cable and Ed Davey and Simon Hughes are all gearing up for a return.
True to its efficient spin operation, the party announced it had put on 1,000 members in one hour after May made her election statement. The Lib Dem revival – with most its target seats in Tory areas – used to be a key factor cited by the PM's allies when dismissing a snap poll.
But the Tories are in a much stronger position not just with Labour but also UKIP in their sights. The original Brexit party is seen as a spent force now that Brexit is becoming a reality. It polls less than double figures nationally and its new leader lacks Nigel Farage's panache and popular reach. It has lost its sole MP, lacks donations and can't even find enough candidates to stand in the local council elections.
As for Scotland, May is clearly confident she can exploit the issue even more ruthlessly than David Cameron did in 2015, painting Labour as the backdoor route to allowing the SNP to 'run Britain'. Two years ago, the Tory poster showing Ed Miliband in Alex Salmond's pocket had a devastating impact in key marginals. Insiders revealed that it was the moment that voters really shifted towards the Tories to win that election.
The PM was explicit about the Scottish 'threat' today, declaring that in the election "the decision facing Britain will be all about leadership". If she agrees to a debate which includes Sturgeon, she may play the English nationalist card in a way that appeals further to Labour voters in the north and midlands. The message will be simple: not only is Corbyn out of touch with your values; he could only become PM in alliance with the Scottish nationalists.
Of course, the 'real Opposition' to Theresa May in recent months has often been on her own backbenches. Her government's brittleness and inexperience on domestic policy were laid bare by both her grammar schools policy and the botched Budget decision on hiking national insurance. But those rebellions could be small fry compared to any staged by Eurosceptics who are wary that the PM could trim and tack on Brexit itself. If she defies them by agreeing to pay billions to Brussels for a 'Brexit divorce bill', or allows immigration to stay at similar levels, a bigger majority would ensure her own survival.
May has made two big threats to Europe so far. The first was that no deal is better than a 'bad deal', the second a hint that the UK could withdraw security cooperation if it doesn't get what it wants in any exit deal. Both were seen as bluffs. But she can't bluff her party. To take it on, she will need her own mandate – and numbers. It's worth remembering that Thatcher won a whopping majority of 144 seats in 1983.
If you're reading this on the web, sign-up HERE to get the WaughZone delivered to your inbox.
Got something you want to share? Please send any stories/tips/quotes/pix/plugs/gossip to Paul Waugh (paul.waugh@huffingtonpost.com), Ned Simons (ned.simons@huffingtonpost.com), and Owen Bennett (owen.bennett@huffingtonpost.com)