The five things you need to know on Wednesday, April 19…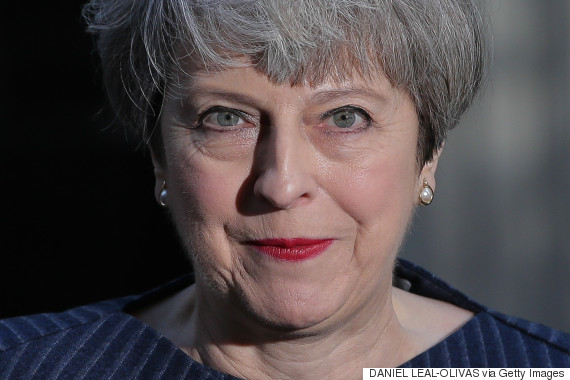 1) SNAP DRAGOONS
She had to be dragooned into taking it seriously, but once Theresa May made her mind up, a snap election looked like an obvious choice. Only a small inner circle of trusted senior Cabinet ministers were given advance notice, including Philip Hammond, Michael Fallon, David Davis, Amber Rudd and Boris Johnson, as well as the party chairman and chief whip.
In my WaughZone special last night, I went through the rationale behind the decision: May is not behaving like a reckless gambler, she's taking a calculated risk with the polls and odds very much in her favour; Brexit is her Falklands War, a powerful way of appealing to the patriotism of Labour voters in its heartlands while killing off for good UKIP in Tory areas; she needs a bigger majority to make 'Mayism' a reality; and there is a narrow window before EU negotiations start for real this autumn.
Yes, there will be a repeat of the 2015 playbook ('competence v chaos'), with the spectre Jeremy Corbyn relying on Scottish nationalists to have a hope of power. Yes, there will be a repeat of 1992's tax bombshell, though this time looking like a MOAB. Yes, there will be a 1983-style onslaught on Corbyn's character, values and policies, turbo-charged for the Google-ad, infographic-heavy, Twitter-videoclip age.
But this general election will also be unlike many others, as May creates it in her own image. TV debates are seen as too much of a risk by this risk-minimising PM (she confirmed on Today they would not happen). We are likely to see an even more tightly controlled media operation than Cameron ran (May hasn't held a single 'PM Direct' style event to put her in contact with voters, and has curbed press conferences).
Normally, there is a sense of excitement at Westminster and in the parties in the country at the thought of an election. Many voters feel a national duty to go down to the polls and take part in a democratic carnival. But election fatigue (no wonder Brenda4PM was trending), combined with real sense of dread among Labour MPs, councillors and long-standing local officials, makes an uneasy backdrop.
PMQs today is at noon, offering a fresh chance for May and Corbyn to get some final clips for their election broadcasts. On my reckoning, it will be the penultimate PMQs of this Parliament (Commons leader David Lidington confirmed the dissolution will be one minute past midnight on May 3).
Soon after PMQs, there will be a 90-minute debate on the simple, nine-word motion on the Order Paper in the name of the Prime Minister: "That there shall be an early parliamentary general election". There will be Labour and SNP abstainers but May will have the numbers. After June 8, she may have even more.
2) THE BETRAYAL NARRATIVE
Amber Rudd, the ever-so candid Home Secretary, appeared to let the cat out of the bag on Newsnight last night. Asked directly if a bigger majority would strengthen the PM's hand to face down her own Brexiteers, Rudd replied: "What I can say is it certainly gives her an opportunity - if she gets what we hope she'll get, a good majority - the opportunity to arrive at potential compromises within the EU".
And Politico's Brussels chief had this telling reaction from a senior EU official yesterday to the snap election plan: "The chances for a good outcome of the Brexit negotiations have just gone up tremendously. Instead of being at the mercy of the Brexiteers, May will now get a very, very strong mandate that will allow her to negotiate a reasonable deal with the EU." Add in that the reaction of the City (many of whom were avid Remainers) was very positive indeed yesterday and you can see why the 'betrayal narrative' among arch Eurosceptics is reviving.
The FT and the Sun (which has an interview with May) both pick up on a big factor in May's decision: her fear that the EU would use an impending general election to put her over a barrel in Brexit negotiations. That adds to suspicions that 2019 was her actual intended election date, not 2020 (to avoid a Labour change of leader), but it also points to the merits of a new five-year Parliament now lasting to 2022.
The European Parliament has said three years would be needed after Brexit's 2019 date to allow a transition period. And under May's new plan, she will have just that timetable to fix temporary deals that continue free movment or frictionless trade.
The Daily Mail's "Crush The Saboteurs" headline has done what it was intended to do: provoke strong reaction. Though she'd never dream of attacking her favourite paper, I'm not sure the PM will be overly pleased with it for two reasons: that message conflicts with her attempt to unite the nation, and it could come back to haunt her if those 'saboteurs' turn out to be her own Brexiteers, not the Remainers. Let's see if John Redwood, Steve Baker and others come out fighting.
3) THE JEZ-ERENDUM
There was something very 'The Thick of It' about Jeremy Corbyn being late for the PLP meeting last night in the Commons, his train being delayed and deputy Tom Watson having to stand in to take early questions. When the Labour did finally arrive, he listed his new policies of recent weeks and won what can only be called mild applause.
There were impassioned pleas, led by Blair's former PPS David Hanson, for Corbyn to refuse to back May's snap election motion and instead for her to lose a motion of no confidence. Chris Bryant pleaded for JC not to take part in TV debates that didn't include May (pointing out Ed M suffered from just that in 2015). But overall the mood was subdued, and such issues seemed like so much processology.
It was Yvette Cooper's final, rousing speech thank MPs standing down and urging the party to get up and at the Tories, that won most applause and cheers. MPs present took it as a pretty clear signal that Cooper hasn't given up her own leadership hopes. She stayed long after the meeting, chatting with Graham Jones (who has a PMQ today). Though one arch Corbyn critic confided to me that while it was now inevitable the next leader would have to be a woman, Yvette was too associated with the past to make the fresh start the party needs.
At least one civil war has been avoided. As HuffPost reported yesterday, Corbyn wanted a 'trigger ballot' for all MPs, subjecting them to local members for candidacy for the snap election. But it was swiftly made clear to him that there was no time to do it. General Secretary Iain McNicol confirmed to the PLP that all MPs who wanted to stand would be automatically renominated.
The Times splashes on its polling data pointing to a landslide majority of 100 for Theresa May. Analyst Michael Thrasher said the majority could be a Thatcher-style 140 if the Tories really are 21 points ahead. Of course, the Tories will try to play down such expectations. And, as odd as this sounds, if May increases her majority by 'only' 30 seats, you can bet Jeremy Corbyn supporters will say that things didn't turn out as bad as forecast.
The election will be seen as a referendum on Corbyn's leadership as much as it is about Brexit. And he and his supporters know that his survival depends on how party members - as opposed to voters - think he fought the campaign (in the face of what they see as media bias). With a third possible Labour leadership in three years looming, the wagons are already circling around JC.
BECAUSE YOU'VE READ THIS FAR…
This short clip from Labour voters in Barrow-in-Furness sums up the challenge facing Corbyn. No wonder John Woodcock has declared UDI.
4) BLAIR'S WHICH? PROJECT
The election will certainly be the biggest test for the Left of the Labour party of modern times. Even Michael Foot didn't have a Shadow Chancellor as radical as John McDonnell (who this morning told Today that a high pay 'cap' and 'ratio' would be in the manifesto). On Newsnight last night, Paul Mason said "We have the chance to stage a political revolution against the Conservatives and I think we can do it".
But Mason also appealed for alliances of voters, suggesting Labour should join with the Lib Dems and Greens in some areas. When asked how he would vote in his own constituency of Vauxhall, he mentioned Kate Hoey's pro-Brexit views but couldn't quite finish the thought.
And perhaps the most intriguing aspect of yesterday was Tony Blair's statement that he wanted voters in this election to test every candidate to see whether they backed a 'Brexit at all costs". Although he denied an attempt at pacts with the Lib Dems, it sounded like tactical voting writ large. He wants voters to "elect as many MPs as possible with an open mind on this issue who are prepared to vote according to the quality of the deal and the interests of the British people". It sounded like he was offering a Which? style tick of approval to MPs who back a soft or no Brexit.
This echoed Stephen Dorrell, of the Tory European Movement, who emailed supporters to say 'it is not too late to change our minds' and to support candidates who want to "play a full part in the life of the continent in which we live". I see that the former leader of Camden Council Tories has today said he will vote for the Lib Dems.
5) MANIFEST-OHS
Many MPs think Ed Miliband "tested to destruction" the idea that the voters would flock to a 'soft Left' Labour leader who couldn't convince on the economy or leadership - as well as the concept that a level playing field of balanced TV coverage, plus high exposure, would be a benefit. But they now think Corbyn offers the prospect of a lot more 'destruction' of that theory.
Corbyn looks like he's going for the full-fat version of Miliband's diet Coke. He wants to fight the election not just on Brexit but on school cuts, the NHS, housing and more. In several areas, he will have a strong case. Yet will Labour's manifesto also have items that make it look like an even longer suicide note?
Labour MPs are frustrated that May is brittle and beatable on domestic policy. Her interview with Nick Robinson on Today, in which he exposed her tendency to robotic answers, underlined it. In her interview in the Sun, the PM also left open the prospect of axeing Cameron's 0.7% overseas aid pledge. Some Tory MPs now think it could be rolled into a defence and aid target instead.
She also left open the idea of axeing the triple lock on pensions. With Labour committed to keeping it, will that really happen? Having trashed Cameron's fixed-term Parliaments legacy, May is keen to free herself from Osborne's mad tax hike lock too. Energy price caps, more interventionist on business, a softer possible Brexit, a calmer deficit reduction plan and even dropping her migration pledge could all happen. A May manifesto may end up sounding like a Miliband/Balls one. Will that be her biggest surprise of this year?
If you're reading this on the web, sign-up HERE to get the WaughZone delivered to your inbox.
Got something you want to share? Please send any stories/tips/quotes/pix/plugs/gossip to Paul Waugh (paul.waugh@huffingtonpost.com), Ned Simons (ned.simons@huffingtonpost.com), and Owen Bennett (owen.bennett@huffingtonpost.com)