The five things you need to know on Monday, April 24…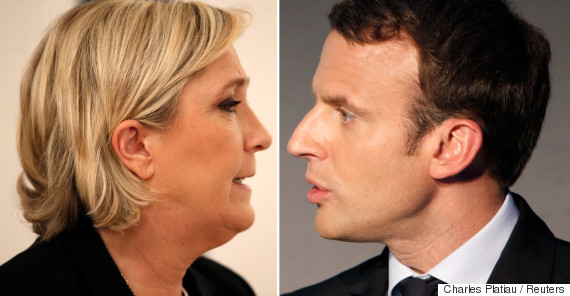 1) PARIS SPRING
The French Presidential election is showing that 2017 could turn out to be just as 'disruptive' as 2016, but with its own peculiar twists. Yes, the two main parties in France have no candidate in the final round of the contest. But the run-off is a clear choice between someone on the hard right and a globalist centrist moderniser.
And (as in the US, though many forget it), the polls were bang on. Emmanuel Macron came first, Marine le Pen second. And those same polls forecast that Macron will have a huge 20% lead in the final race. That doesn't mean that everyone can relax, as Macron will still need to mobilise his voters and those of defeated candidates, while Le Pen voters have been mobilised (in every sence of being war-ready) for years.
George Osborne was quick to Tweet he had met and liked Macron as fellow finance ministers. Ed Miliband, now the gagmeister of Twitter, replied: "Do not panic too much about this tweet. I guess @EmmunelMacron has many friends. I also met him once…"
Still, there was a telling reaction from some on the Left, in France and here, to the result. The Daily Mail got a kicking for its 'French Revolution' splash, as it wrongly talked of a Le Pen 'surge' and almost gloried in her rise and her backing for 'Frexit'. But while the paper seemed to flirt with a 'my enemy's [the EU] enemy is my friend' approach, so too did the Left. Defeated leftist Melonchon refused to endorse Macron. And some Corbyn supporters here said the French race was now just between 'an investment banker and a fascist', as if somehow those words were equivalent. That was itself an echo of Edward Snowden's infamous line that the US election was 'a choice between Donald Trump and Goldman Sachs'.
If France does indeed get its youngest leader since Napoleon, he will fight hard for the EU interests and not May's. Yet like Macron, her election challenge is to try to portray herself as an anti-establishment (on business, on energy prices, on globalisation) centrist. Some in the UK this morning may wish we had the same system as the French: a first round to decide who you want, then a second to decide who you definitely don't. Whether that would lead to more centrism in the UK, or less, is unclear.
2) JEZ BE FRIENDS
Jeremy Corbyn is in Scotland today, pushing among other things a demand to set up an inquiry into Scottish police conduct in the miners' strike. There's little brand new in his policy list other than a demand to force all firms with public contracts to recognise unions. Both show he's sticking to his plan not to 'play by the rules' in this election.
It's unlikely Corbyn would ever quote Macron, but Scottish Labour's Kezia Dugdale may be tempted to cite the Frenchman's line last night that he wants to be "a President of patriots not a President of nationalists". The SNP hate being called 'nationalists', despite the word 'national' in their very name.
Yet the cold weather front that's hitting Britain this week is perhaps an apt metaphor for Labour MPs' fates. The chill has already hit Scotland and is forecast to spread south through the day and week. And just as the SNP all but wiped out Labour in 2015, there are plenty of Labour seats with majorities of up to even 7,000 - like Scotland, long neglected by their MP - which could flip dramatically to the Tories in June. By contrast, seats with tighter majorities where the MP (like Wes Streeting) is on the doorstep relentlessly, could be unchanged.
In a sign of the way the Tories are treating this campaign, CCHQ deliberately held back any policy announcements today because they expected Corbyn to bomb on Marr. And he lived down to their expectations by gifting them lines to fit their 'chaos' narrative. The key bit of his answer on Trident was not his tacit anti-nuclear principles but his refusal to say what order he would give in the event of an attack.
And the Tories think Corbyn's refusal to agree drone strikes on an ISIS leader has even more 'cut through' with voters. As with his line on demilitarising Nato-Russia borders, Corbyn instead kept saying he wants everyone to get round the negotiating table and try to be friends. On all this (as well as Labour HQ having to correct its leader that Trident renewal would be in the manifesto), just watch campaign chief Andrew Gwynne struggle on Good Morning Britain today. He was left gasping like a salmon on the riverbank.
Defence Secretary Sir Michael Fallon didn't hesitate to tell Today: "This is somebody who would certainly put the security of our country at risk." The criticism from Labour MPs is harsher in private. On foreign policy, Corbyn wants diplomatic compromise with Putin, ISIS, Assad; but on domestic policy, he is committed to 'no compromise with the British electorate', some mutter.
3) MARXISM TO MAY
We are in the curious situation where Theresa May could adopt a 'Miliband manifesto' on things like energy prices and other curbs on business. What was dubbed Marxist by the Tories just a couple of years ago is now part of their land-grab of the political landscape.
Nick Robinson nicely skewered Michael Fallon on the Today prog with his own words comparing energy bill intervention with 1970s bread price controls. Fallon said a cap on prices was not the same as a Labour's freeze plan but for many voters it may be a distinction without a difference. "Energy has always been regulated…" the ex-energy minister was reduced to saying. Meanwhile, hedge fund boss Stephe Clapham of Fenician Capital told the BBC: "I don't really understand what Theresa May is trying to do here. It seems like protection for people too lazy to shop around."
But energy prices are small beer compared to the way the Tories could now adopt Ballsonomics on the deficit, slowing the repayment of the nation's debt through tax rises and not just spending cuts. The PM on Saturday refused to rule out tax hikes after Philip Hammond's Friday night drop, when he signalled he wanted to end Osborne's triple lock pledge not to put up VAT, national insurance or income tax.
Given all the grief over NI, and the rhetoric on cutting the 50p rate, it seems VAT could be the main safety valve. But could May pull off a real Marxist surprise and hike income tax on the super-rich at some point? Cutting high earner pension tax relief is another Treasury target don't forget too. It's just that we may not find out until after the election. Still, Tory chairman Patrick McLoughlin generated the Telegraph 'Tory split' story over the tax hikes, with his Sunday Politics line stressing the whole Cabinet, not just Hammond, would decide.
And as with Miliband, the Tories know that popular policies only work when allied to credible leaders. That's why the extra bank holiday idea (if it was one each nation, not four for all) could fly, but when attacked to Corbyn it may not. That wider lesson of leadership being intrinsically linked to policy has certainly been learned.
BECAUSE YOU'VE READ THIS FAR…
Watch this young Macron supporter dance like no one can see them.
4) LOYAL BLAIR FORCE
On Radio 4 yesterday, Tony Blair said he didn't want the stories to be about him urging tactical voting in the election to stop a hard Brexit, but as an old pro he must have known that was inevitable. His words in fact speak for themselves. Asked if he was saying vote Lib Dem in some areas to stop Euroscep Tories, he replied that it may mean that, but it could mean voting Labour or Tory too.
Blair (who suggested May would still be PM on June 9) was careful not to fall foul of party rules forbidding advocacy of rival candidates . But people like Chuka Umunna were swift to say TB was wrong and that no voter could 'turn a blind eye' to Lib Dem support for the Tories in the Coalition.
Yet in Vauxhall, Labour Remainers are sorely tempted to back the Libs to get rid of arch Brexiteer Kate Hoey. Lib Dem candidate George Turner is joined by Tim Farron there today as his party confirmed this morning that its membership had passed the magic 100,000 mark and is on course to pass its previous all time high of 101k in 1994. Some 12,000 people have joined in the past week, raising half a million quid. Paul Nuttall's line on Marr that UKIP may not stand against Hoey was invaluable PR.
Although Farron ruled out coalitions or even 'confidence and supply' deals yesterday, at local level all sorts of stuff could happen. Zoe Williams, who claims that Corbyn doesn't want to be PM, essentially endorses the Blair approach in her column in the Guardian today urging a 'progressive alliance' in individual seats.
5) ER, QUALITY
Today has the only significant diary item that looked problematic once Theresa May had secured the June 8 election date last week. Yes, Monday 24 April was always the deadline set by the courts for the Government to produce an air quality action plan to cut illegal levels of nitrogen dioxide in the UK's most polluted areas.
But in a classic move to bury the bad news, or at least delay it, ministers lodged papers on Friday night at 6.30pm, after the courts had closed. They argue for a postponement in the court action "to comply with pre-election propriety rules". And even if the courts today reject that, Defra looks like it will appeal anyway to get the delay. Ministers don't just want to err on the side of caution, they're really saying 'er, let's just delay to the other side of the election'. Andrea Leadsom is certain to either make a Commons statement or face an Urgent Question.
But this isn't some metrosexual hobby horse. Legal limits have been breached in 16 areas including London, Birmingham, Leeds, and Glasgow, with fears that children are breathing damaging fumes by the roadside as they walk to school. Lawyers for Sadiq Khan and Client Earth will challenge strongly. The Times has a neat line: Cabinet office guidelines allow for purdah rules to be lifted where public health is at risk.
SUNDAY SHOWS ROUND-UP
We watch all the Sunday political shows so you don't have to. Read Owen Bennett's handy summary, complete with video clips, HERE.
Meanwhile, Trump has done another stream of consciousness interview, this time with AP. Read it in full HERE. On Angela Merkel, he says: 'I guess somebody shouted out, "Shake her hand, shake her hand," you know. But I never heard it. But I had already shaken her hand four times. You know, because we were together for a long time.'
If you're reading this on the web, sign-up HERE to get the WaughZone delivered to your inbox.
Got something you want to share? Please send any stories/tips/quotes/pix/plugs/gossip to Paul Waugh (paul.waugh@huffingtonpost.com), Ned Simons (ned.simons@huffingtonpost.com), and Owen Bennett (owen.bennett@huffingtonpost.com)