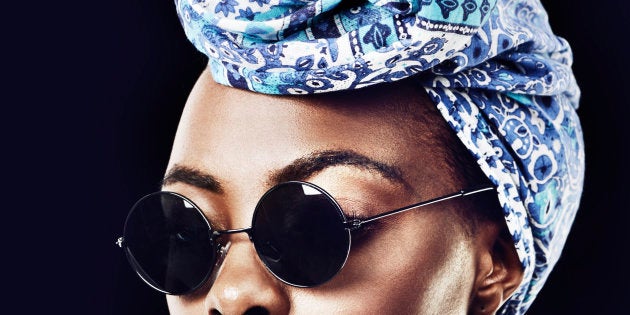 Also known as iduku in isiZulu, dhuku in Shona, duku in Chichewa, and gele in Yoruba, the headwrap is an undeniable and glorious African statement. It originated in sub-Saharan Africa and has a rather sobering history.
Historically in the US, headwraps were imposed on black women as a badge of enslavement by white masters. In this way, the head covering was used to distinguish between black people without power from those who held it.
Yet the doek endured, instead later acquiring significance as a form of self and communal identity and as a badge of resistance, proudly and publicly worn.
This history, however, never diminished the ancient cultural and spiritual significance of headwraps, consistently held in African communities over generations.
Cultural and spiritual significance
For centuries, headwraps have been a consistent feature in the daily living of African women. According to this writer, one could tell from a headwrap if a woman was married, widowed, young or old. According to Yoruba tradition, for example, the way a gele is tied can indicate whether a woman is married or not. An end leaning to the left means she's single and leaning to the right means she's married.
In other cultures, headwraps signify respect. Southern African women have been known to culturally wear doeks as an outward sign that they are engaged, married or bereaved. In Zulu culture, a woman is expected to cover her head when she visits or is in the presence of her in-laws to show respect. Some Xhosa women are also expected to wear iqhiya in the presence of in-laws as a sign of respect. For a Sotho traditional wedding, in-laws give the makoti ituku, as a sign that she has been accepted into their family.
Spiritually as well, head coverings are perceived as a sign of respect, humility and sometimes modesty. For example, women from the Zion Christian Church wear headwraps even outside their place of worship. Some Christian women cover their heads when praying or receiving communion.
Happy times and headwraps
Traditional celebrations are where most people flourish with headwraps. And while the Ghananian duku and Nigerian gele have been worn by women for generations, they have grown to become the ultimate fashion accessory at most events and a head-turning work of art.
International fashion designers are growingly incorporating headwraps into national and international runways. Add to that tribal jewellery and print pieces. Celebrities, local and international are also wearing doeks as fashion statements. Lupita Nyong'o at the Toronto premiere of the film 'Queen of Katwe' got fashion critics buzzing in a Carolina Herrera gown and a blue gele.
And it is not at all uncommon to see women wearing doeks on the daily, well because it's just a headwrap day any season of the year. It is also not a shame to admit that headwraps are no strangers to bad hair days. They have safely tucked away what we otherwise prefer not seen by the public. Actually, headwraps have long been used as protective garments over hair from dust and dirt while doing home chores.
Even some African men wear head-wraps as a fashion statement, and as a wealth and social status symbolism. South African hip-hop artist Riky Rick was once made fun of for donning one at an awards ceremony. His response, "open your minds black people."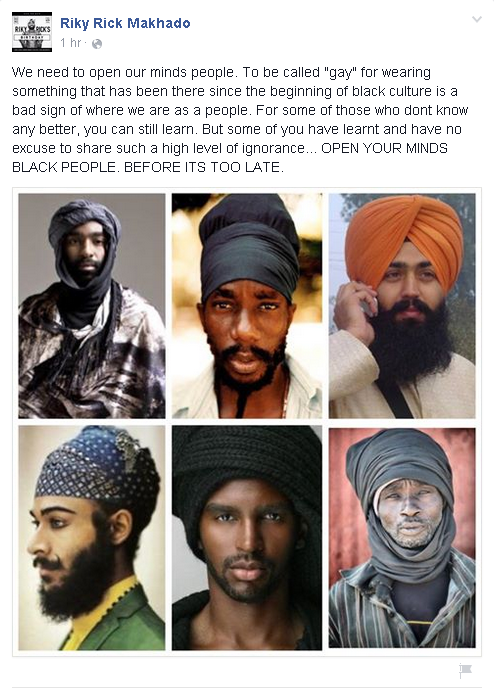 A number of high-profile African women such as Liberia's President Ellen Johnson-Sirleaf and former African Union chairperson Nkosazana Dlamini-Zuma are normally seen in headwraps. Dlamini-Zuma even launched a doek campaign, commemorating Women's month in 2016.
Headwraps also featured prominently during the #FeesMustFall protests in 2015, with student leader Nompendulo Mkhatshwa consistently donning a doek in various media appearances. Reportedly, "when she realized its impact she began to embrace it as her crown as a young black female in a leadership position."
And who can forget the debate around doeks being appropriate for television or not in 2016, when an eNCA reporter's story was allegedly removed because the reporter wore a doek?
Safe to say, the headwrap will continue to hold cultural and symbolic significance in Africa for time to come, whether as a cultural, spiritual, fashion, political or any other statement it may revolve to become.