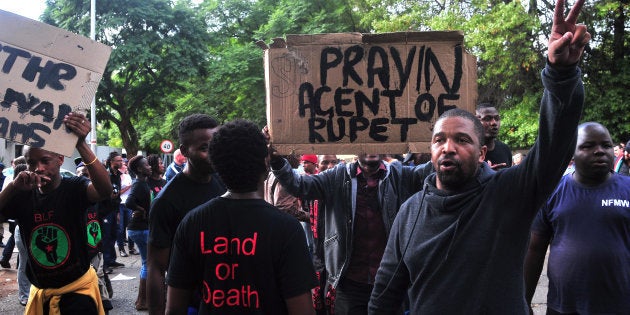 Public relations firm Bell Pottinger has apologised for the work they have done with the Gupta family and Oakbay Capital.
In a detailed statement issued on Thursday, the company said it took decisive action to not repeat previous mistakes.
"At various points throughout the tenure of the Oakbay account, senior management have been misled about what has been done. For it to be done in South Africa, a country which has become an international beacon of hope for its progress towards racial reconciliation, is a matter of profound regret and in no way reflects the values of Bell Pottinger," it said.
The DA have alleged that Bell Pottinger stoked racial hatred in South Africa in the work they did for the Gupta family and Duduzane Zuma, President Jacob Zuma's son.
"We have good, decent people who will be as angered by what has been discovered as we are. We wish to issue a full, unequivocal and absolute apology to anyone impacted. These activities should never have been undertaken. We are deeply sorry that this happened."
Henderson added that though an inquiry was pending, it had dismissed the lead partner and suspended another partner and two employees "so that we can determine their precise role in what took place".
"As soon as we were made aware that we had been misled and that work was being done which goes against the very core of our ethical policies, we acted immediately."
Henderson said that when it terminated work with Oakbay, "we said we were doing so because of increasingly strong social media attacks on our staff and our business from South Africa, and that we regarded the criticisms of what our team had done as unfair".
"These attacks on, and criticisms of, our staff continued and were clearly the result of strong and sincere anger. Most seriously, it was said that we had supported or aided campaigns to stir up racial division in South Africa."
Henderson said they then called in international law firm, Herbert Smith Freehills LLP, to review the account and the work done on it.
"That investigation is still continuing and will be completed in the next few weeks. We intend to publish the findings of that report and take appropriate action."
He continued, "However, we have already been shown interim evidence which has dismayed us. Much of what has been alleged about our work is, we believe, not true – but enough of it is to be of deep concern."
The controversial public relations firm has until next Thursday July 13 to respond to the complaint the Democratic Alliance lodged against them with the British-based Public and Relations and Communications Association (PRCA).
DA MP and national spokesperson Phumzile van Damme said on Thursday the PRCA confirmed late on Wednesday that Bell Pottinger must respond by July 13.
"Specifically, Bell Pottinger must submit written observations in light of the clauses of the PRCA's Professional Charter and Code of Conduct which the DA alleges that the PR firm violated," she said in a statement.
Following the revelations contained in the #GuptaLeaks, Bell Pottinger appear to have violated, among others, clause 4 of the PRCA's charter, which states that: "[A] member is required to take all reasonable care that professional duties are conducted without causing offence on the grounds of gender, race, religion, disability or any other form of discrimination or unacceptable reference," according to the DA. -- News24 Wire