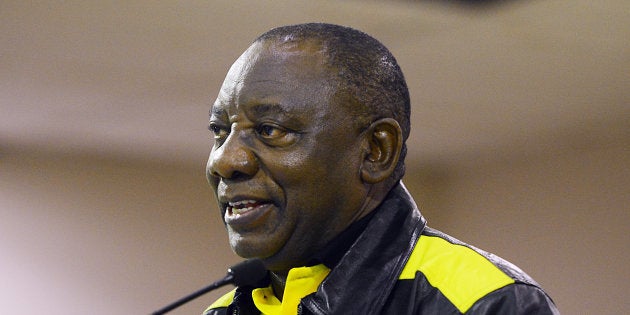 Deputy President Cyril Ramaphosa on Friday evening said the ANC must work hard to "regain the moral force that justifies our own existence".
Ramaphosa, who is also deputy president of the ANC, was speaking at a United Methodist Church of Southern Africa's fundraising dinner in Mthatha, Eastern Cape.
He said that the recently-concluded ANC national policy conference in Johannesburg had given the party a platform for "renewal and revitalisation", but avoided mentioning specifics.
"We have to regain the lost ground that we have sacrificed by focusing too much on internal contestations and contradictions.
"We must again carry the burden of our people and shoulder our commitment to leading them to the promised land," he said.
Ramaphosa confronted the controversy swirling around allegations of state capture, by praising the South African Council of Churches for publishing a report on state capture and corruption in May.
The 'Unburdening Panel' report had included harsh words against President Jacob Zuma, by stating that a "power-elite ... pivoted around the President of the Republic" was systematically undermining the state.
"The [church] remains a critical moral voice in the public life of this country," said Ramaphosa.
"It is not surprising, then, that the South African Council of Churches felt compelled to act on the allegations around corporate capture of public institutions.
"When the SACC established an Unburdening Panel on these issues it affirmed the deep commitment of the Church to work to address society's wrongs."
He did not comment on the specifics of the report, or recent revelations revealed in the leaked Gupta emails.
During his speech, Ramaphosa reiterated that everyday ANC members and branch delegates at the policy conference, rather than the ANC's leadership, reminded the party of the "true nature and character of the movement".
"It was the people from the communities you [the Church] serve who told the leadership of the organisation of their determination to reclaim the ANC's true values, mores and traditions," he said.
Ramaphosa said it was time the ANC, and South African society as a whole, lifted their gaze "towards the future".
"We need to remind ourselves of the kind of society of which we have dreamed for so long, for which we have fought and for which so many lost their lives.
"We need, all of us, to renew our commitment to strive together, side by side, until we have achieved that society." -- News24