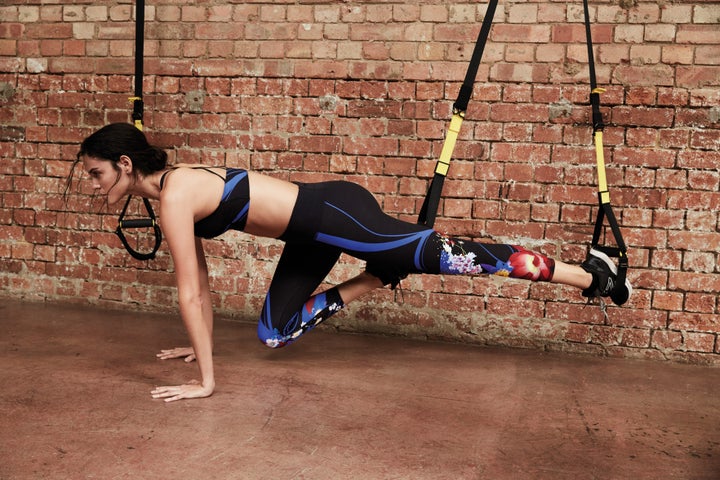 The summer season may (sadly) be over, but that is no excuse to slack on your butt-targeted exercise techniques because who knows when you'll next need to sport swimwear or pop that peach out? Follow these six simple tricks for an envy-inducing derriere all year round.
Squat, lunge and lift
The triple threat of all butt workouts, combine your squat variations, front and side lunges with a lift, as recommended by personal training pro Kim Hartwell. "Try to include compound moves like deadlifts and squats together, these work a whole host of muscle groups at one time. By progressively adding weight to these exercises in a training program you will really work the muscles. It will make your body stronger as a whole and bring you the results you want." Don't know where to start? Try Kim's ultimate bum workout at home here.
Power dress
The workhorse of your wellness wardrobe, taking you from boxing to sweaty HIIT workouts, invest in the ultimate leggings to give your athletic style a boost. Luckily for us Sweaty Betty are right here to provide them. Their bestselling power leggings are a customer favourite, and with strategic bum-sculpting qualities it's clear to see why.These premium leggings are designed to flatter with a wide waistband (to emphasise the bum), a high waisted fit (to lift rather than flatten) and carefully placed seams on the thigh - basically the ultimate in legging design. Available in a limited Tokyo Blooms print by Japanese artist Naito, (heads up - the print is also available in a matching sports bra and reversible bomber jacket for you co-ord fans out there.) If print isn't your thing the Power leggings family consists of seven styles and prints, technically one for each day of the week. Available in crop, full length and 7/8 styles and ranging from £60 to £90. It's time to invest and show your butt some Lycra-love.
Dry brush
Combat cellulite with a tried and tested ancient technique that simply works. A natural bristle brush can perform miracles, when used daily, prior to your morning shower. So how exactly does it work? According to the International Dermal Institute, "cellulite is formed by stagnant, toxic waste that gets stored between the tissues, breaking down the connective tissue," resulting in those unwanted lumps and bumps on the buttocks and glutes. So when we routinely brush our bodies, we stimulate and direct toxins towards the lymph nodes aka waste disposal, "the lymph is dependent upon outside forces for its circulation around the body." So get brushing for time-effective butt-sculpting and instant smoother skin. Win.
Hydrate
Believe it or not, one of the simplest ways to banish a dimpled behind could be to drink more water. We all know we should, yet do you reach your daily water-intake target? Water works as a natural cleaner flushing toxins out of the body, thus, giving cellulite an easy escape route. Master the art of hydration with this handy water tracker app - sip up, and notice the difference an H20 boost provides.
Up your oat intake
Yes, you read that right, oats are the new buzzy food for your butt, according to Women's Health magazine. Oats are rich in magnesium, vitamin E and zinc (the vitamins that boost the production of the oestrogen hormone.) Known to direct fat storage around the bum, when increased oestrogen is combined with your workout, the results are a rounder, fuller behind.
Foam roll
Personal trainer and all-round wellness inspiration Kim Hartwell explains the importance of a quick foam roll, "It's super important to factor in foam rolling and stretching into your workout plan. This ensures the right muscle groups are firing in your training." So grab this soft gym buddy and include it in your next workout for an added butt boost. "It also means you're working your body the best way to achieve results without getting injured," Kim states.