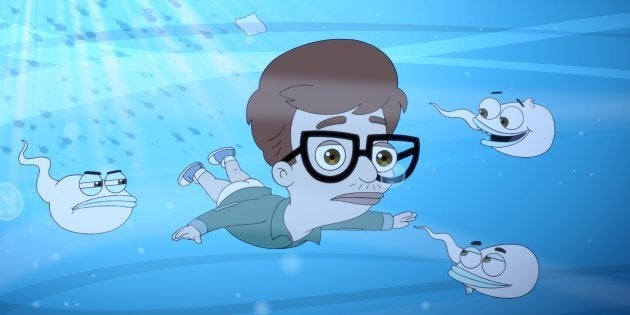 Nocturnal emissions, romantic encounters with the back of a pillow and hormone monsters.
Yep, it's all happening in Netflix's newest animated series 'Big Mouth'.
The series stars Nick Kroll and John Mulaney as two teenagers facing their greatest adventure yet: adolescence.
The series was created by Kroll and his best mate Andrew Goldberg who worked on 'Family Guy', so you know the tone of the show is going to be anything but respectful.
Netflix has been playing in the adult animated space for a while, after the huge success of 'BoJack Horseman', a series about a self-destructive, alcoholic animated horse. It's been an ongoing trend since shows like 'Family Guy', 'Bob's Burger's and 'Archer' created a niche for raunchy, smart animated series.
The 10-episode season has an all-star cast featuring many long-time Kroll contributors like Maya Rudolph, Jenny Slate, Jessi Klein, Jordan Peele, Fred Armisen and Jason Mantzoukas as well as Kristen Wiig as... a talking vagina.
The series will drop on Netflix on September 29, you can watch the slightly NSFW trailer above.