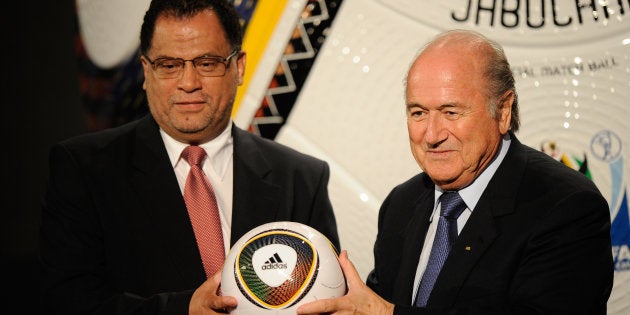 SAFA boss Danny Jordaan, who has been accused of rape by former ANC MP and singer Jennifer Ferguson, will welcome any criminal proceedings instituted against him, his lawyer has said.
Jordaan's attorney, Mamodupi Mohlala-Mulaudzi, told News24 on Wednesday that he would be willing to face off against Ferguson in a court of law.
In a social media post last month, Ferguson accused Jordaan of raping her 24 years ago at a Port Elizabeth hotel.
Jordaan has not yet commented on the allegations himself. However, he was expected to release a statement later on Wednesday.
During an interview on Radio 702 on Tuesday evening, Ferguson said legal action was one of the options she was considering.
In response, Mohlala-Mulaudzi told News24: "Our client denies all allegations that have been levelled against him by Jennifer Ferguson in the strongest terms. She did indicate she intends bringing criminal charges against Dr Jordaan. We welcome that, because we believe it will be the appropriate forum to address this issue."
During the radio show, it emerged that two other women, whose identities have not been disclosed, have also accused Jordaan of sexually inappropriate behaviour.
Journalist Faith Daniels said during the Radio 702 show that, during a social gathering, a woman had approached her and alleged that Jordaan had attempted to rape her, but that she "got away".
Ferguson also indicated that there was another woman who wanted to keep her identity hidden, but was still ready to discuss her alleged inappropriate experience with Jordaan.
"The third person will come through in a protected identity. There are huge business and power interests that are being threatened. We are perceived as a honey trap; part of some hidden conspiracy. But we are guided by our own impulse to heal," she told Radio 702 host Karima Brown.
Mohlala-Mulaudzi told News24 said that they would not address the allegations made by the other two women.
"They are faceless, and we are not certain of their allegations. For now, we will address Ms Ferguson and her allegations."
Ferguson's claim comes as women around the world share their stories on social media about rape and sexual assault as part of the #MeToo campaign, in the wake of allegations against Hollywood mogul Harvey Weinstein.