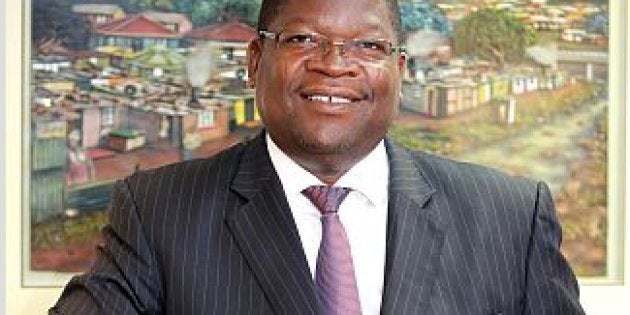 South African Revenue Service (SARS) Commissioner Tom Moyane has refused to make public to Parliament or the Treasury the report that cleared an alleged money launderer and put him back to work at the apex of the flailing revenue authority.
The revenue authority's chief officer for business and individual tax, Jonas Makwakwa, is back at work this week, after a year on paid suspension related to 75 suspicious cash deposits into his accounts.
Hogan Lovells, an independent law firm, cleared Makwakwa, while an investigation by the Hawks is still ongoing.
"SARS wishes to repeat that the chief officer [for] business and individual tax, Mr Jonas Makwakwa, was not found guilty of any of the charges levelled against him following a transparent and independent investigation as well as a disciplinary hearing," said spokesman Sandile Memela.
Banking transactions are secret
Memela said the Financial Intelligence Centre Act (FICA) bound SARS from divulging the details and information of the financial affairs and banking transactions of any citizen.
It was the Financial Intelligence Centre (FIC) that flagged the suspicious transactions in Makwakwa's account. The FIC is the regulator of South Africa's strict money-laundering laws, and it regularly reports suspicious transactions.
Memela said that while the chairperson of Parliament's standing committee on finance, Yunus Carrim, had stated in open session that he wanted to see the Hogan Lovells report, a formal request had not been made to SARS. That request would be bound by FICA rules on secrecy too, said Memela.
Finance Minister Malusi Gigaba had been told that Makwakwa had been cleared, but the Treasury had not received the report. Moyane refused to give a copy of the report to former minister of finance Pravin Gordhan.
Asked if the investigation should not have awaited the completion of an investigation into Makwakwa by the Hawks, Gigaba's spokesperson, Mayihlome Tshwete, said the minister had not been informed about the pending investigation.
Until his suspension last October, Makwakwa had been Moyane's right-hand man.
In 2014, Moyane purged a layer of SARS executives who had approached President Jacob Zuma to regularise his tax affairs on four separate occasions. The old guard had also infiltrated and investigated numerous syndicates using tax laws, which won them no friends. Some of the syndicates included Zuma family members, like his son Edward.
Jacques Pauw's book "The President's Keeper" also revealed that Zuma had been paid an undeclared retainer of R1-million a month, against which he had paid no tax, by a Durban businessman.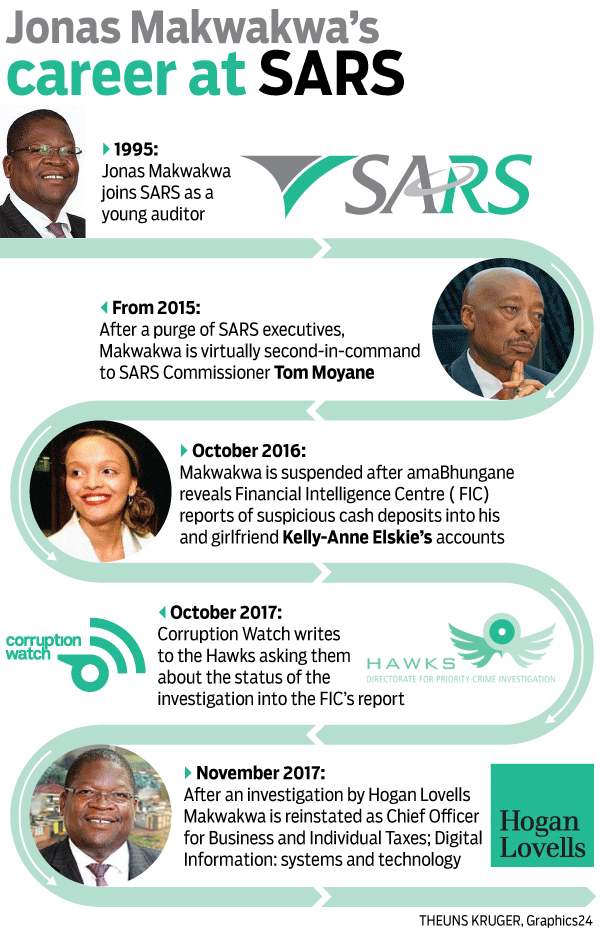 The right-hand man returns
After the purge, Moyane came to rely on Makwakwa, who became a de facto second-in-command. Faced with an R50.8-billion hole in the fiscus, the SARS boss expedited his lieutenant's return. The taxman was under visible pressure at last week's press briefing, which preceded Gigaba's tabling of his maiden medium-term budget policy statement.
None of Moyane's new executive committee except for Randall Carolissen and Makwakwa have tax experience. While Memela says the revenue slump is directly related to the decline in growth, the efficiency of tax administration is of equal concern, according to the budget statement and numerous commentators.
An FIC report into cash deposits and purchases by Makwakwa and his wife, Kelly-Ann Elskie, who also works at SARS, suggested that the two "may be involved in facilitating corrupt activities".
This report to the Hawks stated: "Suspicious and unusual cash deposits and payments into Makwakwa and Elskie's personal bank accounts require investigation, to determine if these cash deposits and payments are proceeds of crime and/or money laundering, in order to institute appropriate criminal justice action."
The FIC was concerned that cash deposits into Makwakwa's account increased by 152 percent from 2010 to 2015, which was unusual because he was on a fixed salary.
In 47 other deposits, the identity of the depositor was unconfirmed, which raises red flags for state employees in general, and SARS employees in particular.
In addition, the regulator found irregular and ad hoc payments from SARS credited into Makwakwa's account –– these amounted to about R400,000.
A portion of a big payment from Water Affairs and Sanitation also found its way into Makwakwa's account, after being traced through 13 different accounts. His portion amounted to about R1-million.
The report sent to the Hawks says that the monies must be investigated to determine "whether the funds received constituted payments of proceeds of crime arising from corrupt activities on the part of Makwakwa and other individuals and entities", and whether they amount to money laundering.
In addition, the Hawks are also probing Elskie's receipt of R450,000 into her own bank account, made over three days at three different branches. Deposits like this raise red flags because breaking up big deposits can be a way of evading suspicious-transactions notices from banks.
Elskie also started back at SARS this week. While they were dating, Makwakwa promoted Elskie from her job as a secretary to a junior consultant in investigations.