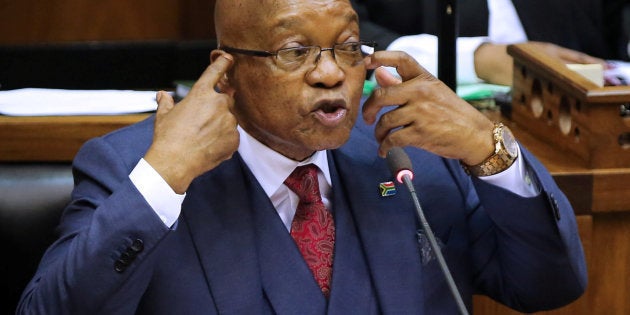 The ANC has lauded President Jacob Zuma for his "undeterred commitment to account to the people of South Africa" following a chaotic question-and-answer plenary in Parliament on Thursday.
The DA walked out of the National Assembly during Zuma's question time, after he refused to answer the question posed by the leader of the opposition, Mmusi Maimane, on the extent of the president's legal costs in fighting corruption charges against him over 10 years.
Zuma turned the tables on the opposition party's question, saying the litigation was not "at the instance of the president, but was initiated by the DA".
"The president has defended it, as he is entitled to do so, at state expense, according to the provisions of the State Attorney Act... This benefit is extended to all who are employed in the service of the state," Zuma said.
Zuma ended there, as shouts from the opposition benches of "how much" could be heard echoing across the house.
"I don't know what provokes the answer, I am answering the question because the answer gives the impression I have been running to courts... I haven't spent the money; the government has spent the money," Zuma said.
DA's behaviour 'politically immature'
Following the plenary in parliament, the ANC in a statement said the president's "fulfilment of his obligations to Parliament and to the electorate stand in stark contrast to the wanton behaviour of the Democratic Alliance".
It said the DA "once again" showed disrespect to the public by staging a walkout, calling the party 'politically immature' and its behaviour "unbecoming of an official opposition in a democratic state".
Not only do DA MP's disrupt the National Assembly frequently by walking out mid-session, but since the start of the year DA MP's have also taken to walking out of committee meetings whilst they are underwayANC
The party congratulated its MPs for their "resoluteness and commitment to their constituents" in contrast to the what it said are orchestrated "theatrical hijinks tailored for the television cameras".
A visibly irate Maimane, following the DA's walkout, said Zuma must go to jail, adding he had "captured Parliament". The walkout also followed a shower of insults between MPs, most notably the accusation from Zuma himself that Maimane was defending apartheid which the DA leader strongly rejected.
The EFF, meanwhile, was again not present to begin with.