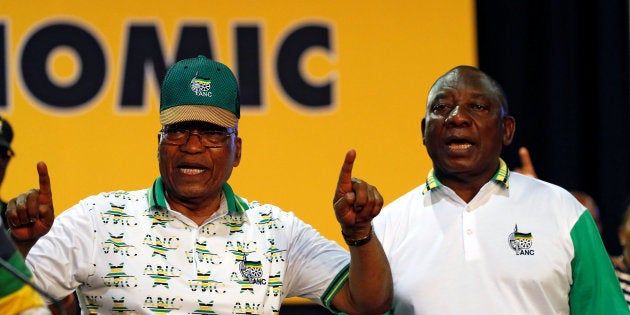 The ANC is reportedly taking pre-emptive steps to avoid fracturing the party if President Jacob Zuma is recalled.
IOL reported on Monday that party officials led by ANC president Cyril Ramaphosa descended on KwaZulu-Natal this weekend in an attempt to manage this. Party sources told IOL that senior party leaders fear a push-back in key provinces such as KwaZulu-Natal.
This was reportedly the reason behind the leadership's visit to Zulu King Goodwill Zwelithini. "Delegates at the conference chose leadership that combines various approaches, views and grouping within our movement. The leadership before you is a unity leadership that is meant to unite our organisation and make it strong," Ramaphosa said.
The party leadership was also due to visit the graves of former ANC presidents Josiah Gumede, John Langalibalele Dube and Inkosi Albert Luthuli.
A senior party leader told IOL that Zwelithini remained the "commander of the Zulu army" and so he needed to be consulted to ensure that "amabotho", traditional fighters, were not involved in factional battles.
The Star reported last week that the party's leadership intended to have a vote of no confidence in Zuma this week if he does not resign by Wednesday, when the ANC's new national executive committee meets for the first time. Party leaders, however, feared a backlash to Zuma's removal in KwaZulu-Natal, sources said.
ANC NEC member Ronald Lamola said the party could not ignore the Zuma question, according to Eyewitness News (EWN).
Asked if he would support a push to remove Zuma, he reportedly said: "It's decisions we should not shy away from because the national conference was unanimous to return the integrity of the ANC."
It was initially reported that former tourism minister Derek Hanekom would bring a motion of no confidence against Zuma if he did not resign. But Hanekom denied this, according to The Citizen.
A senior source reportedly close to Ramaphosa told the paper that many in the party did not want to alienate Zuma's supporters ahead of the 2019 election.
"There is a general consensus that he should go, but people are also mindful of the negative impact his removal might have on party unity. If not handled with the necessary care, chances are good that Zuma's supporters would revolt," the source said.