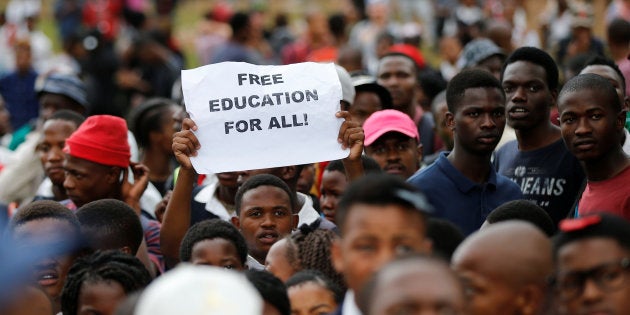 The ANC Youth League has bashed the EFF's call for eligible students to pitch up at universities and demand free higher education, saying the party's appeal is "illogical" and "impractical".
In an interview with HuffPost, ANCYL spokesman Mlondi Mkhize said "there is nothing new" about what the party is calling for.
"There is nothing new about what the EFF is saying. Students have always walked into universities, and the process of registration begins anyway. Whether students have walked in or applied beforehand, universities will ensure every applicant adheres to its rules," Mkhize said.
In his year-end speech, EFF leader Julius Malema encouraged academically deserving students to pitch up to universities of their choice when registration begins.
The ANCYL was quick to respond. In a statement, the organisation said it rejects the EFF's "ill-informed demagoguery", designed to cause chaos at tertiary institutions.
"Their call to have all who have passed matric –– including those who have not applied to study at the tertiary institutions –– to report to tertiary institutions is nothing else but attempt to derail the plans of implementing a free tertiary education without any hindrances," the ANCYL said.
Mkhize told HuffPost that his organisation is pleased that government has announced free higher education for the poor, saying it is clear that Zuma "applied his mind" to government's capability of carrying out the decision.
"This decision is imperative in building a developmental state... Government departments hand out bursaries at national, provincial and local levels. The department of higher education and training must now start to quantify all these bursaries and consolidate it for student funding," he said.