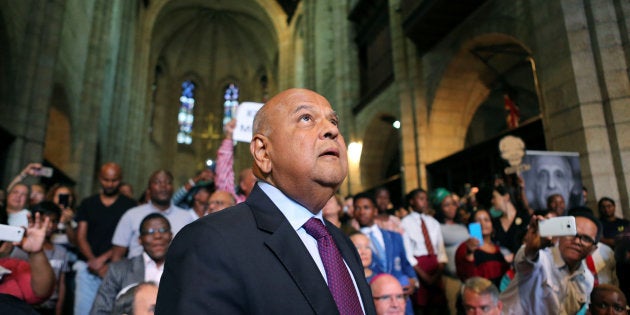 There are rumours that Gordhan will be asked by President Cyril Ramaphosa to serve as either stand-in finance minister until after the elections in 2019 or as public enterprises minister. He is currently an MP.
In his maiden state of the nation address, Ramaphosa said he planned to cut down the bloated size of state ministries. It is expected that Public Enterprises Minister Lynne Brown will be fired when Ramaphosa announces his new Cabinet because of her links to state capture.
TimesLive reported that, according to senior ANC national executive committee (NEC) members, Gordhan is the frontrunner to be public enterprises minister as part of Ramaphosa's plan to clean up state-owned enterprises.
This is reportedly because of his reputation as a technocrat who led the turnaround of the South African Revenue Service (Sars).
An NEC Member told the Sunday Times: "If there's anyone who can clean up our state-owned enterprises it is Comrade Gordhan. He cleaned up Sars when he arrived in 1999 — he found a badly run revenue service ... and turned it into one of the most competent public entities in the 10 years he spent there."
Gordhan addressed a seminar held by Werksmans Attorneys on Monday. According to Business Day, he said, "I would actually retire if I can but ... if there is another year's service which I can offer... well, let's see if I have any uses."
He also said that recent exposes have revealed how procurement was used as a conduit for corruption.
"Now you have all connected the dots, so to speak, you know that ministers are involved, directors-general are involved, officials in national departments are involved ... so you have quite a toxic mix or network that has been serving the purposes of state capture and corruption..." he reportedly said.
He wrote: "The trickiest decision will be what to do with Pravin Gordhan, who is playing a crucial role behind the scenes in Ramaphosa's transition team. Like Cristiano Ronaldo, you really want to play him in every position: Should he be sorting out public enterprises (because of his fury with the misgovernance of state-owned entities), or fixing intelligence (because of his inside knowledge of how Zuma uses intelligence operatives from their days together on Operation Vula), or back at finance to restore morale at an under-siege treasury?"