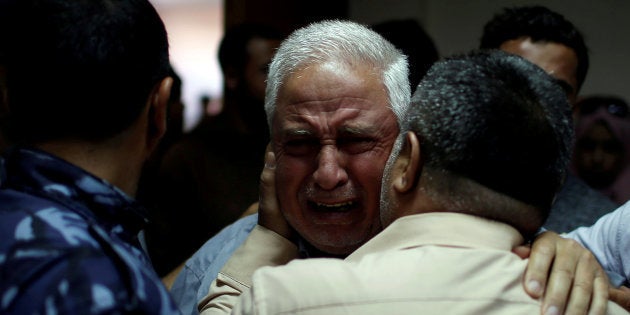 World leaders have condemned the violence in which nearly 60 people in Gaza were killed on Monday by the Israeli Defence Force (IDF). The United Nations (U.N.) on Tuesday said it was "profoundly alarmed" by the violence. But the White House maintains the violence was the fault of Palestinian militant group Hamas, echoing the position of Israel that it has "a right to defend itself".
The death toll had risen to 58 by Tuesday morning, Al Jazeera reported, and more than 2,700 people were reportedly injured, when the IDF opened fire on protestors at the Gaza border on Monday.
The protests coincided with the opening of the U.S. embassy in Jerusalem, but form part of the ongoing protests calling for Palestinian refugees' right of return to the lands from which they were forcibly removed in 1948, according to Al Jazeera. Since these protests began on March 30, at least 107 Palestinians have died, and 12,000 have been injured.
According to the LA Times, the European Union's most senior diplomat, Federica Mogherini, has called for the "utmost restraint to avoid further loss of life". France reportedly called for "strictly proportionate" use of force by Israel, while Kuwait has reportedly called for an emergency session of the U.N. Security Council.
U.N. secretary-general Antonio Guterres said he was "profoundly alarmed by the sharp escalation of violence", according to CBC News.
"Israel security forces must exercise maximum restraint in the use of live fire. Hamas and the leaders of the demonstrations have a responsibility to prevent all violent actions and provocations," he reportedly said in a statement.
Canada reportedly said the deaths of civilians, journalists and children were "inexcusable" and said "all parties" have a responsibility to protect civilians.
Egypt, Qatar, Turkey and Iran reportedly blamed Israel outright for the violence.
Spokesperson for South Africa's department of international relations Ndivhuwo Mayaba said government "condemns in the strongest possible terms the latest act of violent aggression carried out by Israeli armed forces along the Gaza border... [which has] led to the deaths of over 40 [people] killed following a peaceful protest against the provocative inauguration of the U.S. embassy in Jerusalem," according to News24.
"Given the indiscriminate and gravity of the latest Israeli attack, the South African government has taken a decision to recall ambassador Sisa Ngombane with immediate effect until further notice."
Mabaya also said South Africa reiterated its call for the IDF to withdraw from Gaza "and bring to an end the violent and destructive incursions into Palestinian territories".
National Public Radio (NPR) quoted Palestinian Authority president Mahmoud Abbas calling Monday's violence a "massacre". This is reportedly the highest number of deaths in one day in Gaza since 2014, when more than 2,000 Palestinians died.
Abbas has reportedly asked for a new partner to replace the U.S. in brokering talks with Israel.
Meanwhile, the White House has reportedly blamed the deaths on Palestinian Islamist group Hamas.
According to NPR, principal deputy press secretary Raj Shah said, "The responsibility for these tragic deaths rests squarely with Hamas. Hamas is intentionally and cynically provoking this response... Israel has the right to defend itself."
As the violence unfolded, White House senior advisor and Donald Trump's son-in-law Jared Kushner spoke at the opening of the U.S. embassy in Jerusalem, saying "peace is within reach", CNN reported.
"We believe that it is possible for both sides to gain more than they give so all people can live in peace, safe from danger, free from fear and able to pursue their dreams. I believe peace is within reach if we dare to believe the future can be different from the past. That we are not condemned to relive history, and that the way things were is not how they must forever be," he reportedly said.
"As Israel turns 70, the search for a lasting peace turns over a new leaf: one of realism and of not being afraid to stand strongly with our allies for what is good, for what is right, and for what is true. When there is peace in this region, we will look back upon this day and remember that the journey to peace started with a strong America recognising the truth."