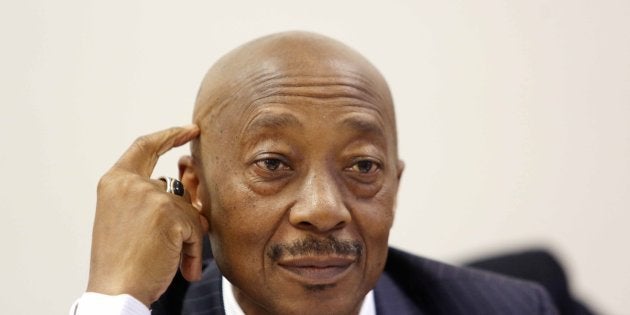 Suspended Sars boss Tom Moyane has given President Cyril Ramaphosa until noon on Tuesday to meet his demands, including indicating whether or not the president will give evidence in Moyane's disciplinary inquiry, or face going to court, Times Select has reported.
Ramaphosa must also indicate whether or not he will grant Moyane state funding for his legal fees. Moyane will reportedly also go to court to get the state to fund his defence if Ramaphosa does not agree to this, according to the report.
Moyane's lawyer, Eric Mabuza, says Ramaphosa must take the stand, as he is the one who says he lost confidence in Moyane.
"The president is central to the matter. He signed the charge sheet. He is in fact the only dramatis persona. It is he who allegedly 'lost confidence' in Mr Moyane. How else can it be determined if that decision is rational or not, following the conversation between the two of them? Ramaphosa must testify, or Moyane must walk scot-free. It's as simple as that," he is reported saying
Moyane was suspended on various grounds, including charges related to his handling of the matter involving his second-in-command, Jonas Makwakwa, who was accused of receiving suspicious payments.
Ramaphosa reportedly asked Moyane how things could work "when his 'second in command' was seen stuffing money into an ATM machine". When Moyane told Ramaphosa that he had no second in command and that he was the only one in charge at Sars, Ramaphsa reportedly retorted, "Whatever."
Ramaphosa also reportedly questioned Moyane about allegations that the Gupta family received VAT refunds via a third-party account, in violation of Sars regulations.
According to Times Select on Tuesday, there is a settlement deal on the table. Ramaphosa previously offered Moyane six months' salary if he resigned, which was later increased to a year's salary. Moyane reportedly refused.
Now, Moyane has reportedly offered a counter-offer in a May 7 letter to Ramaphosa. Moyane reportedly wants to be paid out in full for the 18 months remaining on his contract, including bonuses "due to him in respect of the trillions of rand that he has successfully and sterlingly collected" and a "jointly agreed public statement of the parties".
According to Business Day, Moyane this week told Ramaphosa that he was concerned about being subject to "trial by media". Mabuza reportedly said the team is not happy with the disciplinary hearing being held in writing, with oral evidence only necessary if the chair of the inquiry thinks it is necessary.