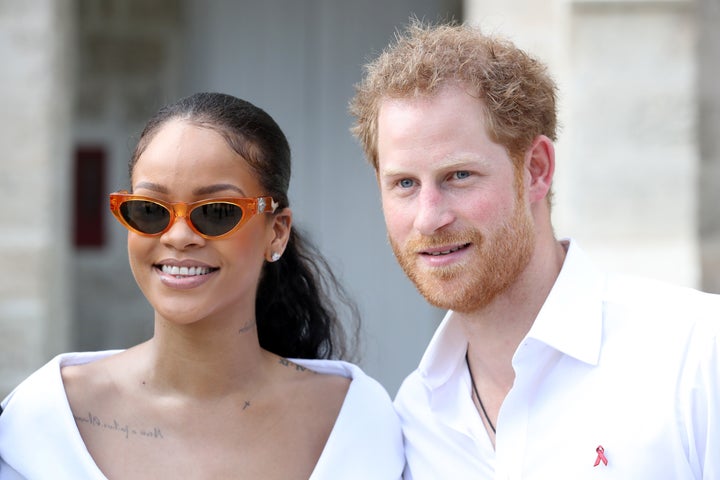 Rihanna and Prince Harry have hung out together a few times. But as one reporter found out the hard way, that doesn't mean the "Work" singer is attending the upcoming royal wedding.
In an interview with Access a few days ago, a reporter asked her if she was invited to Harry and Meghan Markle's big day.
"Why would you think I'm invited?" Rihanna said, giving the reporter a look.
"I don't know. You met him," the reporter said.
"OK, you met me. You think you're coming to my wedding?" she said with a laugh. "Am I coming to yours?"
At the beginning of the interview clip, Rihanna made it clear she didn't know much about the royal wedding.
"So it that really coming up, like, soon or something?" the Fenty designer asked.
"It's in a week," the reporter said.
"Oh, shoot! See, I need to stay on the internet more," Rihanna said.
Though Rihanna unfortunately won't be making an appearance (just think about what she would wear!), there will be a few famous faces at the wedding.
Markle's good friend Priyanka Chopra of "Quantico" has said she'll be there. Tennis superstar Serena Williams will likely attend as well, though she's still playing coy about it.
"I don't know. I think it's during one of the tournaments, so we'll see if I can make it," she said in an interview with Robin Roberts for "Good Morning America."
Still, Williams offered her friend Markle some handy wedding advice.
"I just think it's so important to enjoy the moment. And eat the cake. I didn't get to eat mine at [my] wedding," Williams said. "We were just having so much fun."
Stay tuned to see who shows up for the big day on Saturday, May 19.
Williams sits on the board of advisers to Oath, HuffPost's parent company.