A dozen school boys trapped in a cave in northern Thailand are being given crash courses in swimming and diving as authorities desperately prepare to extract them before more storms hit.
A team of divers, medics, counsellors and Thai navy SEALS are with the football team and their 25-year-old coach, providing medicines and food while experts assess conditions for freeing them.
Authorities are racing to drain water from the cave where the boys have been trapped for 11 days, before monsoon rains hit later in the week. It's feared the storm could make the rescue mission "almost impossible" for months.
None of the boys know how to swim, but teaching them how to use breathing apparatus so they can be escorted out of the cave is thought to be the only option to free them.
"The water is very strong and space is narrow. Extracting the children takes a lot of people," Thailand's deputy prime minister Prawit Wongsuwan told reporters.
"Now we are teaching the children to swim and dive," he said, adding that if water levels fell and the flow weakened, they would be taken out quickly.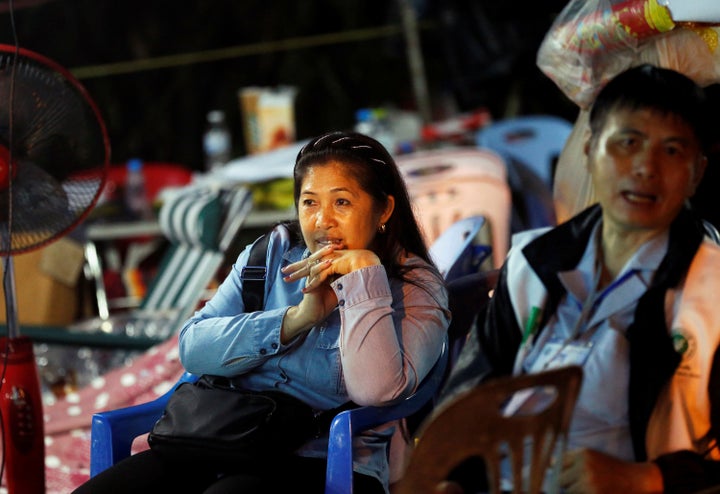 A video released by the SEALS on Wednesday showed two rescuers in wetsuits sitting on a elevated part of the cave beside the boys wrapped in emergency foil blankets. They appeared to be in good spirits, occasionally laughing. It was not immediately clear when the footage was taken.
A torch is shone on each boy, who one by one say hello and introduce themselves in a traditional "wai" Thai greeting.
A young player in the foreground wears what appears to be the red England football jersey. Another younger boy wears the blue shirt of English team Chelsea.
Efforts to open a communications line between the trapped team located 4km from the mouth of the cave suffered a setback after equipment fell into the water, Chiang Rai governor Narongsak Osottanakorn said on Wednesday.
The boys were discovered by the SEALS and two British cave diving experts on Monday, having been incommunicado and in darkness since June 23, when a group outing at the caves led to a high-profile search and rescue effort.
News that the "Wild Boar" team had survived prompted celebrations and relief in a country transfixed by the drama, with almost blanket media coverage.
The rescue teams and volunteers were hailed as heroes in an outpouring of joy and relief on social media, and applauded by the country's prime minister, Prayuth Chan-ocha.
The authorities were keen to get the boys out as soon as possible, but not if it was unsafe. "All 13 don't have to come out at the same time. Who is ready first can go first," Chan-ocha told reporters.
"If there are risk,s then we will not be extracting them."
The focus is now on monitoring water levels, rain forecasts and extraction procedures. As of late Tuesday, some 120-million litres of water had been pumped out of the cave.
Officials on Tuesday dismissed as speculation reports that the boys could be trapped for up to four months. Supplies have been prepared for that period of time, however.