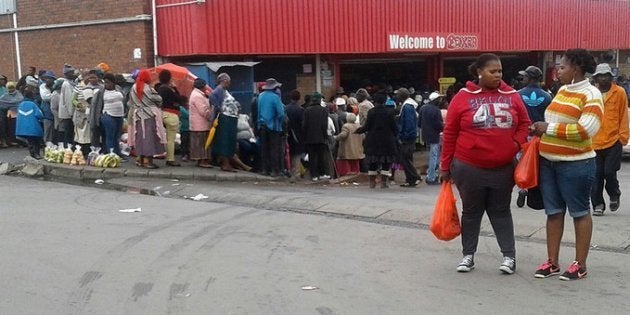 The South African Social Security Agency (Sassa) says its payment system has stabilised and that beneficiaries had been receiving their money since Tuesday.
Spokesperson Paseka Letsatsi said the agency would get an update on Thursday from all provinces on how many beneficiaries were still awaiting payment.
"The system has, however, stabilised and pensioners are receiving their payments for the past two days. We are monitoring the system every hour and an instruction has been given to our regional [office] that, in case there is a further crisis, an intervention should take place immediately."
Almost 700,000 Sassa beneficiaries did not get their grants earlier this week because of issues with electronic payment. Sassa acting chief executive Abraham Mahlangu explained on Tuesday what had been causing the delay in payments.
"What is being experienced is a result of a process of changing from an old to a new payment system for social grants. Sassa is also in a process of phasing out Cash Paymaster Services (CPS), as directed by the Constitutional Court, and introducing the South African Post Office (Sapo) to pay social grants," said Mahlangu.
Sassa employees embarked on a strike on Monday. Letsatsi said they had since returned to work on Thursday. This came after the Labour Court in Johannesburg on Wednesday ordered that the social development minister's bid to seek an urgent interdict to halt the strike be struck off the roll with costs.
The court also ruled that parties must initiate negotiations within seven days.
Minister Susan Shabangu had said the strike would disrupt the department's ability to administer the payment of grants.
"The confirmation that the negotiations have started in earnest must be attested by the way of affidavit filed by the applicants with the registrar of this court on or before July 12 2018," the court ruled.
Meanwhile, South African National Civic Organisation (Sanco) spokesperson Jabu Mahlangu said the agency should have put contingency measures in place to avoid and eliminate anticipated risks associated with the high volume of transactions.
Sanco said it would only accept Sassa's apology if it came with full assurance that technical glitches would be resolved before the next round of payments.
"Communication must be intensified and regular updates on the new system provided to beneficiaries to avoid inconveniences," Mahlangu said.