Every child, no matter whether their country is rich or poor, whether they live in a village or a city, should be going to school today. Yet despite the 2015 deadline to provide 'Education for All' this isn't happening. Our collective failure to reach global education goals means that 121 million children and adolescents are being denied their right to attend school.
Although 'universal primary education' has been a catchphrase for decades, especially since 2000, almost half the world's countries are failing to get all children into primary school. And gaining access to school does not ensure completion. In fact more than one in three children in low income countries will not have completed primary school by 2015.
Nevertheless, progress has advanced far beyond where we would have been without the MDGs and EFA agenda agreed in 2000. 34 million more children are now estimated to have gone to school for the first time, who would otherwise have been excluded had trends of the 1990s persisted.
And yet, this improvement represents the 'low-hanging fruit'. By failing to go the extra mile countries have not closed disparities, thereby leaving behind the most disadvantaged. Boys still out number girls in primary school in over a third of countries and millions miss out on education because they live in conflict-affected countries. The poorest children are four times more likely to be out of school and five times more likely not to complete primary education than their richer peers
Blurred financial priorities have been a major factor undermining progress. The annual financing gap for education is now estimated at US$22 billion, a problem compounded by a combination of poorly targeted and stagnating aid commitments. Too few countries have prioritised education within their budgets and education-in-emergencies receives a pittance - just 2% - from humanitarian aid. Governments and donors have to work out how to bridge this funding gap while finding ways to mobilize new funds and making current expenditures more efficient.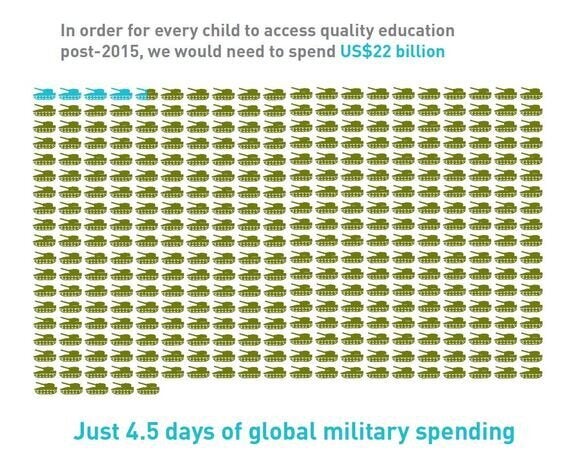 Some countries though, against all the odds, have made remarkable progress. After 11 years of conflict, Sierra Leone, since 2005, managed to halve the number of children who had never been to school while significantly reducing child labour. Uganda, where for many years the Lords Resistance Army recruited children as child soldiers or slaves, scrapped school fees, greatly improving access to education for the most disadvantaged including girls and orphans.
In Afghanistan, where the Taliban banned the education of girls, enrolment in primary school has leapt from 4% to 87% since 1999. In the midst of a devastating earthquake, Haiti managed to educate 200,000 children in temporary learning spaces and over 500,000 children received basic learning materials. Education even in the most extraordinary circumstance can happen.
Yet the Education for All movement was never just about getting children into primary school. The remit was far wider. Children were to be provided with an education of good quality - for example, qualified teachers, safe schools, decent classrooms and relevant materials--to ensure strong learning outcomes. Access to quality early childhood care and education, where the foundations for learning are laid, was to improve. Gender disparities were to be eliminated and gender equality promoted. Illiteracy rates among adults were to be halved and young people and adults were to have equal access to learning and life skills. We now know that while strong progress has been made on many of those goals the agenda is far from finished.
After fifteen years of monitoring progress toward the EFA goals, we now have a much better sense of which policies have been more or less effective. We know where resources, finances and political will have to be ramped up and where it needs to be targeted.
We have a golden opportunity here to take what we have learned and apply it to the transformative vision of Sustainable Development that countries will agreed to later this year, ensuring we avoid repeating the same mistakes. Education, in the broadest sense, should be at the heart of the sustainable future of the planet. It is time to close the funding gap on education and for the disadvantaged and vulnerable to be prioritised. On behalf of the 121million children still waiting to enter a classroom and encounter a motivated teacher, we must take this opportunity and ensure Education for All is achieved.