I was lucky enough to visit the second largest city in Colombia last week - Medellin. The city of eternal spring.
Once known as one of the most violent cities in the world, before I travelled there I received heaps of advice about safety and tourism. I didn't know what to expect.
I was encouraged by the city's recent status as one of the Most Innovative Cities in the World. It was chosen due to a great advancement in public transportation, with more than 500,000 residents and visitors using its Metro train system each day; a public bike-share program; new facilities and landmarks, including the España Library and a cultural center in Moravia; a large outdoor escalator the size of a 28-story building, enabling residents of the city's elevated Comuna 13 neighborhood to safely ride down the steep hillside; and a Metro system which reduces Medellín's CO2 emissions by 175,000 tons each year.
I came to Medellin for the Global Entrepreneurship Congress, a yearly gathering of entrepreneurship supporters, businesspeople and educators which grows a global entrepreneurship ecosystem. Over 100 countries were represented, all committed to encouraging entrepreneurship to thrive in their own countries.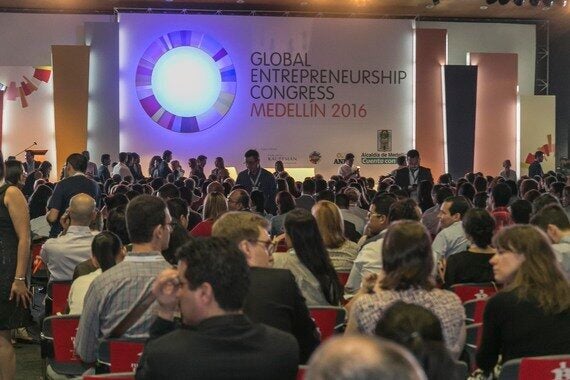 Here's a rundown of what I learned from the fascinating trip:
1. Colombia's grit and determination is thriving
Medellin itself has undergone massive transformations. A tour of the city showed me how once violent and crime-ridden areas are now safer and tourist attractions, badges of pride for local people. This drive for a brighter future will serve Colombian entrepreneurs well.
2. Real investment is being made in enterprise
I visited a number of startup incubators and schemes, including SENA and Ruta N, providing practical support for innovative entrepreneurs to start up their ventures and build an MVP. The passion amongst the tutors and entrepreneurs was infectious.
3. The city's entrepreneurs are raring to go
I spoke to hundreds of budding entrepreneurs from the city who told me they were so pleased to hear a British entrepreneur come and give them some inspiration. They are very excited about their futures and want to build pride in their country.
4. The government are firmly on board
The Mayor pledged support for entrepreneurship at the conference and Cecilia Alvarez-Correa, Minister of Trade, Industry and Tourism of Columbia, proudly introduced Medellín during her opening remarks, highlighting the Wall Street Journal and Citigroup's recognition of "Most Innovative City" in 2014.
5. The country is making it easier to start up
The country is streamlining processes for starting up and for the growth of businesses. The country recognises the triple bottom line of social value, economic benefit and long term sustainable growth for its country and its citizens.
I am so excited for the future in Colombia for its entrepreneurs and its citizens and have to thank the city for it's friendly hospitality and wonderful views and culture. I will definitely be back!
Popular in the Community