As you'll know from reading some of my previous ramblings here on the Huffington Post, I'm always impressed at the ambition and drive shown by young people who overcome all the odds to make a success of themselves.
It's this grit and determination I put at the heart of entrepreneurship and young people's success in life and business. It's not so much about the sharpest, most advanced business acumen. It's that magic formula you build when you create something which serves a purpose, which people like and which you and wider society can benefit from. Perhaps a triple bottom line incorporating both profit and purpose.
So many youngsters find these assets hard to come by, particularly when they're hammered daily by the doom and gloom of the migrant crisis, the diving economy and the flaky jobs market. There are people out there standing up to these challenges and throwing them back in society's faces, continuing to strive and achieve.
Here's two examples of youth entrepreneurship in action. Both James Oben and Renaldo Sutherland grew up with football. They had aspirations of playing professionally, but questioned how they could be the most competitive in an already ruthless and difficult industry to break into. From humble beginnings, the pair trained hard and honed their skills in every way they knew how, developing themselves into professional-grade players and realising a distinct gap for young aspiring football players to make it to the top.
Here they saw a need for a grassroots, professional-grade academy which provides young people with emotional, professional, technical and peer support which develops them as both people and players. PiTS Football is a professional training centre which provides the guidance and facilities necessary to raise player performance to the highest level. This is achieved with the assistance of full time training run by UEFA coaches, sports psychology, video analysis, nutrition, strength and conditioning.
I asked the entrepreneurial duo about their success and challenges in rising to become leaders in their own right. After a hectic weekend at the Soccerex conference in Manchester, Renaldo and James sat down with me to open up their journey of PiTS' development.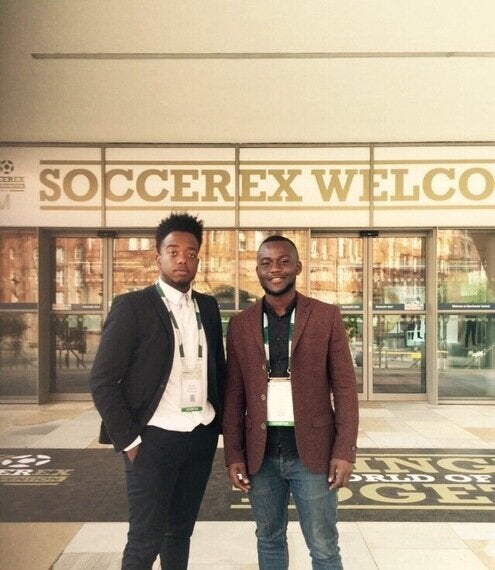 "We want young people to have a place to come and develop. We want to achieve social outcomes as well as just creating a business and helping those wanting to get into football. We're also concerned about what happens to those who don't quite make it to the top in the football game" James Oben, co-founder
The pair are working on a careers hub and opportunities to branch out the business to support other young people who were concerned about their careers and professional development, in a similar way to the challenges they experienced when they were younger.
They certainly believe a great quality in leadership is to be able to give back, fill gaps and use tangible personal experience to inform the betterment of the next generation. How many businesses and leaders do you know who do this today? Probably not that many. It's a formula which is helping the pair to secure funding, awards and acclaim from a cross-section of the community, professional sectors and the sports industry as a whole. The duo's stellar contacts book and highly acclaimed programme, which is a hit on Instagram and Twitter (not surprisingly) is a product of their careful attention to detail and constant drive to move forwards. "I want to wake up and do something I love, it's about having that and not getting stuck in something which doesn't motivate me." Renaldo Sutherland, co-founder
What you can really take away from this story is that people like James and like Renaldo know how NOT to get stuck. In this ever changing, fast-paced world, that drive and initiative is hard to maintain and doing so with some entrepreneurial flair could make all the difference in young people's careers and the future of our economy also. Wouldn't you agree?
Related