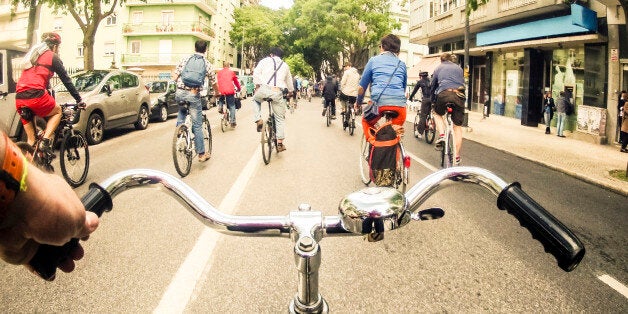 Amsterdam has just elected a new Bicycle Mayor. Katelijne Boerma becomes the second person to hold the title and promises to take what is arguably the world capital of city cycling onto even more exciting developments. With it, Amsterdam will continue to be a leader in smart mobility, and how we meet the far-reaching urban challenges we face. And it will continue to provide a shop window for the vast array of economic, health and social benefits that orientating a city around the human scale of the bicycle brings us all.
The idea of a Bicycle Mayor is simple. They are the face and voice of cycling in a city. They are not activists, but catalysts. And they independent, unbounded by politics. They work with all citizens and city stakeholders to ensure all voices are responded to. They role model good behaviour, identify solutions to local needs and bring together cycling organisations, residents, businesses and governments to make change happen. And they are growing in number.
Just last year, the concept was launched in Amsterdam when Anna Luten became the world's first Bicycle Mayor. The idea took root and just a year later Bicycle Mayors can be found in several cities on six continents. And Anna herself has moved to New York where she's helping to build support for the programme in the USA. Whilst Mayors are important local changemakers, the power of the idea is elevated by it being a network. Mayors act on local needs and within local contexts but harness the energy and shared vision of a global movement. They exchange ideas, inspire each other and collaborate on challenges.
Bicycle Mayors have been established to bridge the gap between the fact that the benefits of human centric cities are obvious and that they are not happening fast enough. In the UK 50,000 people die each year due to air pollution (almost a fifth of these in London). Cycling regularly cuts pollution, as well as helps prevent cancer, heart disease, strokes, diabetes and mental health problems. It also helps address climate change and resource scarcity. It frees up huge swathes of space for the community, making even inner city areas thriving family playgrounds.
In Amsterdam, 50% of trips are made by bike. Across the UK, it's just 2%. It's no coincidence that Amsterdam is recognised as one of the safest, family friendly and healthy cities in the world. But even there, there are barriers to progress in the form of creaking infrastructure, safety for kids, scooters on cycle paths and new communities less confident or culturally connected to cycling. And the new Mayor must also consider how to accommodate e-bikes, the sharing economy and multi modal shifts.
The truth is that no matter the size, and whatever the maturity of the cycling culture, Bicycle Mayors can help. Tiffany Mannion is the Bicycle Mayor of Keene in the USA where the population is 24,000. She's launching education programmes and bike shares. In Mexico City, Areli Carreon was part of the movement that mobilised the community in the wake of recent devastating earthquakes, to provide support where no other vehicles could access. In Sydney, Sarah Imm is proving that cycling can be an everyday activity in a city in love with the car. In Baroda, India, Nikita Lalwani is role modeling cycling for women and improving safety in a country where 160,000 people died on the roads last year. The growth of the network in the past year - and the possibilities it can deliver - is truly inspirational.
Of course, some cities are taking more direct political approaches. In London, the city Mayor (not Bike Mayor...) Sadiq Khan, says he wants to make cycling the "safe and obvious" transport choice for all Londoners, and has appointed a former Nike exec, Will Norman, to lead the change. And I'm excited by the appointment of former Olympic champion Chris Boardman as Manchester's Walking and Cycling Commissioner. Someone who has been a high profile campaigner for better everyday cycling, now putting his money where his mouth is. But such high profile city commitments are rare - for everyone else, a Bicycle Mayor. And hopefully both these political posts and independent figureheads will work together and inspire each other.
The Bicycle Mayor concept was initiated by and is still supported by CycleSpace, as part of its big ambition: 50% of all city trips worldwide by bicycle by 2030. They call this 50 by 30 and to get there it will take big ideas. Whilst they build out the network, they are also initiating a plan that will help every city citizen to access a bike share bike within minutes, and are identifying ways to connect every bike path to form a continuous global grid as uninterrupted and navigable as the road network.
Cities are home to half the world's population, they consume 75% of global resources and produce up to 80% of global greenhouse gas emissions. The very act of looking at how to prioritise cycling opens up so many rewarding shifts in the city, and the world. The bicycle is a vehicle for change. Electing a Bicycle Mayor is a simple yet profoundly powerful step that any city can take.
If you want a Bicycle Mayor in your city, head to CycleSpace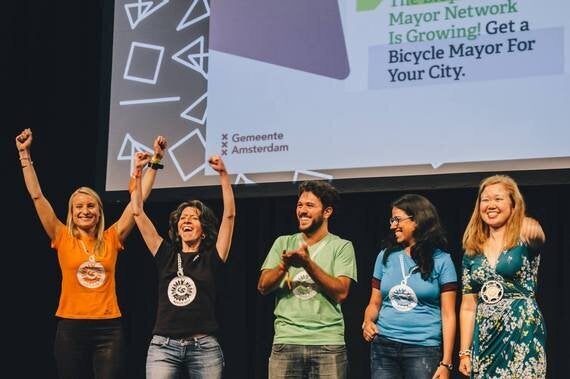 New Bicycle Mayors take the stage at Velo-city 2016. Photo by Roos Stallinga
Related