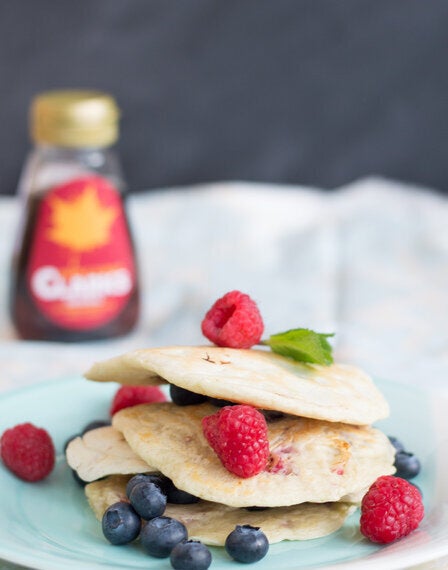 Pancakes truly are a delicious treat and when you combine them with something sweet, there really is no comparison! (at least for me anyway!).
I'm all about the healthy eating but even I don't wait until Pancake Tuesday to enjoy them! You can use a number of different fruit combinations to make these delicious pancakes, however I went with the sharpness of the raspberries combined with the sweetness of the blueberries to make a tasty treat on a random Tuesday lunchtime!
These are really straight forward to make. My advice is to have the batter mixture right next to the frying pan to avoid those unnecessary splats of batter right across the hob rings!
What are some of your favourite pancake fruit combinations?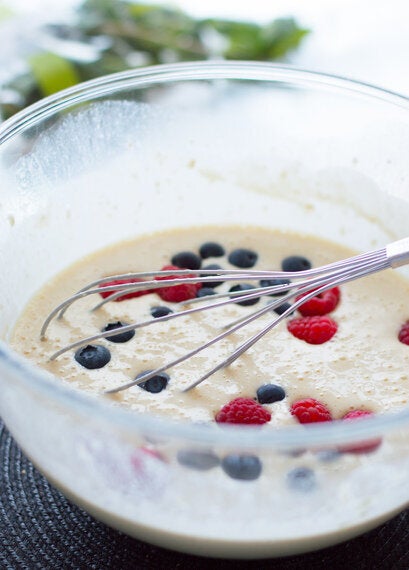 Some other general advice here is to make sure the batter is lump free (aside from the lumps of fruit that is!) this will ensure the pancake is cooked evenly.
The hardest part about cooking these pancakes is not being able to tuck in to the first one right away and having to remain as patient as you possibly can until they are all ready!
Anyway enjoy them and let me know what you thought.
Makes 10 Pancakes | Prep 20 Mins | Cooking 30 Mins
In a large bowl, mix together the flour, baking powder and the salt, then make a well in the centre.
Combine the beaten egg with the milk in a large enough jug and then pour into the well of the flour mix.
Using a hand whisk, mix the ingredients until you form a smooth batter with no lumps.
Melt the butter in a separate saucepan and add to the batter along with the raspberries and blueberries.
Heat the oil in a small frying pan over a medium heat and then add 3 tablespoons of the batter to the centre of the pan.
Cook for 3 minutes on each side.
Meanwhile pre-heat the oven to a low temperature and add a plate. This will ensure the pancakes stay warm whilst the others are being made.
Once the first pancake is ready, place it on the plate in the oven and turn the heat off.
Continue to repeat the process until you have the desired quantity and then serve with additional fruits and maple syrup.
For more recipe ideas, tips in the kitchen and much more, please visit my personal blog by clicking here!