James Espey is the author of "Making Your Marque: 100 Tips to Build Your Personal Brand and Succeed in Business", which you can buy on Amazon here.
I don't know why he reminded me of Colonel Sanders from KFC (with a crisp English accent) but there was a humility and warmth about him that I hadn't expected after reading his biography. There are certain people who have a distinct aura about them and as soon as he walked into the room to deliver an Esacpe the City event, I sort of sensed that I was in the presence of someone who had life figured out from an early age.
James Espey is one of the all-time drinks industry greats. He was personally responsible for the launch of Malibu, The Classic Malts, Johnnie Walker Blue Label and Chivas Regal 18 (amongst others).
Somehow we got onto talking about his family and he talked about what was going on in the lives of his daughters, which impressed me more than any of his credentials and biography highlights (not least of which is that in June 2013 he was awarded an OBE for Services to the Whisky Industry in the Queen's Birthday Honours List.)
Espey had spent 50 years in business, starting in the grocery trade before moving into the liquor industry and, in latter years, becoming a consultant and a non-executive director of a wide variety of companies. He retired as Chairman of Seagram Distillers plc and President of the Chivas and Glenlivet Group in 1998.
He is also most proud of having been involved in the creation of The Keepers of the Quaich, Scotland's leading Whisky Society, which honours 'those who make a contribution to this great industry'.
As one reviewer on Amazon put it, "These types of books are all too often a collection of tired anecdotes and management consultant speak. Hence I rarely buy them so it was very refreshing to read a book by an author with obvious business experience across a wide spectrum of corporate environments in various geographies as well as businesses in very different stages of development. This experience results in a much more tangible book of career advice with its bite-size chapters helping to make the messages as clear as possible."
The core of the book's message is the importance of creating 'you the brand' - making your marque - in order to achieve business success and career fulfillment. Espey's style is direct - on his personal website, his views on leadership are expressed in no-nonsense terms:
"Too many supposed leaders are preoccupied with self-importance and political ambition, rather than with winning the hearts and minds of consumers who are the true deciders of a company's fortune. A good leader inspires people to make things happen. In business that means providing consumers with what they truly want at a price which is attractive to the consumer and profitable to the company."
He takes this same style throughout the book - one of his messages is that, "If you don't know where you're going, any road will take you there."
While I had heard this message many times before, the way that Espey articulated it resonated because of his decades in business. He combines razor-sharp intelligence with a simple, direct outlook - you can see why we all left that Escape the City event feeling a lot more inspired and conscious of the direction in which we were pitching our lives, when you read his thoughts on direction:
What are you seeking to achieve with your life - starting now? If you don't know where you are going, any road will take you there. If you don't know where you are, will a map help you? The point of these simplistic remarks is that, if we are going to make something of our lives, we have to have goals - be they short-term or long-term - and identify a roadmap to achieving them. You may decide that you wish to be the Prime Minister or President, but that is an unrealistic and very long-term goal. On the other hand, you can decide 'I will get a meaningful degree' or 'I will acquire a job in such-and-such a field, and make a success which will lead to promotion and eventually, to being top in my field.'
I believe all of us should at least set some goals for the short to medium term: a degree, for example, will enable you to read, analyse, synthesise, write - and from there you will decide where to go next. You might choose to focus on politics and economics or marketing because ultimately you want a degree in business.
You may decide to do a classics degree because you are not sure what to do at the end thereof, but it might lead you into a career in law or who knows? The point is, make a start, make a commitment - both of which will influence your journey through life.
You then need to think about what field of business appeals to you. Are you interested in finance, production, human relations or marketing, for example?
There may well be a defining moment early on, usually - if not always - accidental, which, in hindsight, sets you in one direction or another.
It is also good to talk to your family and friends who will, I hope, give you an honest assessment of you as you are today.
This is not always easy, but at the same time will show courage, humility and integrity. This may, in turn, be guided by what you have achieved in your schooling and early life.
As John F. Kennedy said, 'Efforts and courage are not enough without purpose and direction.'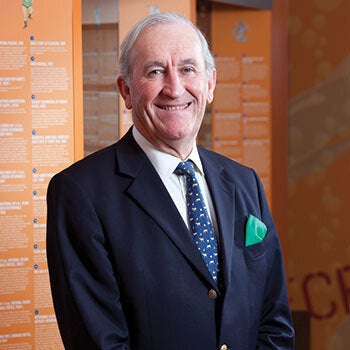 James Espey is the author of "Making Your Marque: 100 Tips to Build Your Personal Brand and Succeed in Business", which you can buy on Amazon here.