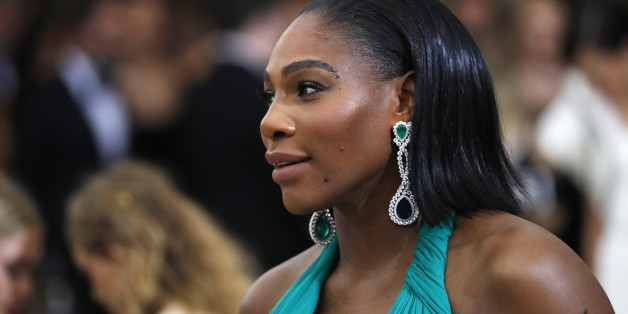 Lucas Jackson / Reuters
Let's start off by saying that Serena Williams is a goddess. Whether she is smashing it on the tennis court, fighting the patriarchy or being photographed by Annie Leibovitz, the woman is incredible.
This is why it saddened me so much to read that, in an interview this week about becoming a mother, she said she was about to become a "real woman" when she gives birth to her first child with internet mogul Alexis Ohanian later this year.
You see Serena is already a real woman. It is people like her who make me proud to be a woman - but it doesn't have to do with her becoming a mother. It's the fact that she is a badass - a 39-time grand slam champion with exceptional work ethic, strength and ability to powerfully shimmy next to Beyonce.
I don't think that Serena meant anything by this other than emphasising the powerful act of childbirth, but it does just remind us of a wider societal expectation. That we females were ultimately put on this earth to procreate and nurse the next generation and women who do not follow suit are lesser beings.
In the interview with Australian newspaper The Herald Sun's Stellar magazine she said that giving birth will give her strength and a lot more confidence. And, you know what, it probably will. How can it not? It's the ultimate act of bravery, strength and selflessness.
Mothers are wondrous beings and I have the utmost respect for every single one of them. However I don't think it is what makes a woman, a "real woman". In fact, I'm not sure what does - surely it's up to each and every one of us to make our own choices and create our own paths.
There are so many reasons why women do not have children - miscarriages, infertility, timings, financial situations and most importantly choice. I'm not set on having children - unless they are of the kitten variety - and I know it doesn't make me any less of a woman. I know there are many other reasons I am on this planet.
There are plenty of people in the world - and unfortunately world leaders - who think they have the right to tell women what to do with their bodies. And while I have no doubt Serena did not mean to offend anyone, her words spoke volumes and sadly are not helpful in our continued fight for women's rights and ownership over our own bodies.
Serena Williams is a real woman - hell, she is an absolutely phenomenal woman, and she is that with or without motherhood. I hope deep down she knows that, because my word, we all do.